There are plenty of saws out there that can do basic straight cuts and cross-cuts, but if you want to make curved cuts or any intricate cut for that matter, you're out of luck if all you have on hand is a circular saw, miter saw, or anything else with a large blade.
Band saws are where the true craftsmanship factor comes in, and the best band saws are the ones that make your cutting tasks easier.
Top Pick
Compact
Compact
Blade Diameter (inches)
44.875 x 0.5 x .02 inches
Although they are fully capable of making straight cuts, band saws let you guide the workpiece however you wish, creating curves and irregular designs when needed.
This makes the band saw an essential part of any basic shop setup, pairing well with other saws that have a smaller span of cutting abilities.
For the longest time, band saws were only available in larger floor-standing sizes and mostly intended for professional settings or experienced contractors. Thankfully, innovations in technology have resulted in smaller sizes that are much more accessible — and affordable.
Since then, numerous companies have jumped on the band saw bandwagon, leaving consumers with a ton of buying choices, clouding the market so to speak.
Best Band Saws Reviews & Recommendations For 2019
Well, like elsewhere on this site, we've done the research and testing for you, finally narrowing it down to 6 of our favorite band saws for 2019, and maybe even beyond.
The list below mostly focuses on benchtop models, with a few picks for portable band saws as well. Keep reading to see our picks, and why we've included them.
Winner: SKIL 3386-01 Band Saw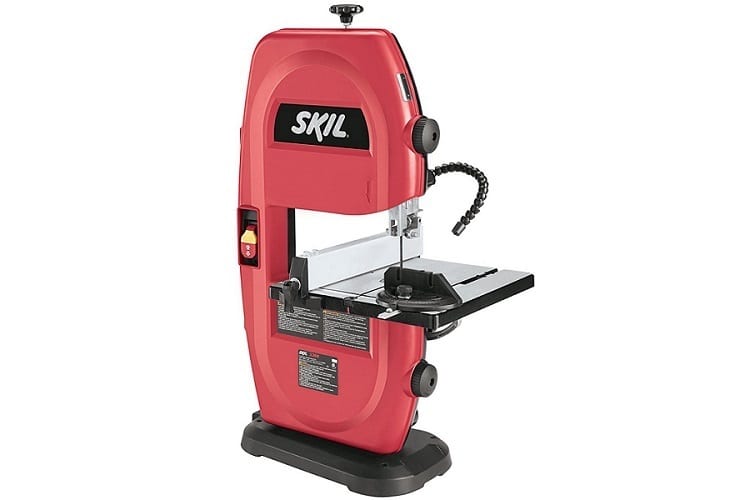 The SKIL 3386-01 is a versatile benchtop band saw that is a perfect addition to anyone's shop, and it doesn't matter if you're a professional or a weekend DIY hobbyist. This saw has an ideal size that offers a huge amount of performance, without taking up a lot of space.
The SKIL 3386-01 has a 9-inch throat capacity, and can easily mount to a flat benchtop surface for quick use. It makes use of a 2.5 amp motor that runs on 120 volts, giving you plenty of power for any conventional cutting needles with appropriate materials.
A 6-TPI blade is included with the SKIL 3386-01, giving you a versatile blade size and tooth configuration that will let you hit the ground running as soon as you get it. A 3 ½ inch cutting capacity provides plenty of room for a wide range of materials and cutting tasks.
The table of the SKIL 3386-01 is one of its best features. With dimensions of 12 x 11-3/4 inches, you have all the space you need when guiding workpieces in a variety of sizes with ease.
The SKIL 3386-01's table also includes a rip fence and miter gauge, helping you make more precise cuts each time, especially when ripping longer pieces of lumber, which the SKIL 3386-01 is great at.
The table also has a rack and pinion table adjustment that can quickly make angle and height changes, allowing you to perform cuts at many angles without having to spend a ton of time messing with an unstable table that can barely tilt.
Some helpful additional features include an articulating LED work light that you can bend and aim to shine directly on wherever you need it, fully illuminating the cutting surface or workpiece for better vision.
The SKIL 3386-01 also has a convenient dust port that you can connect to any standardly sized vacuum hose to keep your work area clean and free of sawdust when cutting.
Overall, the SKIL 3386-01 offers a massive amount of performance and precision, while staying within a more compact size that makes it ideal for smaller spaces and home shops.
The affordable price is just icing on the cake. We did a thorough review of this saw so please check it out.
Runner-up - Rikon 10-305 Band Saw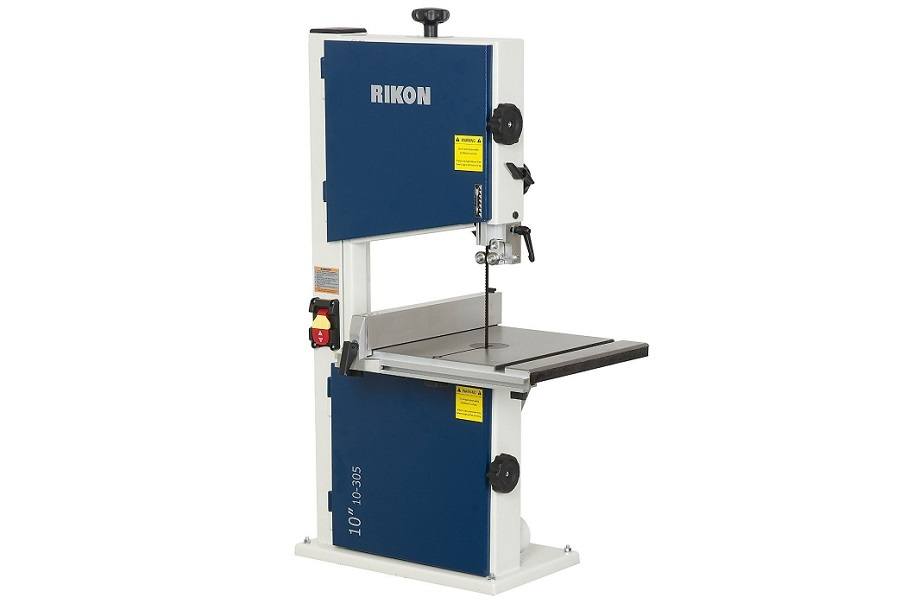 Rikon's 10-305 is a great choice for those who need a heavy-duty bandsaw that has a higher amount of durability and stability for tougher tasks. It's a scaled-down version of the highly-popular 10-345, retaining the same design and build, only as a benchtop model.
The 10-305's frame is crafted from solid steel. This gives it a better sense of durability and longevity when compared to the plastic frames used by many other manufacturers when making benchtop band saws.
A powerful ⅓ HP, 3.5 amp motor powers the 10-305, giving it all the drive it needs to handle bowl and pen blanks easily, and a variety of other harder materials that lesser saws aren't as capable of taking on.
With a cutting capacity of 4 ⅝ inches in height, and 9 ⅝ inches in width, the 10-305 provides some added room that lets you saw and resaw larger lumber pieces usually reserved for actual floor-standing models while staying under 36 inches in overall height.
As for the 10-305's table, it's made from cast iron, measuring 13 ¾ inches by 12 ½ inches. This provides a large and entirely stable surface that makes it a lot easier to get perfect cuts when working with pieces of any size.
A rip fence is also included, helping guide larger pieces for ripping and re-sawing. If you need to do any freehand cutting, it can be removed in a matter of seconds.​
A micro-adjustable guidepost lets you raise and lower guidepost and height by simply turning a handle. And for those that prefer a clean working area during cutting, a 2 ½ inch dust port lets you vacuum away dust and debris by connecting a hose.
The Rikon 10-305 offers all of this at an affordable price, making it one of the best band saws for under $300. If your cutting tasks require some added toughness and capacity, and you want to avoid getting a floor-standing model, this is the one for you.
Read our detailed review for more information.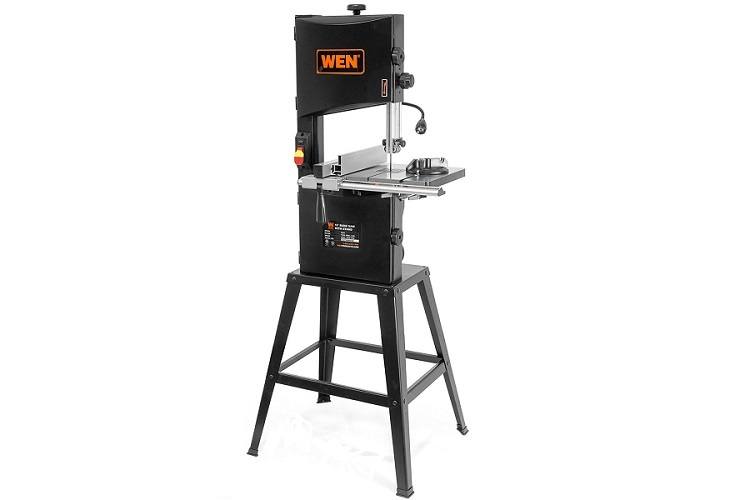 The WEN 3962 combines a high amount of power with an array of smart and convenient features, making it a formidable band saw that is one of the most versatile you'll encounter, while still maintaining an appealing price point.
Everything starts with the motor. The 3962 uses a 3.5 amp motor that offers substantial cutting power and ability, allowing it to handle large loads and harder materials. It also offers two different speeds for sawing: 1520 FPM, or 2620 FPM.
The 3962 has a 9 ¾ inch throat size, which is a little bigger than the standard 9-inch size many benchtop band saws have. This extra space gives you some more headway when working with larger pieces.
A ⅜ inch, 6 TPI blade is included with the saw, so you can get to work the same day you get it set up. Should you want to use a different blade, you can swap out any 72-inch blade ranging from ⅛ to ½ inches.
As for the table, the 3692 comes with a very spacious 14 ⅛ by 12 ½ sizes that can bevel up to 45 degrees for the times you need angled cuts. A fence is included as well, which can be quickly removed whenever you need to do freehand cuts.
The 3692 easily handles miter cuts, thanks to an included miter gauge. And while this is a table top band saw, it comes with its stand, allowing you to set it up at floor-standing height quickly. This only adds to the versatility.
As for extras, the 3692 does come with an incredibly bright LED work light that lets you see every detail of what's going on in the cutting area. Another helpful feature is a 3-in-1 dust port that can fit three different vacuum hose sizes.
WEN saws are popular for a reason. The 3692 is a tabletop band saw that acts like a floor-standing model, and backs it up with an astounding amount of power and adjustability.
The price is fair as well, making the 3692 an excellent choice for any woodworker. Read our in depth review of this saw.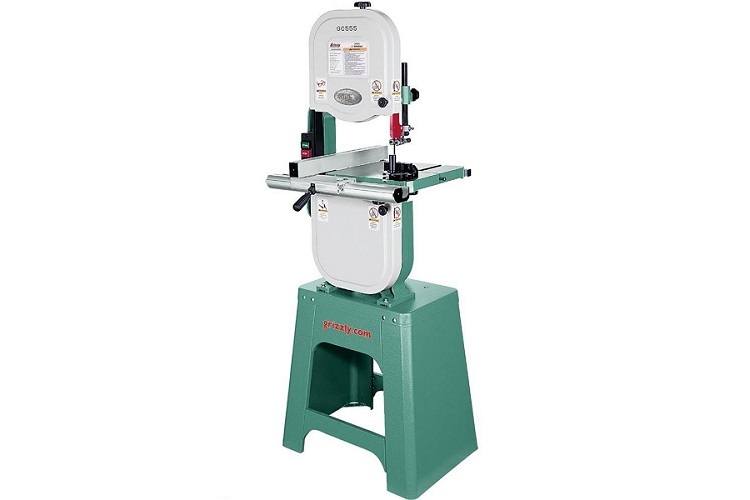 If a more industrial-level band saw is more your thing, the Grizzly G0555 is going to be your best choice. Although it is the most expensive on this list, it is unrivaled regarding power, durability, and convenient features that equip it to take on frequent heavy-duty sawing tasks without sacrificing precision or ease of use.
The G0555 is a table top band saw, but it doesn't act like one. Aside from having a powerful motor, this saw has a sizable table, provides easy blade changing, and places attention to small details that all combine to give it a smooth operation that can handle practically anything.
As for the G0555's motor, you get a full horsepower that cranks out 11 amps via 110-volt/220v that should plug into any standard shop outlet. This provides two different blade speeds, starting with 1500 FPM, and a much higher 3200 FPM, giving you the best of both ends.
A ⅜ inch blade is included with the G0555, and it's also a little higher in quality than what you get with lesser models. Should you want to change the blade, it can accommodate 92 ½ through 93 ½ inches in length, and 1/8th 3/4th-inch width, giving you several different size options when cutting.
The blade's operation is noticeably smooth and stable thanks to both upper and lower ball bearing guides, and computer-balanced cast aluminum wheels with rubber tires. You'll notice it when running a board through.
The table is a full 14 x 14 inches all the way around. This extra space gives you more surface coverage, and perfectly compliments the 6-inch cutting height, and 13 ½ inch cutting capacity. The table can tilt 45 degrees right, and 15 degrees left.
A deluxe aluminum fence is included, which also contains a scale with a magnifying window. And yes, there is a miter gauge as well. You've got all you need. A 4-inch dust port lets you connect a vacuum tube to keep the work area clean while cutting, and a heavy-duty stand lets you set up the saw at working height.
The Grizzly G0555 is a preferred band saw for serious contractors, and it's easy to see why. Using this band saw for home projects gives you a distinct advantage over cheaper saws — if you're willing to pay the difference. 
Read our detailed review for more information.
Best Portable - DEWALT DWM120K Band Saw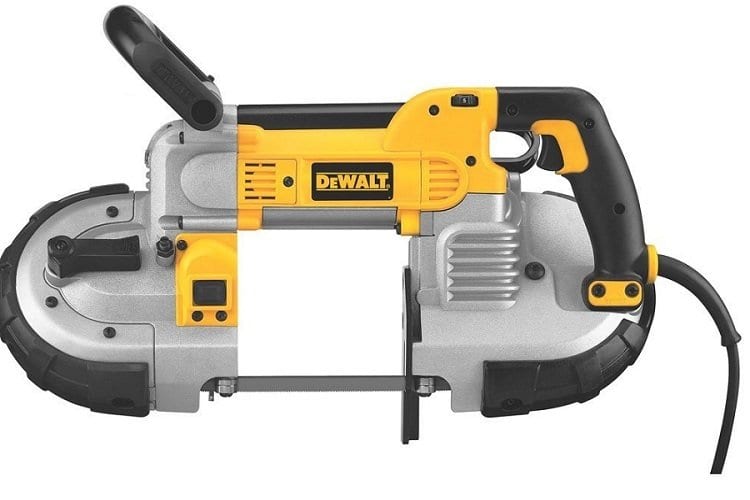 The DEWALT DWM120K offers big band saw the performance in a convenient handheld portable size. The DWM120K is packed with features and utilizes a smart design that allows you to bring a tabletop band essentially saw on the job with you — without the table.
The only inhibiting factor with the DWM120K is the cutting capacity that comes along with having a portable model. Concerning versatility and overall performance, the DWM120K is an asset to any job site, or for those that need a portable saw for their home project needs.
A powerful motor is the heart of the DWM120K and enables it to slice through a variety of materials with little effort. The saw is powered by a cord rather than a battery pack and uses a 10 amp motor.
Two speeds are available with the DWM120K as well. You can choose from the slower 100 sfm setting, or crank things up to 300 sfm when you have tougher tasks on deck.
The DWM120K's cutting capacity is among the best you'll find, especially for this price range. The saw can cut 5-inch round stock pieces or slightly lower size of 4 ¾ inches for rectangular stocks. This is big enough to handle most tasks that are appropriate for a portable band saw.
Ergonomic handles on each side make it easy to hold the DWM120K, giving you a very firm and secure grip while cutting, without putting unnecessary strain on your hands and arms. The front handle can also be adjusted, which comes in very handy when working at awkward angles, or when cutting overhead.
A standard blade is included with the DWM120K, which has several features that add to the blade's longevity. Accurate blade tracking adjustment and helps to improve blade alignment and reduces wear on the blade. A changing level makes blade changes quick and simple.
An LED sight light is included with the saw for better cutting vision in any scenario, along with a hex wrench, and kit box.
The DEWALT DWM120K showcases years of innovation and constantly improving designs, which continually places the saw at the top of its class. Although it's portable, its power and versatility make it a capable band saw that can be depended on for endless uses, whether you're at home, or on the job.
Read our in depth review of this saw.
Milwaukee's 2429-21XC M12 Band Saw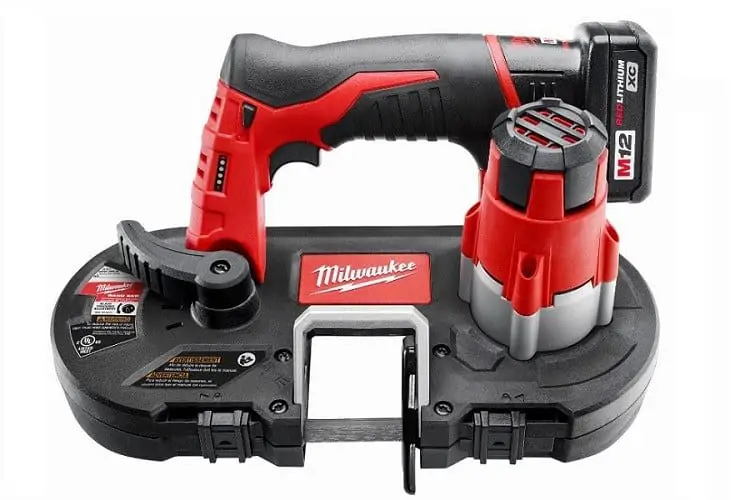 If you're in need of a portable cordless band saw, and don't require a maximum cutting capacity, Milwaukee's 2429-21XC M12 is an economical and capable choice. This saw offers a superior amount of convenience and packs a surprising amount of cutting power.
With a look and feel not too far off from a power drill, the 2429-21XC M12 is intended to offer one-handed cuts when possible, while also being comfortable and stable. At just 12.4 pounds, the 2429-21XC M12 is among the lightest portable band saws available.
The 2429-21XC M12 only offers one speed, but it's all you need, thanks to a 280 sfm. An 18 TPI blade crams in a high amount of teeth, making the blade more efficient to make up for its size and smaller cutting area.
As for the cutting capacity, the 2429-21XC M12 can handle materials up to 1 ⅝ inches, which is enough for most small household tasks, and a few job site applications too. An LED light gives you a clear view of the cutting line from any angle.
When using the XC battery, the 2429-21XC M12 can offer up to around 150 separate cuts on one full charge. The battery is 12 volts and includes a rapid charger for times you need to get back to your tasks with minimal waiting time.
The 2429-21XC M12 includes a hard carrying case and a bare tool for maintenance and quick blade changes. You've got all you need from the moment it arrives.
Although the 2429-21XC M12 doesn't have the power or cutting capacity of some more expensive portable band saws, if you only plan on smaller cutting tasks, it provides incredible value and a surprising amount of performance. It's an asset to any home wood shop.
We did a thorough review of this saw so please check it out.
Why Should You Choose Your Band Saw Carefully?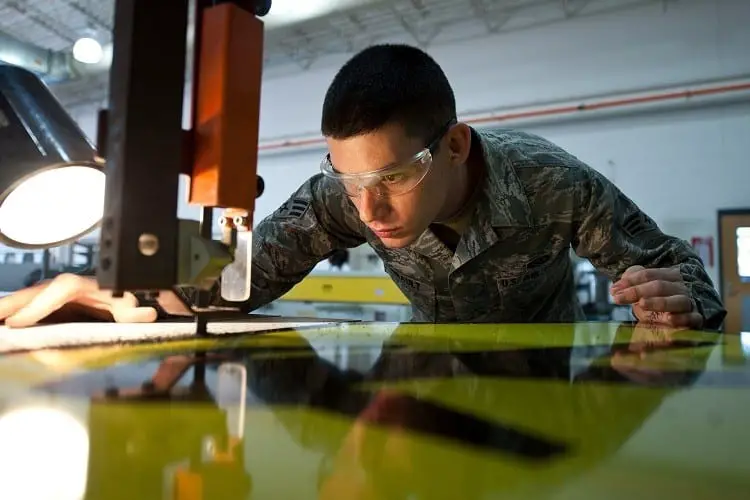 All band saws follow the same formula, which is a ribbon saw blade run in a loop along two wheels, keeping the blade continuously moving in one direction. That's about where the similarities stop among other band saws, however.
These saws come in many different shapes and sizes and also contain various speeds, power, blade sizes, and an array of additional features as well. These factors make each saw more suited for certain tasks, some much more than others.
This is a long way of saying that you can't just go out and buy some big band saw unit, and expect it to do all the things you envisioned. A full understanding of different types of band saws and all of their different aspects will ensure that you purchase one you can use.
This will save you from plenty of frustration, and also save you money. Don't fall into the trap of thinking that buying the biggest, most powerful band saw will automatically make it the ideal one for your needs.
Band saws have three main categories, and there are also some specialty versions for more focused tasks outside of woodworking and basic projects.
These band saws are the large models that you're likely to see at lumber yards and a variety of industrial properties.
As the name suggests, floor-standing band saws do not need to be secured to a surface, as they come with their legs, usually have wheels, and are positioned to be a little higher than your midsection.
Floor-standing band saws are very powerful and have large tables to handle large pieces of wood, metal, piping, and many other things.
The average home contractor or woodworking enthusiast doesn't have a need for a band saw this big. They are also usually thousands of dollars, so there's that as well.
Benchtop band saws are the most common among the average user, and most professionals as well. These band saws have the same general design as their floor-standing counterparts but need to be either mounted to a flat surface or set up on a stand.
Even though they aren't as big as floor models, benchtop band saws have all the power and adjustability you need 99% of the time for most small, medium, and large cutting tasks.
As far as differences from one model to another, the main variances center around power, table size, and cutting capacity. Extra features aren't usually a deal-breaker.
Portable band saws are a bit different. These are technically band saws, but they don't have the same method of operation that you'll see with a benchtop model. This is mainly from them not having a table to position workpieces on.
Portable band saws use the same revolving blade and have the same system of blade guides. They are rarely adjustable and are more geared towards making freehand cuts in things like pipes.
There are some specialty band saws out there. The most familiar one to most is a meat band saw. These are mainly for butchers, and hunters that like to prepare their meat after bagging a deer, elk, bison, etc.
What Are You Using It For?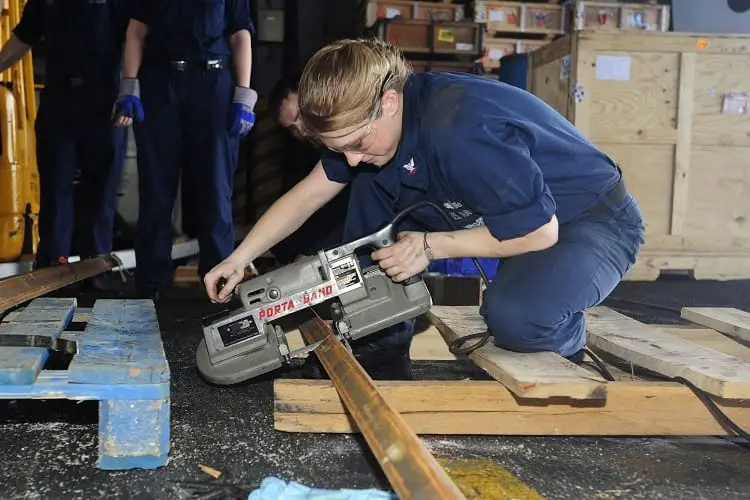 Your first step in identifying your needs is outlining what you need a band saw for in the first place.
If you're a home DIY hobbyist, there are times when you'll need to make some curved cuts when crafting trim pieces, crown molding, bed posts, or any other workpiece that needs anything but a basic straight cut.
In this instance, you can get by with a low or mid-range benchtop band saw. These make it fairly easy to make curved cuts in, and usually, have some added features and adjustability that will make things a little easier.
Depending on the materials and blade choice, benchtop models can be used for cutting metals and plastics as well.
If you have a fence with your band saw, you can use it for ripping and resawing wood, and any other time you need to make straight and angled cuts too.
This usage is mostly reserved for portable band saws. While benchtop models are great for cutting wood pieces that have conventional shapes and sizes, some metal components are either not movable, or not able to fit onto a bandsaw table.
This includes pipes, air ducts, framing, and a variety of metal types that aren't neatly arranged into long planks and 2 x 4's like wood usually is.
Portable band saws act as a sort of mobile hacksaw that can provide quick and precise cuts from an infinite number of angles — as long as it can fit into the cutting area.
That's not to say you can't use portable band saws for wood, however. Resourceful craftsmen can find numerous ways to use these versatile saws for wooden materials when needed and appropriate.
Intricate Cutting And Larger Wood Pieces
As I mentioned earlier, band saws are fully capable of ripping and resawing wood, along with all of the curved, intricate, and detailed cuts they are more known for.
If you anticipate having to rip and resaw wood just as often as you'll need to make curved cuts, a larger, more powerful benchtop band saw is ideal.
These benchtop saws are going to cost a little more, but they extra motor power, expanded cutting capacity, and bigger table sizes are well worth.
It will turn your band saw into a do-it-all machine that may very well take the place of some of your other saws.
On What To Pay Attention When Buying Band Saw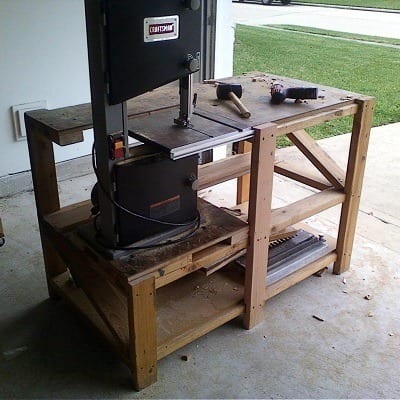 Listed below are the main aspects and specs you need to be the most mindful of when shopping for a band saw.
The power of a band saw is going to be one of its most distinguishing factors. As you've probably guessed, saws that have more powerful motors will be able to cut materials easier.
The higher the power, the more effortless the cutting will be, which comes in handy when dealing with harder and denser wood pieces.
Less powerful motors will struggle to maintain blade speeds and torque when cutting into these pieces, which can affect precision as well.
The cutting capacity refers to how big of a workpiece the band saw can accommodate. Nearly every single benchtop band saw is adjustable, letting you raise and lower the blade guards to match the material sizes you are working with.
The two types of cutting capacity are throat and depth.
Throat refers to the distance from the saw's blade to the vertical frame portion. This amount determines the width of cut the saw can accommodate.
The cutting depth refers to the distance from the table to the upper blade guides. This is used to figure the maximum thickness of material the saw can take on.
A band saw's speed is how fast it can revolve the blade around the saw's wheels. The faster the speed, the faster the blade spins, which makes the saw cut in a more controlled and precise manner — usually.
Some saws will offer two different speeds, so users can opt for a lower speed when working with certain materials, which is usually for metals. Some more fragile materials do better with lower speeds too.
It's best to look for a saw that has variable speeds, not just one high speed.
Band saw tables are where you rest your workpieces while guiding them from the blade. These tables are relied upon for stability, and can also be used to guide the material in through various angles and directions.
The bigger the table, the bigger the material you can saw. Size isn't the main factor here, however.
Look for saws that have adjustable angles that let you make angled cuts in between 45 and 15 degrees. Miter gauges are obviously helpful as well, and having a fence included with the table should be a given.
When you have all three of these, you have a wide range of options for your cutting, making your saw a lot more versatile, which gets your money's worth.
There are a few select extra features that can make a band saw perform better.
LED cutting guide lights are great for illuminating the cutting area, so you can see exactly where the blade is going, and every other small detail as well, including any lines you've drawn on the wood.
Vacuum ports allow you to connect a hose that sucks away sawdust and debris as you cut, so you don't have stuff flying all over the place and clouding your vision. It helps with cleanup as well.
If you are looking at benchtop band saws, a stand is a great bonus item that will let you set the saw up at proper height without the need to clamp it to a flat work surface.
Band saws are a favorite among most woodworkers for a reason. In some cases, they can be all you need, depending on the task at hand. You should now be well-versed in all the information needed to make an informed buying decision.
Of course, any of the saws listed above should be at the top of your considerations. Once you've determined what you'll need your band saw for, you'll be only a few steps away from choosing the one that's right for you.
We do have our favorites, but we can say with confidence that all six of the saws in this guide can make excellent additions to your shop setup. It just depends on your preferences and budget.
Good luck!
Resources