A scroll saw is an asset to any woodshop or garage, and you don't have to be a woodworking expert to take advantage of the many unique benefits these versatile and easy-to-use saws provide.
If you're looking to add a new scroll saw to your tool lineup, you've probably already noticed the seemingly endless choices at your disposal. There's certainly some good ones out there, but we have our own picks as to the best scroll saws on the market.
Best Under $500
Best Under $200
Below, you'll find out top five scroll saws for 2019, which includes several different price points, sizes, and capabilities. We've also included some buying advice to help you narrow things down even further.
Let's get started.
Best Scroll Saws Reviews & Recommendations For 2020
Best Scroll Saw Under $500 - DEWALT DW788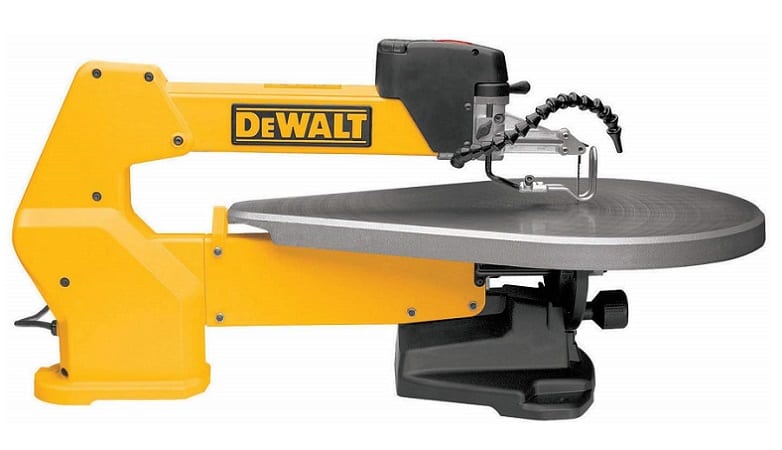 If you've got the budget for it, the DEWALT DW788 is an exceptional scroll saw that can instantly upgrade your shop in a major way, providing you with a versatile, fast, and precise scroll saw that not only cuts on a superior level, but is backed up with lots of added features.
Although it looks small, this saw is built for any range of tasks, and is entirely suitable for use on professional and home projects. This is mostly due to its high amount of power that allows for faster blade speeds, and an added amount of stability and reduced vibration from its design.
The DW788 uses a 1.3 amp motor that is more than enough to provide the saw with a wide range of adjustable power, with some extra speed that comes in handy with certain blade types and cutting situations. The saw's variable stroke length can be adjusted from ¾" to 2".
Although this saw is capable of a maximum spm of 1,750, the control knob lets you adjust it all the way down to 400 spm — perfect for sawing softer woods and other materials that would otherwise be burned or overheat with higher speeds.
The DW788's table measures 16" x 23 – ¾", which is an adequate size for most workpieces. It's crafted from cast iron, and can quickly bevel 45 degrees to the left or right for the times when you need to make angled cuts.
One of the more notable advantages the DW788 offers is its stability and lack of vibration, even when using the highest speeds. This is due to a double-parallel link arm design that pivots from the back of the saw and through the front, absorbing most of the vibration generated from the saw. This leads to smoother, more accurate cuts.
The DW788 comes with a set of blades to start you off with, and when it comes time to change the blades, you can do it all from where you sitting or standing, without using any tools at all. This allows for quick blade changes without interrupting your work.
Another helpful feature is the adjustable dust blower located at the top of the saw arm. The saw hose can easily be adjusted and aimed wherever you'd like, helping you keep the cutting area free of sawdust and ensuring accurate cuts and tracing.
All of this is crammed into a 54 lb. frame that is easy to mount on a stand or sawhorse, and is also not all that difficult to haul around when needed as well. If you're looking for the very best scroll saw for the money, you can't go wrong with the DEWALT DW788.
Runner-up - Delta 40-694 Scroll Saw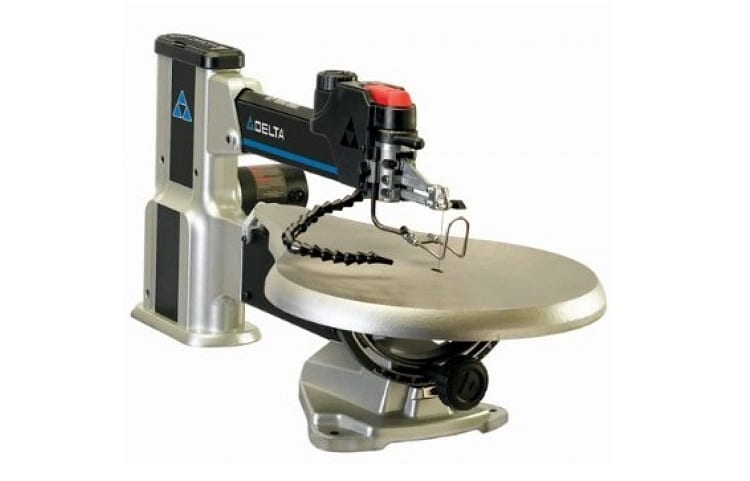 The Delta 40-694 scroll saw is another great example of commercial-level performance in a small, strategic design. This saw is built to take on the demands of professionals, yet is also suited for DIY users and home projects.
This particular model comes without a stand and light, although they are available for an extra price. Even without, the 60 lb weight and compact size makes it easy to set up on your surface of choice, or transport it back and forth from a worksite.
This saw runs off of a 1.3 amp motor that provides smooth power and performance that can be matched with any scroll saw blade type. Using the variable speed adjusters, users can select an spm speed of anywhere from 400 to 1,750, giving the saw a range of versatility with certain cuts and materials.
The 400 spm option is as low as you'll see with scroll saws, and come be quite useful for fragile woods prone to splintering or burning. This speed is also a good pair with reverse blades.
An iron table provides a smooth and stable surface for cutting, and measures 16" x 24" — plenty of room for bigger workpieces, and even ripping small wood pieces as well, all while using a ¾" stroke. The table also includes a bevel adjustment that can rotate 45 degrees on either side.
While the Delta 40-694 offers substantial power with lots of room for adjustments, it also guarantees a stable surface with minimal vibrations, thanks to a dual-parallel arm system with strategic pivot points.
The upper arm of the saw can also lift and lock in a manner of seconds, allowing for fast blade changes and adjustments. This can be very convenient when changing blades for the same workpiece.
Speaking of extra blades, the Delta 40-694 also keeps its onboard storage within reach, offering ample room for extra blade types and backups.
Dust control is provided as well, thanks to an adjustable hose that continuously blows dust away from your cut line.
The Delta 40-694 combines quality craftsmanship and attention to detail with all of the features you'd expect with a high-level scrolls saw.
Its smart build and easy accessibility can be appreciated by any range of woodworker, whether you're using it for small craft projects, or taking on larger construction tasks.
If the DEWALT DW788 isn't appealing to you for whatever reason, the Delta 40-694 should be your next choice.
Best Scroll Saw Under $200 - Shop Fox W1713
For those looking for a smaller and more affordable scroll saw that doesn't compromise on cutting power and capacity, the Shop Fox W1713 scroll saw is the best you can find. Although well under $200, this saw could sell for nearly twice that much, and I would still think it's a great deal.
Despite having a smaller size and lower amount of power than bigger scroll saws out there, the W1713 stands toe-to-toe with larger saws, and is in many ways more manageable for more inexperienced users.
The W1713 uses a ⅛ HP 1.3 amp motor that gives the saw a more than adequate sawing power ratio, which can also be adjusted from 1,700 spm, all the way down to 550 spm — not unlike full-size scroll saws. This provides the versatility needed to cut numerous materials with various blades.
The table's surface allows for cutting materials up to 16" wide and 2" thick, with a ¾" blade stroke. The table itself is sturdy and made from cast iron, and also has the ability to bevel 45 degrees to the right and left for any angled cuts.
While the W1713 doesn't have added pivot points or a dual-parallel arm system, the design of the saw's body still allows for plenty of shock and vibration absorption, keeping your work space stable, and cuts smoother and more accurate.
The Shop Fox can accommodate both pinned and pinless blades, both of which can be swapped out in under a minute using the W1713's easy blade change system. This is a perfect compliment to where the power button and speed controls are located, which is in the front.
Despite being on a lower price grid, the Shop Fox W1713 still comes with an array of extra features that can help improve your sawing experience. This includes an onboard extending light you can angle to illuminate the cutting area.
The back of the saw has a dust port that can be connected to a shop vac, sucking out the sawdust from the bottom as you saw, keeping the cutting area clean and preventing sawdust from flying all over the place.
The Shop Fox W1713 weighs just 31 lbs, so it's incredibly easy to move around your shop, or to a jobsite if needed. 
This is just another reason why this scroll saw is a favorite among novice users and professionals alike, delivering outstanding cutting quality and convenience in a highly affordable package.
Runner-Up - Dremel MS20-01 Scroll Saw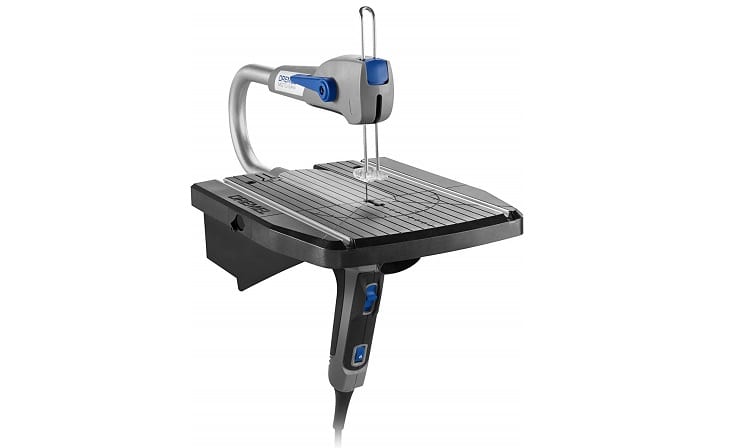 By far the smallest and cheapest scroll saw on this list, the Dremel MS20-01 Compact Scroll Saw vastly outperforms its size, while also providing a very affordable solution for hobbyist needing a scroll saw mostly for minor home projects and/or crafting tasks.
The compact size and build of the adds to its versatility and ease of use, and also offers an economical entry point for anyone who is just getting started with scroll saws. With that said, the MS20-01 is not simply for beginners, as experienced scroll saw users will be more than impressed with its abilities and smart features.
The MS20-01 is powered by a small 0.6 amp motor that still manages to put out some impressive saw speed and power — certainly adequate enough for smooth cuts on a variety of wood types, as well as other materials like metal, plastic, and PVC piping.
The saw includes a detachable table that can accommodate small workpieces, or you can remove the table and take the saw itself to your material for more convenience. This is definitely something you can't do with more conventional scroll saws, so you're essentially getting a 2-in-1 saw.
The table itself measures 14.5" x 8.5", which is just big enough for smaller tasks without compromising the compact profile. Grooves and measurements are built into the table for more accurate cuts, and you can use separate fences if desired as well.
Packaged with the MS20-01 is a set of blades that can be swapped out for certain materials, including wood, plastic, and metal. All of them make use of a 0.315" blade stroke, and you can choose between different blade speeds. An auto-tension lever at the top of the saw allows for instantaneous blade changes in a hurry.
These features and specs are all reflective of a very high level tool that is a perfect entry into scroll sawing. While the The MS20-01 may not be built for heavy-duty tasks, it's great to keep around for the times when you need the accuracy and versatility of a scroll saw for more intricate cuts.
The price point of the The MS20-01 makes it a very attractive buy on every level, whether you're looking for a way for you (or someone else) to get into scroll swing, or simply want to keep one around to fill the gaps that other saws can't for your home project needs. It's a great purchase, regardless of your needs.
Alternative - WEN 3920 Scroll Saw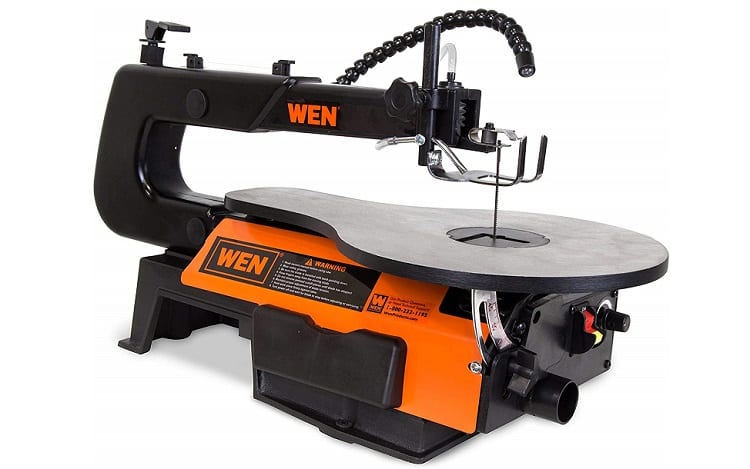 The WEN 3920 is another budget-minded scroll saw that far outperforms its price range, both in terms of cutting ability, and in the sheer number of convenient features that extend its uses, while making the saw easier to deal with as well.
This saw is essentially a condensed version of larger WEN scroll saws, while still retaining all of the key features and aspects, sometimes on the same level. With the WEN 3920, you get the standard scroll saw cutting ability, combined with the capacity for rip cuts too.
The driving force of the WEN 3920 is a 1.2 amp motor that delivers plenty of power to the blade. Basic materials such as wood, plastic, and some metals are easy to cut when using the corresponding blades, and the noise level is always minimal. A variable speed knob allows you to choose anywhere from 550-1,660 spm.
The saw weighs just 28 lbs, but maintains a sturdy stature thanks to its strategic build and even weight distribution. A cast iron base is used underneath the sizable table that measures 16" x 11", and also includes a 45-degree bevel capacity.
The saw has a standard throat capacity of 16 inches, but you can actually change the blade's position a full 90 degrees, giving it unlimited ripping capacity when needed. The WEN 3920 also comes with 3 separate blades, and accepts both pinless and pinned blades.
On top of ample power and cutting capacity, the WEN 3920 comes equipped with numerous added features. One that's always appreciated is the LED light that clearly illuminates the cutting line, helping ensure more accurate cuts regardless of where you are set up.
The WEN 3920 goes beyond just offering a dust port, including an actual air pump that can be used to continually keep the cutting area clean and free of debris, which keeps your workshop cleaner, and the dust out of your breathing path.
Overall, the WEN 3920 is a true workhorse scroll saw that is equally suited for smaller novice DIY projects as it is larger tasks.
It has sufficient power for more intensive cutting projects, but still has a manageable size and stature that is appealing to inexperienced users. And for well under $100, it's a massive bargain.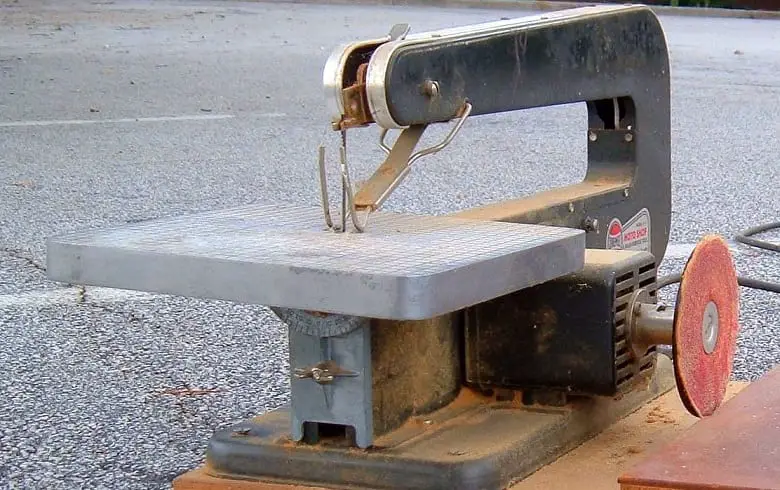 A scroll saw is a type of power saw that uses a small blade and reciprocating motion in order to create small, detailed cuts. 
It has a variety of uses, and most would consider it an essential part of any woodshop, or tool for home DIYers who need an easy and stable way to make intricate cuts when needed.
These saws have a similar look to a band saw, mainly due to having a flat table with a small blade in the center. Scroll saws can use many different shapes and materials within the blades in order to better suit certain cutting tasks.
The blade itself is attached to an arm that quickly moves the saw up and down in a rapid motion to create the cutting action. 
User then guide the workpiece into the blade when making cuts, which is almost always done using a freehand method. This provides several advantages when needing anything beyond a straight cut.
The blade action is typically controlled using a foot pedal, although cheaper models may not have one. Speed is often variable as well, allowing the user to have better control in certain cutting situations.
For many, these saws are ideal for basically anything that doesn't need a straight cut, which certainly includes smaller craft projects, or adding details to workpieces on larger projects. 
The setup and design of scroll saws make them popular for novice saw users as well, including younger kids who are just getting into woodworking.
What is a Scroll Saw Used For?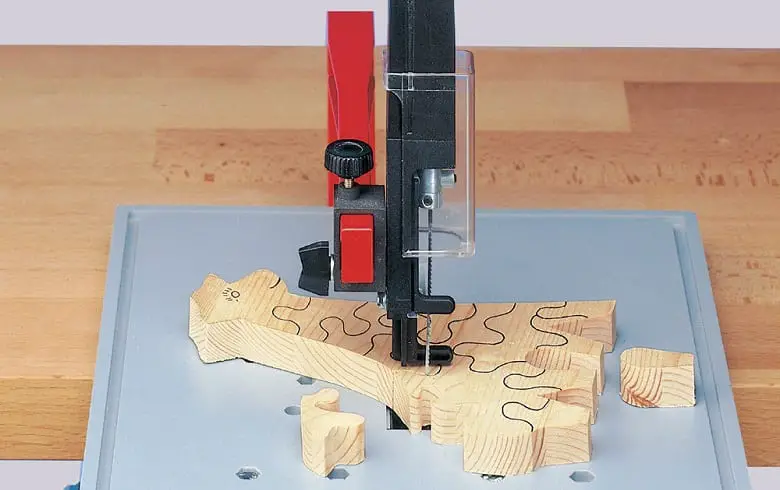 As with most power saws, scroll saws can be used for a number of tasks, but they excel more in a few distinct areas. Here are the three most common scroll saw uses.
Perhaps the most popular use for a scroll saw involves art, hobby, and general crafting.
The small size of the blade, the quietness of the saw, and the ease of use all combine to create an ideal power saw that's perfect for cutting smaller workpieces that require utmost precision in a smaller space.
Thanks to the design of the scroll saw blade assembly, one can thread the blade through any portion of the workpiece without having to make cross cuts.
For instance, if you wanted to cut a shape in the center of a piece of wood, you would first drill a small hole in the center, and then thread the blade through, reconnect it to the saw arm, and then make the cut — all without having to cut from the outside of the piece towards the center.
This can be an advantage to any number of craft and art-related cutting tasks. Using blades such as a spiral blade can let you cut in any direction, which assists in making freehand cuts that require several changes in direction.
An example of this would be cutting jigsaw puzzle pieces out of wood, following line patterns that have been drawn onto the wood beforehand.
The crafting and art possibilities for scroll saws are practically endless, so I'll just stop there.
Dovetail Joints/Furniture Making
Another popular use for scroll saws includes creating dovetail joints — a common method involved in furniture making.
A dovetail joint is made by cutting two ends of materials with corresponding trapezoid ends, which then fit perfectly together and hold in place.
Properly made dovetail joints do not require any metal fasteners to hold the pieces together, with wood glue or adhesive used to further ensure the joint's integrity if desired.
The shape and intricacy of these joints requires a high amount of precision in order to work correctly, something that's further complicated by the typically smaller size of the workpiece.
Making accurate and smooth curved cuts is difficult with the majority of power saws. 
Most saw can easily cut straight lines, bevels, cross cuts, rip cuts, and more, but making a curved cut without any flaws is nearly impossible with the majority of saws, especially when you're dealing with smaller pieces.
There's no reason for me to really go into the infinite reasons as to why one may need to perform a curved cut on a particular work piece, just know that scroll saws will almost always be the easiest way to do so.
What's the Difference Between a Scroll Saw, Jigsaw, and Band Saw?
A lot of people tend to compare scroll saws, jigsaws, and bandsaws quite often, and understandably so. All three of these saws have some similar features, and all three can be used for making curved cuts when needed.
While I think a proper woodshop should have all three saws at its disposal, I do understand that some DIYers have to make a choice of which one to purchase — or at least which one they should get first.
With that said, here's a quick breakdown of each one, with noted similarities and differences.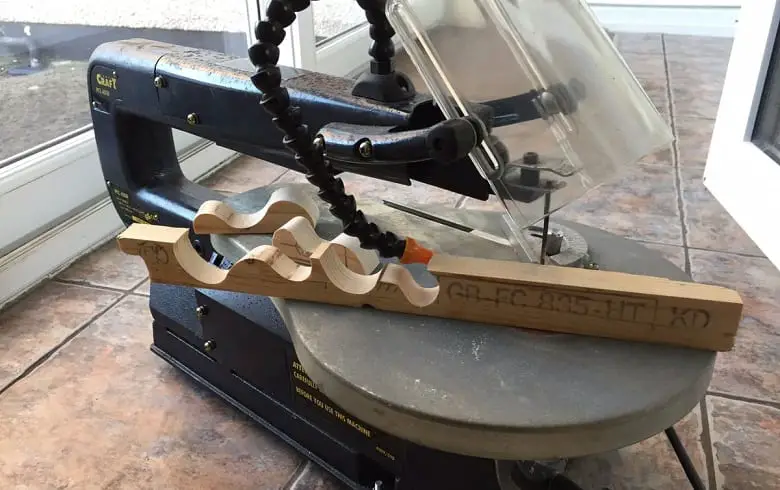 This is an article about scroll saws after all, but for clarity's sake, here's a fast recap:
Scroll saws are typically mounted with a table, and you feed the workpiece into the saw blade. You can thread the blade through a hole or open space in the workpiece if needed, and continue to saw from there.
These saws are often powered with a pedal, are relatively quiet, and one of the safest power saws as well.
You can cut a variety of materials and wood types with a scroll saw, but they usually cannot accompany workpieces thicker than 2 inches.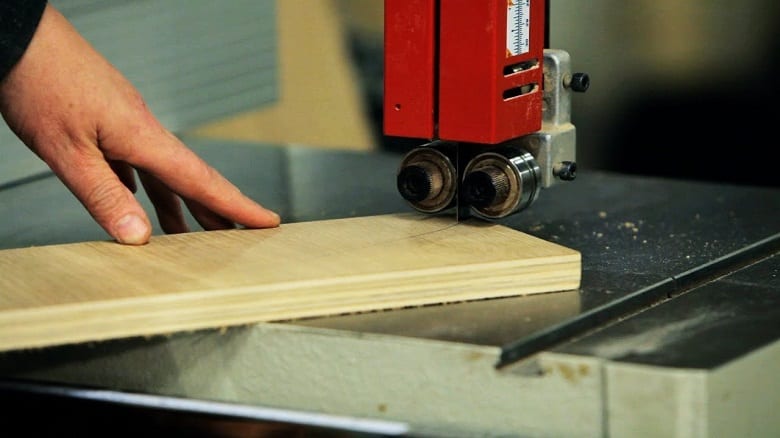 Band saws are also mounted on a table, and can be used for heavier cutting tasks. Unlike a scroll saw's blade that moves quickly up and down, a band saw blade is actually connected to a set of wheels that keeps the blade moving in a continuous circle.
This creates a formidable cutting action that has little trouble handling even the most dense of woods.
The thin profile of a band saw does make it apt for cutting curves, similar to that of a scroll saw. This is usually best for larger workpieces with less-pronounced curves, since the blade's design is not the best for acute curves.
Since band saws are a bit more heavy-duty, they are louder, and require more power. The blade changing process can be a bit lengthy as well.
The design of the blade and cutting surface allows these saws to take on thicker workpieces, something a scroll saw is not built for. Band saws are also perfectly suited for ripping wood, regardless of length or amount.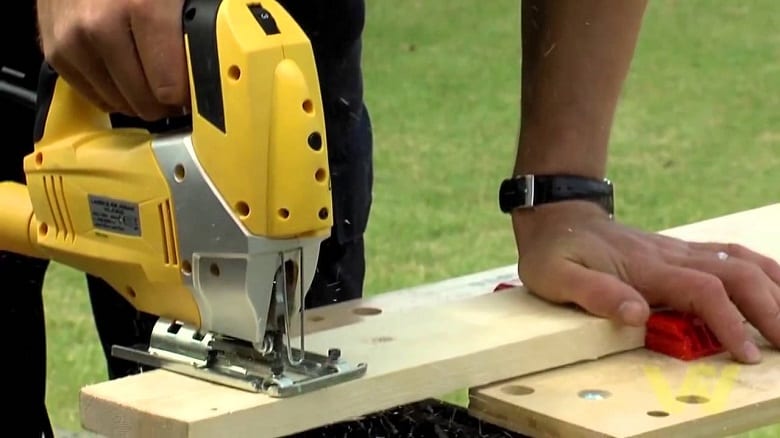 When compared to scroll saws and band saws, jigsaws are the most different. This is mainly due to the fact that jigsaws are handheld, so they don't require a table or a mount.
They are essentially a portable version of a scroll saw, but with the limitations that come along with it.
A jigsaw does use the same cutting action of a scroll saw, since the blade reciprocates up and down. The blade itself is more similar to the design of a band saw, as the blade is a little thicker.
The cutting capacity can vary in regards to the actual blade length, and how far it protrudes from the shoe of the saw.
Jigsaws are incredibly versatile, and when used correctly, can offer a number of different uses that range from smaller crafting tasks to making basic crosscuts on wood when on a jobsite.
These saws are typically inexpensive as well, so they are easier to purchase for most buyers looking to add some versatility and portability to their saw collection.
Aspects to Consider When Shopping for a Scroll Saw
Scroll saws are definitely not a one-size-fits-all power tool, so in order to make sure you get the product that's best suited to your particular needs, it's best to carefully consider the following aspects beforehand.
The actual size of the saw is always an important thing to think of before buying. 
Scroll saws come in a lot of different sizes, so you can find larger units that are intended for large workshops with a high output demand, and compact units that may not even come with their own table.
Despite the many size differences out there, the cutting capacity of the saws are generally the same, so it's really more about the table size, and the actual size of the unit as a whole.
If you have a spacious shop area, size won't be as much of an issue. However, if you do have to look for something smaller, be aware that this doesn't necessarily mean you're giving up performance and capacity.
In most cases, the average user can get away with a smaller scroll saw, or at least one with a smaller table that ensures a smaller overall profile.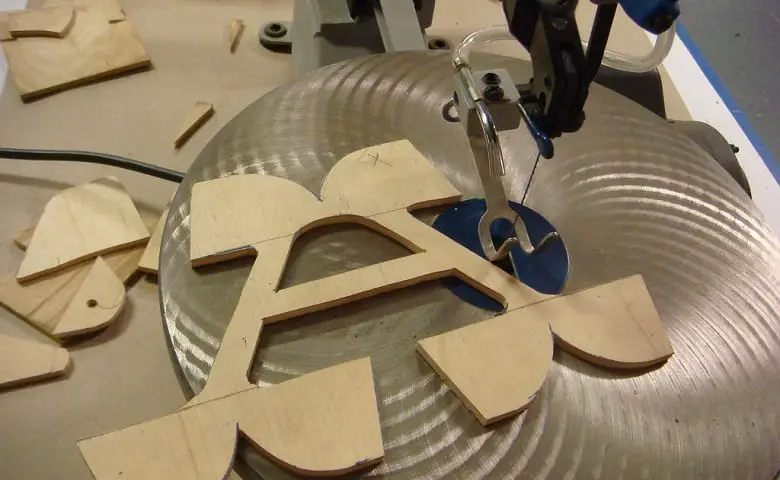 The available depth of cut on a scroll saw is something that tends to get overlooked for a lot of buyers, and then they don't realize it until it's too late.
The depth of cut is basically a fancier way of indicating the thickness of material the saw can cut. For instance, if the depth of cut is 1.5 inches, that means the saw can cut all the way through materials that are 1.5 inches thick. Pretty simple.
Since scroll saws are more suited for smaller cutting tasks and crafting, you won't need some huge cutting capacity to get by.
Most scroll saws range from 1.25 inches to 2.0 inches, so consider the workpieces you'll be dealing with beforehand, and make sure the saw you're looking at has the appropriate capacity to handle it.
Type and Thickness of Blade
Blade types are a big aspect of scroll saws, as each type of blade specializes in performing certain types of cuts for either certain materials, or the cut itself.
The layout of the blade teeth is what determines how or what it can cut. With scroll saw blades, the teeth are always on one side of the blade, with the other side flat.
The only exception is a spiral blade, which has teeth wrapped around in a spiral pattern, making it suited for very intricate curves that have a lot of variance in direction and angle.
Be sure to check out our article on scroll saws for a longer explanation of the various blade types, and what they are best for.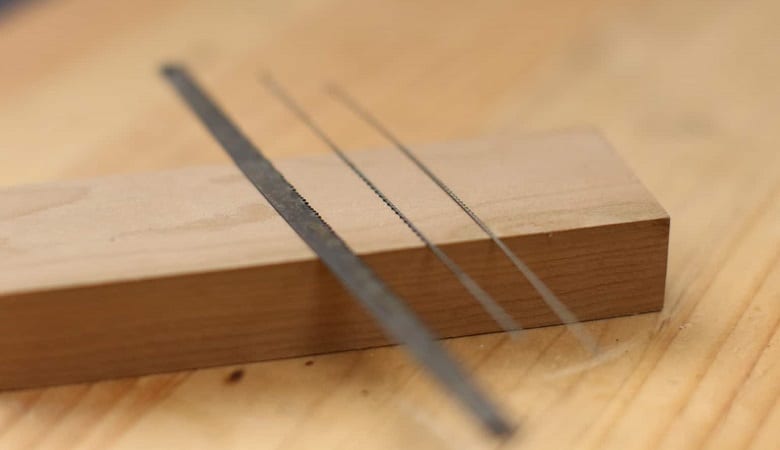 One of the biggest advantages of a scroll saw is how easy it is to change the blades. Anyone that's ever had to replace the blade on a band saw can appreciate this fact.
Most scroll saws now have very easy to use blade replacement systems, often involving the quick flip of a switch somewhere on the front of the saw, usually within reach of where you're performing the cuts from.
With this system, flipping the switch takes off the blade tension, allowing you to simply reach over, pull out the blade, and install whichever one you have on hand that you'd like to use next.
There are some scroll saws out there that still use more complicated blade changing systems, so be sure to read over the instructions and features to get a good feel for how the process is for that particular saw first.
If you didn't know already, maintenance is a crucial aspect when owning a saw. Proper upkeep helps to ensure it runs well, and also results in a safer saw going forward. Every saw is different, but the maintenance aspects are always generally similar.
With scroll saws, there will be some variance amongst different models, but the way the yare designed can either reduce the amount of maintenance you need to perform, or make the maintenance itself easier to do.
There are a select few extra features you should look out for with scroll saws, as these will not only increase convenience, but may aid in your overall cutting accuracy and quality as well.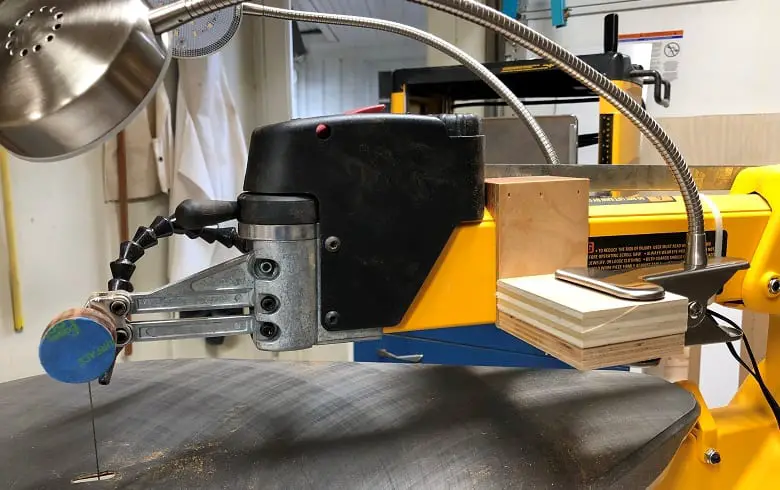 Every power saw requires a high sense of accuracy, but this is even more true with scroll saws. Part of being accurate is being able to see exactly what you're doing at all times.
Room and overhead light should already be bright enough for you to see the cut line, but there are times when this may not always be adequate. Other times you may simply benefit from having a more targeted light at yout cut line.
Scroll saws that come with an extendable light give you a major advantage in any environment. 
This light can be moved around and aimed directly where you want on your workpiece, so you can see every last detailed needed to make the best cuts possible, and without straining your eyes.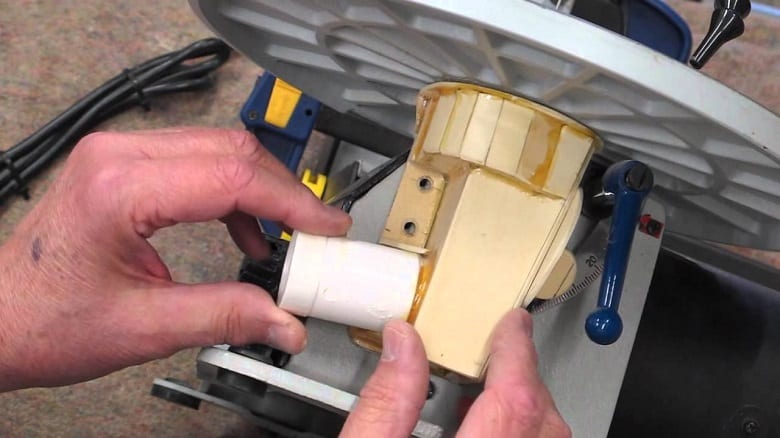 Saw dust is an unavoidable part of sawing, and it really doesn't matter which type of saw you're using. 
But again, since scroll saws require such a high level of detail and accuracy at times, having even a little bit of saw dust flying around can hinder your cut line, and obscure your vision.
Not only that, but saw dust quickly creates annoying messes that can take forever to clean up,while also getting all over your saws moving parts — and in your eyes or lungs.
With that said, most power saws come with a vacuum port at minimum that allows you to connect your own vacuum hose, but you know what's even better than that? A scroll saw that has its own vacuum built in.
As always, added features like this are not a deal-breaker if the saw you're looking at is great in every other aspect, but having a built-in vacuum is definitely a notable advantage.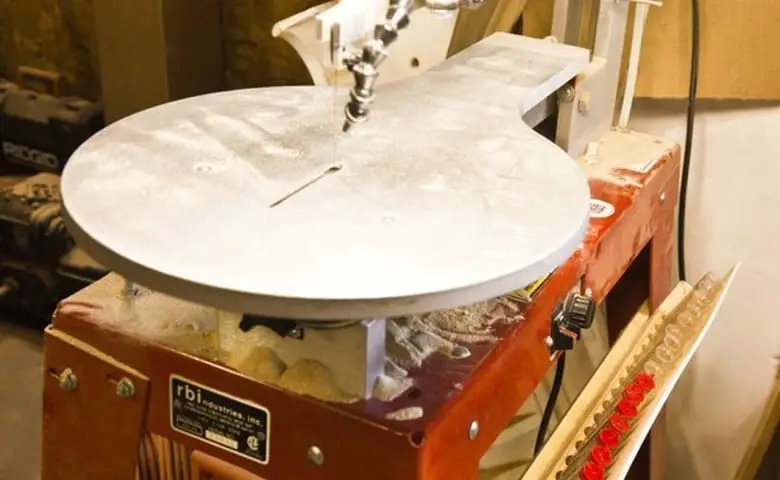 Most scroll saws are going to come with at least one all-purpose or general use blade, but it's always best to acquire other blade types as well, as this enables you to have more options with how you cut your workpieces, or with what materials you're working with.
It's always a solid bonus when a scroll saw comes with extra blades. Again, not a deal-breaker, but certainly preferred.
Another good aspect that can help with keeping your blade collection is a sizable onboard storage. 
There's nothing inherently wrong with keeping your blades and small parts in a shop drawer or tool box, but it's always ideal if you can store it all on the actual saw body itself.
Scroll Saws Accessories Worth Considering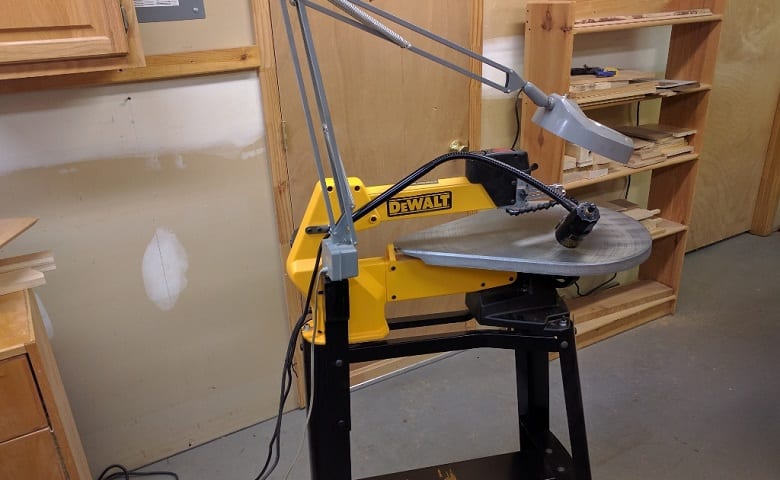 Scroll saws are rather simple power saws, but there are a few accessories available that can help you achieve better results.
Most scroll saws are easily mountable to work benches and tables, but getting yourself a good quality stand can increase its mobility, and sometimes even help reduce the vibration as well.
Most saw stands available will work with scroll saws, but it's always a good idea to double-check to ensure it fits your model before buying.
Scroll saw tape allows you to draw or sketch your cut patterns, and then apply the tape to the workpiece. From there, you can basically "trace" over the lines you've drawn by using the saw blade.
This is a fool-proof way of getting accurate cuts for small craft projects, and avoids the hassle of penciling patterns onto the actual workpiece, and then having to either sand off or erase the markings after the fact.
Attention to detail is required on a number of scroll saw cutting tasks. 
Whether your eyes aren't what they used to be, or if you could simply benefit from having the cutline magnified a bit, wearing a magnifying hood is an easy way to see better no matter what. 
Plus, it's handy for other sawing and home DIY tasks as well.
Bottom line, a scroll saw is an essential tool for both serious and novice woodworkers who need a reliable and highly accurate saw for cutting intricate designs, curves, and much more.
They are easy to use, safe, and also make a great intro for young and/or beginning woodworkers who are just getting started.
The products discussed above are all highly recommended, so you can't go wrong with any of them. 
Just make sure to first consider what you'll be needing your scroll saw for, your budget, and the features/specs you require, and you'll end up with the ideal saw that'll always be an asset to your tool lineup.
Resources