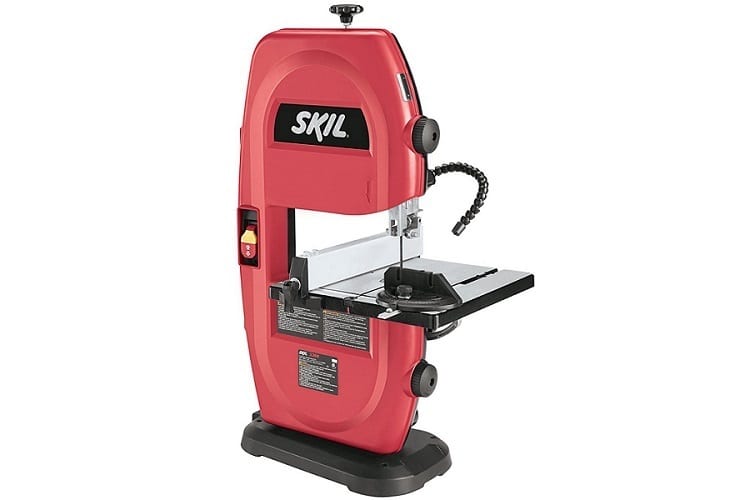 Price

Under $150 

– Find It On

Amazon.com

Blade Diameter (inches)

9

Power (AMP)

2.5

Summary

Budget band saw that will be ideal for all your small home diy projects. SKIL 3386-01 is easy to use band saw that will help you learn new woodworking tricks.

Our Rating

8.7/10

Manufacturer
Shopping for an ideal home use bandsaw can be a little frustrating if you don't know what you're looking for. SKIL was certainly aware of this when they designed the 3386-01, as it is marketed towards novice users who don't want to end up with too big of a tool for their needs.
In terms of basic uses, the 3386-01 excels. You get a versatile, highly capable bandsaw that is essentially a minor league version of its bigger brothers, without abandoning core features and functions, plus a few extras — and all for an extremely low price.
Introducing the SKIL 3386-01 Bandsaw
WEIGHT:
10.1 lbs (neto)
DIMENSIONS:
16 x 13 x 11 inches
MAX. CUTTING CAPACITY
3-1/2 inches
TABLE DIMENSIONS
12 x 11-3/4 Inches
SPEED:
2800 RPM
PRICE:
This saw is ideal for smaller home projects and basic wood ripping needs, giving you all the power you'll need for basic tasks, along with some added features that ensure more accurate cutting, and fast adjustments too.
The SKIL 3386-01 runs off of a 2.5 amp motor that operates on 120 volts, providing a decent amount of power needed to make a variety of smooth cuts with little effort. The saw has a 9-inch throat capacity, and you can quickly mount it to a benchtop for better stability, or use with a stand.
At 3 ½ inches, the 3386-01 has an impressive cutting capacity that gives you extended range to accommodate several different sizes of workpieces. It also comes with a versatile 6-TPI blade so you can get started immediately.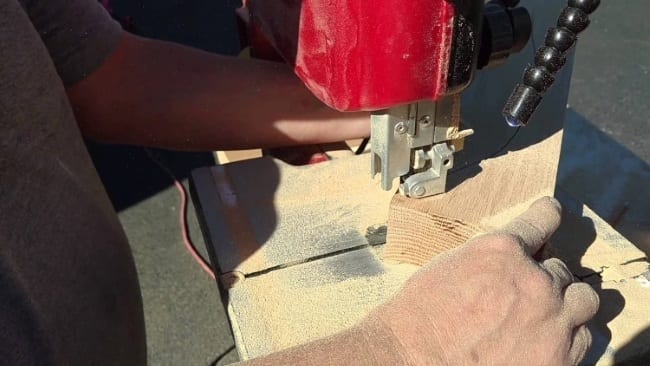 The 3386-01's 12 x 11-3/4 inches table is sizable, offering enough space to feel comfortable and stable when performing any number of different tasks.
You also get a rip fence and miter gauge with the saw, which allows for better precision with miter cuts, and more efficiency and convenience when ripping larger pieces of wood, something this saw excels at.
Another useful feature of the 3386-01 is its rack and pinion table that provides fast adjustments to angles and heights. The table's setup can be altered with the simple adjustment knob, letting you get right back to work without any annoying delay.
The 3386-01 includes a very convenient and helpful articulating LED work light that you can bend and point in any direction, but most importantly, right onto the cutline. This provides a highly detailed view so you can see even the smallest markings on the workpiece, or simply see the cut line better.
A dust port is included with the saw as well, which you can use to attach a standard-sized vacuum tube to keep dust and debris from flying around.
The SKIL 3386-01 also has a convenient dust port that you can connect to any standard sized vacuum hose to keep your work area clean and free of sawdust when cutting. New purchases include a limited 3-year warranty.
Why Should You Buy It?
One of the biggest selling points for this saw is its low price. When considering the price point and its aesthetics, some may think it's a little cheap and gimmicky, but that's not the case at all.
First of all, while this does look a little smaller than some other non-compact bandsaws, it still offers big performance that exceeds its size.ž
Still, you get a fully operational bandsaw that doesn't take up a lot of space and weighs just under 37 lbs, making it easy to move around when needed.
The saw's power is very adequate, and when paired with a quality blade, has absolutely no trouble cutting through basic materials. Cutting action is smooth and easy each time.
The rack and pinion adjustments on the table are awesome. Not only are they accurate, adjustments take just a few seconds, and without any fumbling around with multiple levers and knobs.
Just loosen the one knob, set to your desired angle and height, re-tighten, and you're good to go.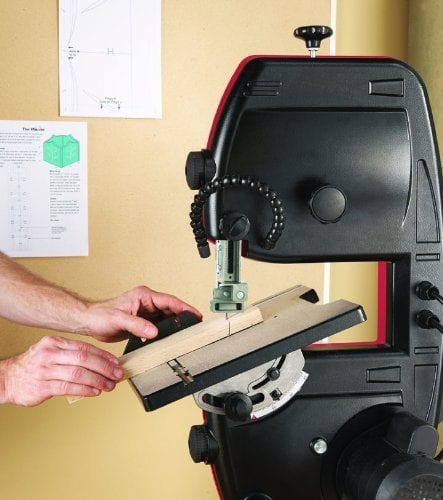 The rack and pinion adjustments on the table are awesome. Not only are they accurate, adjustments take just a few seconds, and without any fumbling around with multiple levers and knobs. Just loosen the one knob, set to your desired angle and height, re-tighten, and you're good to go.
The LED light is a nice bonus too, especially since you can aim it anywhere. Definitely helps in low light situations, or when you need extra light to see small details.
Things To Reconsider
The biggest complaint with the 3386-01 is its blade. It's nice to have one included with the saw, but unless you're cutting small, softer wood materials, you're going to have a bit of a hard time getting smooth cuts with low effort.
A quick blade upgrade makes a massive difference in the 3386-01, so I'd advise you order it with one.
play
The mostly plastic body gives the saw a sort of cheap feel as opposed to metal saws, but it's not a big drawback. As long as you don't go dropping it or slamming it around all the time, you'll be just fine.
It'd be better if the 3386-01 came with a stand to use with it, but this is a small complaint as well since the saw is very economical, but greatly outperforms its price. Just make sure you have a stand, saw horse, or workbench to use it with beforehand.
Conclusion
The 3386-01 is definitely geared towards novice woodworkers that need a fully functional bandsaw without breaking the $150 mark. If you are needing heavy-duty use out of a bandsaw, you'll want to look at some larger, more expensive models with more power and cutting capacity.
For the money, it's hard to do any better than the SKIL 3386-01. It's fully capable of handling a wide range of basic bandsaw tasks, and that includes making intricate curved cuts, or ripping wood into smaller pieces for further refinement.
Its small size, low weight, and easy adjustments make it the perfect home bandsaw for the occasional user who needs a reliable bandsaw without spending too much money.