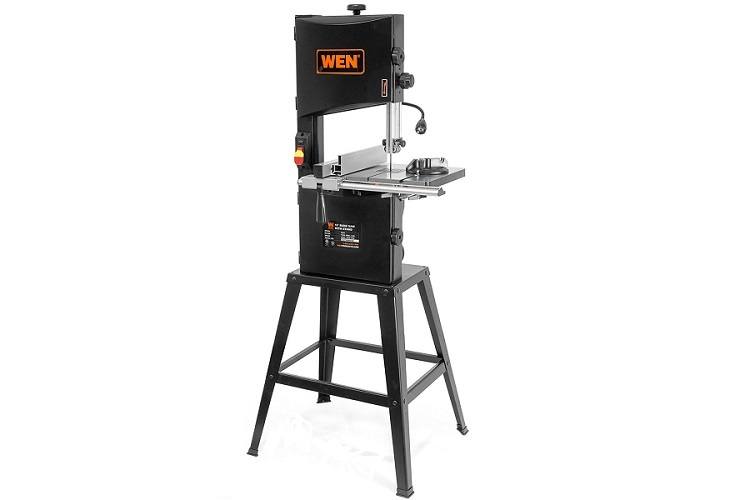 One of the major complaints with smaller bandsaws is how you often have to pick between two groups of characteristics.
On one hand, you have models that have lots of extra features and come with all the added parts you need to perform a number of different cuts and styles.
On the other hand, it seems like if you go for the extra features and capabilities, you have to sacrifice overall durability, quality, and cutting ability.
Fortunately, the WEN 3962 offers the best of both worlds. 
For well under $300, you get a very capable smaller bandsaw that not only handles basic and moderate cutting tasks, you get plenty of added features and conveniences as well, making it one of the most well-rounded saws you can buy in this range.
Introducing The WEN 3962 Band Saw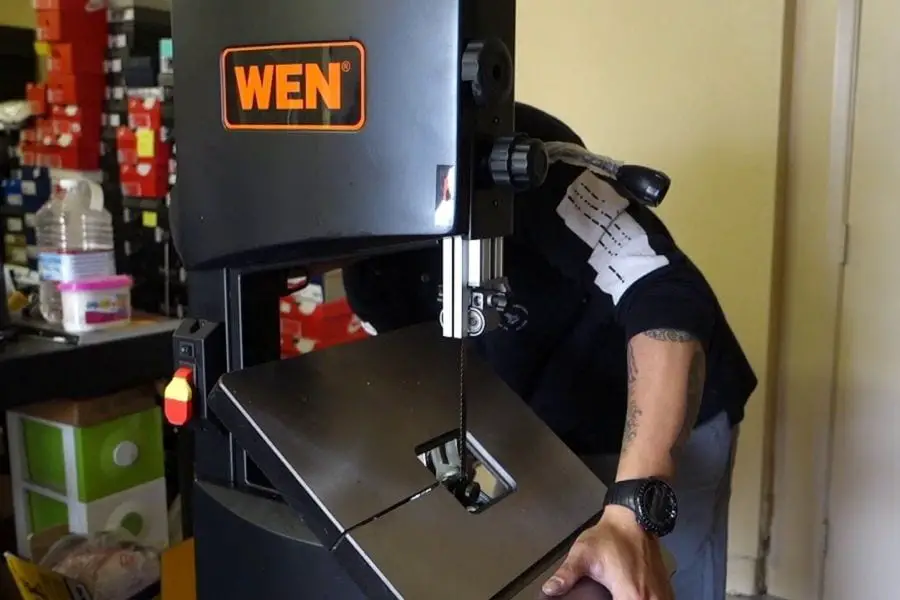 The WEN 3962 offers both sufficient power, easy adjustability, and added features that give it a high amount of versatility while making it a breeze to use once you get going.
The 3962 makes use of a powerful 3.5 amp motor, which lets it take on large loads and harder materials without much of a fight. You can choose between two different speeds for your sawing needs, with either 1520 FPM or 2620 FPM as options.
The saw's 9 ¾ inch throat size is slightly larger than the 9-inch size you usually see with a lot of other benchtop models in this range. The added space gives you just enough room to make cuts up to 6 inches deep on larger materials, which is a nice advantage.
You also get a ⅜ inch, 6 TPI blade with the WEN 3962, allowing you to get started the day the saw arrives. You can swap out any 72-inch blade ranging from ⅛ to ½ inches when needed.
The saw's large 14 ⅛ inches by 12 ½ inch table can bevel up to 45 degrees for angled cuts, and you also get a fence that's especially useful for ripping and can be taken off in just a few seconds for freehand cuts.
An added bonus to the WEN 3962 is the included miter gauge, something you don't always get with smaller bandsaws. The same can be said for the stand it comes with, letting you set the saw up to standing height without having to use a workbench or sawhorse.
The saw also comes with a very bright LED work light to better illuminate the cutting area when needed, as well as a 3-in-1 dust port that can fit three different vacuum hose sizes.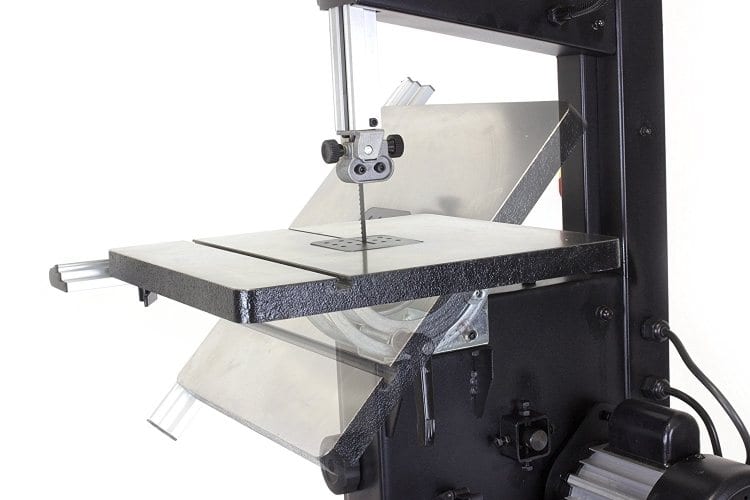 The WEN 3962 is one of the most inclusive packages you can get with a bandsaw of this size and in this price range.
The saw's motor is very impressive, and gives the saw the ability to seamlessly cut through basic words, regardless of what kind of cut you are doing. The added speed does make a noticeable difference with freehand cuts and makes resawing smaller pieces very easy.
checkTwo speed options gives you versatility while cutting wood
checkIt comes with the miter gauge
checkLarge dimensional table gives you a lot of space for your next woodworking project
The two speed options are great as well, which lets you dial things in a bit more to better match specific cutting tasks and situations. The included fence and miter gauges work surprisingly well, and further, expand what the saw is capable of doing from day one.
Did You Know?
Wen 3962 band saw comes with two speed option (1520 or 2620 RPM). This will give you a better grip for smaller cuts.
The inclusion of a stand is very appreciated, and I don't know why more manufacturers don't do the same. This instantly gives the saw a higher quality feel, and makes it easier to use for the novice saw user who may not be comfortable attaching it to a workbench.
The 3-in-1 nature of the dust port was a good choice as well, and as always, the LED light is a nice bonus, as I'm a fan of LED lights for cutting areas.
The WEN 3962 is not without its faults, but none are a deal breaker. Upon first setting the saw up, you may notice how things are a bit…difficult.
If you have trouble getting things even and flat at first, and the blade settled in properly, you're not alone. I'd suggest checking out a few YouTube videos on the subject, there are a lot of walkthroughs available.
The included blade is not the WEN 3962's strength, but that's not really a surprise with most saws in this range. Still, it's sufficient for smaller tasks, but you may want to get a better blade when you purchase the saw, as the small price is worth it.
The WEN 3962 is geared towards home users that need a quality bandsaw that does all it can to make things easier and avoids the need to purchase some additional parts.
And while the saw is better for novices, users can depend on the saw to accommodate a number of different uses as time goes on, as it's definitely one of the more versatile band saws available.
If you're someone that enjoys having a few extra conveniences on a bandsaw and don't want to have to pick between overall quality and these features, the WEN 3962 is the perfect saw for you.
The WEN 3962 has more of a true floor-standing feel to it, but without coming across as gimmicky, or relying on flashy features.
You'll be surprised as to what it can handle, while still giving you the ease of use and precise cutting ability band saws are known for. This is a great buy.