Miter saws are one of the essential power tools one can have in their shop. While these are not the most versatile saws you'll use, they are highly effective and efficient when utilized for their primary functions.
If you've ever shopped for a saw, you know that it can be a little daunting at first, mainly because of the number of choices, but also because it's hard to know what you're even looking for in one. Finding the best miter saw for your needs doesn't have to be hard, though.
Table could not be displayed.
We've taken the time to test out some of the top-rated miter saws on the market to determine which we think are best. It took awhile, but we came out with six miter saws that we think are superior to the rest.
And since we are well-aware of how the price point can fluctuate among miter saws, we made sure to pick three of the best overall, and also three that we think to offer the best value for those who aren't able to spend on a professional-level budget.
Best Miter Saws Reviews & Recommendations For 2022
Below, we'll first go over who miter saws are good for, and what you need to be aware of when shopping for one.
The three miter saws listed below our are three favorites for the coming year, each displaying astounding versatility, power, features, and overall durability.
We have a clear winner but do know that the other two options are great too, with some even preferring them instead.
Winner: DEWALT DWS780 Miter Saw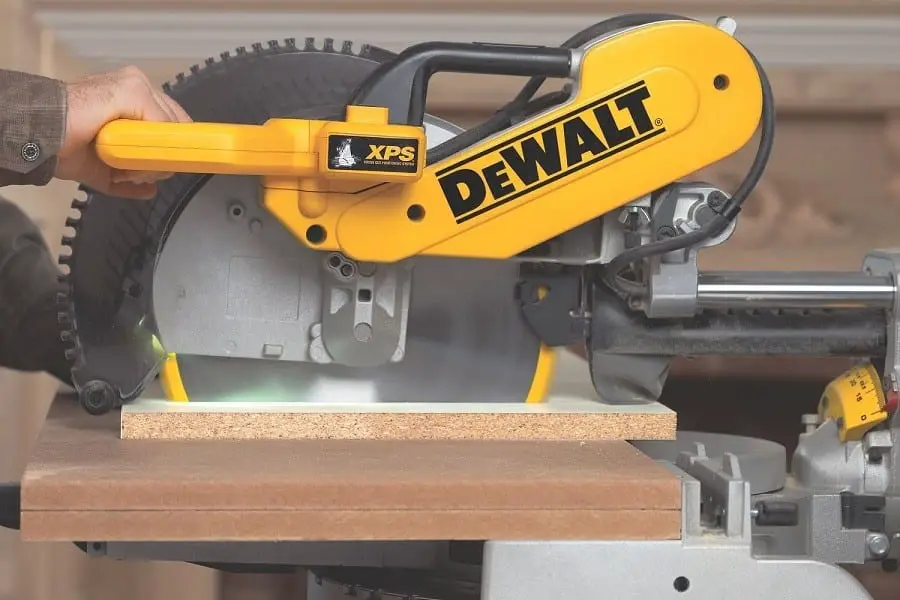 DeWalt's DWS780 is a real workhorse of a miter saw that is designed for maximum performance on the job site, while also being compact enough to be used in a home shop. This saw's potent combination of features, cutting size, and power makes it a superior product.
The saw uses a 15-amp motor that provides 3,800 RPM to its 12 inches carbide blade. The saw can actually compact down to a reasonably small size (for being a 12-inch blade,) and weights only 54 pounds. Its power cord is conveniently routed through the rail in the back, keeping it out of the way of the sliding mechanism.
Incredibly rugged parts are used to comprise the DWS780, including reinforced guards, precision-machined castings, fences, and bevel system. A stainless steel miter detent plate is built to take on the wear and tear of frequent job site use.
The DWS780 has an industry-leading combination of cutting capacities, such as a 6-3/4-inch vertical capacity, 7-1/2-inch nested crown capacity, 13-7/8-inch horizontal capacity, and innovative back fence design that cuts up to 2×16 inches at a 90 degrees, and 2×12 inches at a 45 degrees angle.
The saw also includes a rail lock latch for holding the head away from the fence, maximizing vertical cutting capacity in a simplified way.
The saw's compound bevel system uses a high-visibility scale with an easy angle adjustment. It allows beveling from zero to 49 degrees, with positive stops at 0, 22.5, 33.9, 45, and 49 degrees in both the right and left directions for quick angle changing.
As far as miter goes, DWS780 can angle 60 degrees to the right and 50 degrees to the left, with an adjustable miter detent plate with ten pre-set positive stops. There is also a cam lock miter button to let you lock miter angles in between any of those detents.
A dust bag helps capture dust and debris whether you're making miter or crosscuts. The DWS780 also includes a blade wrench, LED lighting, and an adjustable miter saw laser system.
The DeWalt DS780 may be one of the pricier miter saws on this list. If you are in need of a miter saw that has massive cutting range, unrivaled power, and an array of convenient features and extras, you will find it to be a huge benefit to your work, both on the site and off.
If you'd like to read our review, click here.
Runner-Up - Bosch GCM12SD Miter Saw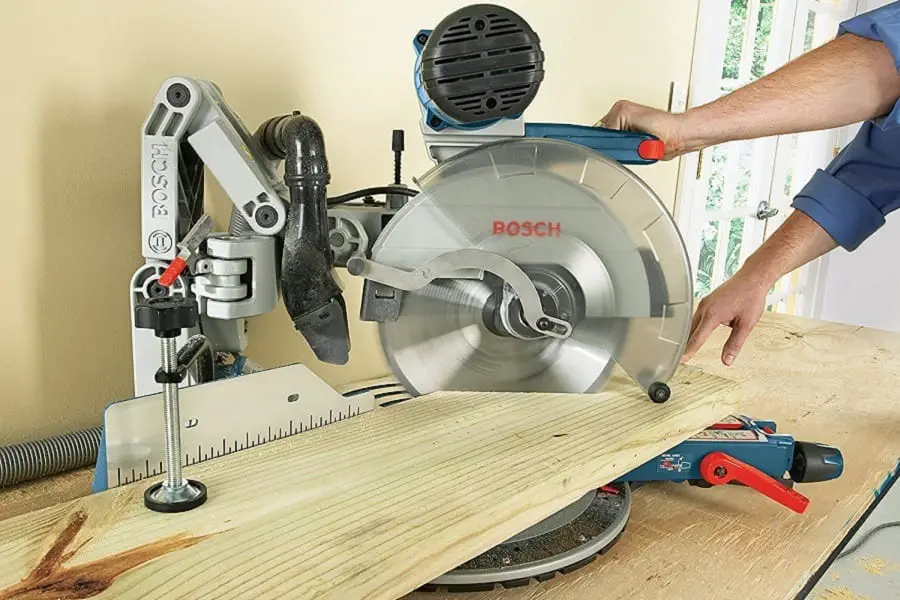 The Bosch GCM12SD is an incredibly innovative miter saw that places as much emphasis on convenience and space-saving as it does power and performance. It's perfect for professionals working in tighter spaces, or the home DIY enthusiast that wants maximum miter saw capabilities without taking up their entire shop or garage.
15 amps of a motor power drive the saw's blade at 3,800 RPM, keeping it on par with other saws in its class.The GCM12SD's main highlight is its patented axial-glide system that is used instead of the typical rails you'll see on other sliding saws.
The GCM12SD's axial glide system allows the radial arms to compact into each other, rather than stick out towards the back. In most cases, this can give you a minimum of 12 inches more space when compared to other sliding miter saws. The saw has a total weight of 65 pounds.
Cutting capacity is generous, with a 14 Inches horizontal capacity, 6-1/2-inch vertical capacity, and 6-1/2-inch crown capacity (with a 45-degree spring).
Squarelock quick-release fences give the user precise alignment with ease. The fences come aligned at 90-degree angle to the saw's table and do not require any adjustments.
They also use a quick-release feature with a one-touch lock/unlock feature that provides easy sliding into position for accurate material alignment each time.
The GCM12SD's metal bevel lock lever and range selector are positioned right in the front, enabling rapid bevel adjustments on the fly. The bevel capacity ranges from 0 to 47 degrees to the left and the right.
Marked detents and roof pitch angles offer an easy setting for the most common cutting angles. Bevel detents include 0, 33.9, and 45 degrees for both left- and right-facing cuts, and there is a highly-visible bevel scale integrated too.
In terms of compactness and ease of adjustments, it's hard to beat the Bosch GCM12SD. This powerful miter saw ensures a big cutting range for a variety of applications and backs it all up with some brilliant features that make it a breeze to use.
Want to read our review? Click here.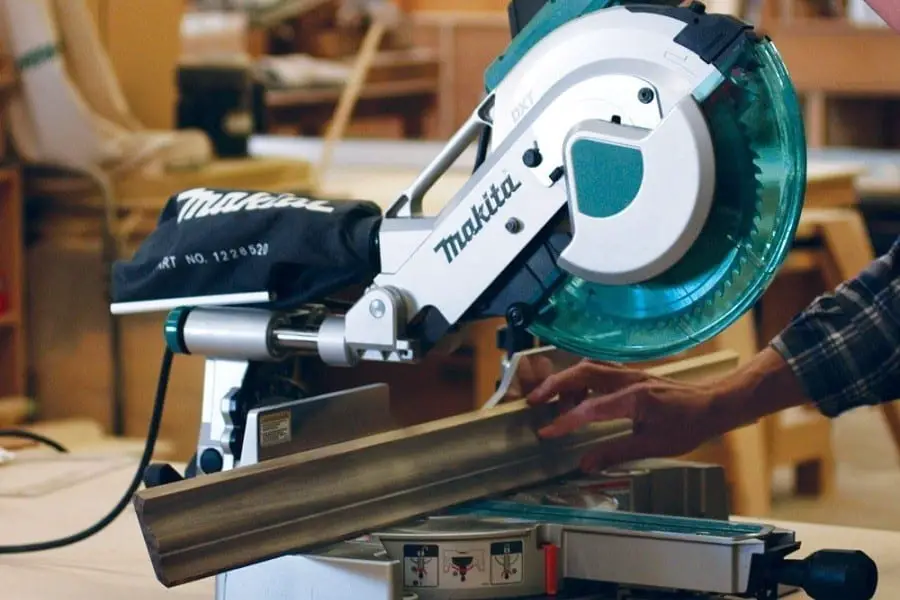 The Makita LS1016L offers professional-level performance and expanded cutting capacity for a very fair price. With its slightly smaller size and lower weight, it's a suitable option for those who can operate with a 10-inch blade, and would like to save a little space as well.
The LS1016L uses a 15 AMP direct gearbox motor that is always reliable and never bogs down. The soft start feature ensures smoother start-ups, while an Electronic Speed Control maintains constant speed under load for higher-quality cutting.
The saw's crown molding cutting capacity clocks in at 6-5/8 inches when vertically nested, (the largest in its class,) with 4-3/4-inch baseboard cutting capacity (vertical), and a 12-inch capacity at 90 degrees.
A patented Four-Steel Rail Sliding System provides increased rigidity when sliding the saw across workpieces for more precise cuts, while a six linear ball bearing design adds to the overall smoothness and accuracy.
The LS1016L uses an innovative 4-3/4-inch sliding fence system, with four sliding fences with upper and lower fence adjustments that ensure accurate miter and bevel cuts for numerous cutting applications.
The saw miters 0 to 52 degrees left and 0 to 60 degrees right, and includes positive stops at 0, 15, 22.5, 31.6, and 45 degrees (left and right). The dual rear-handle bevel lock is easily accessible with adjustments 0 to 45 degrees (left and right), with positive stops at 22.5, 33.9, and 45 degrees (left and right).
A built-in laser indicates the line of cut, and also includes an on-off switch with micro-adjustments. A dust bag, vertical clamp, wrench, and triangle are included as well, as is the 60T blade.
The Makita LS1016L may not be as big as full-size 12-inch blade models, but it's expanded cutting capacity, and smooth cutting features make it superior to those in and above its class in many ways. For under $500, it's an excellent purchase.
Click here to read our review.
Best For The Money - Hitachi C10FCE2 Miter Saw
Hitachi's C10FCE2 is a small and compact compound miter saw that is an ideal size and price point for home hobbyists, as well as framers and contractors that need an affordable, reliable, and powerful miter saw they can easily bring with them on the job.
The saw is powered by a 15 amp motor that outputs supreme power for even the most robust cutting jobs. The C10FCE2 has a horizontal handle with a soft, vibration-reducing Elastomer grip that provides additional comfort and control when cutting. An extended base table offers better material support for numerous applications.
The C10FCE2's large extended flip fence raises up to 4-inches, allowing accurate cutting of large workpieces that range up to 2-5/16-inches high and 5-21/32-inches deep. Thumb actuated positive stops offer quick miter adjustments at a moment's notice.
The saw has a 0-52 degree miter angle range that extends to the right and left for added flexibility, with a 0-45 degree bevel range to the left with adjustable bevel stops.
The saw comes with plenty of additional features as well. A dust collector helps to decrease dust and debris accumulation, and easily accessible carbon brushes help to ensure that the saw will perform at an optimal level for the long term.
A 10-inch, 24-tooth TCT saw blade is also included, along with a vise assembly and box wrench. Hitachi even includes a 5-year warranty, so you know you're getting a saw that will perform for years on end.
For under $150, the Hitachi C10FCE2 indeed is an incredible value. It gives users a surprising amount of cutting capacity, and offers flexible bevel and miter adjusting as well, adding a higher sense of versatility. If you want a top-quality miter saw without breaking the bank, this is it.
Read our in-depth review by clicking here.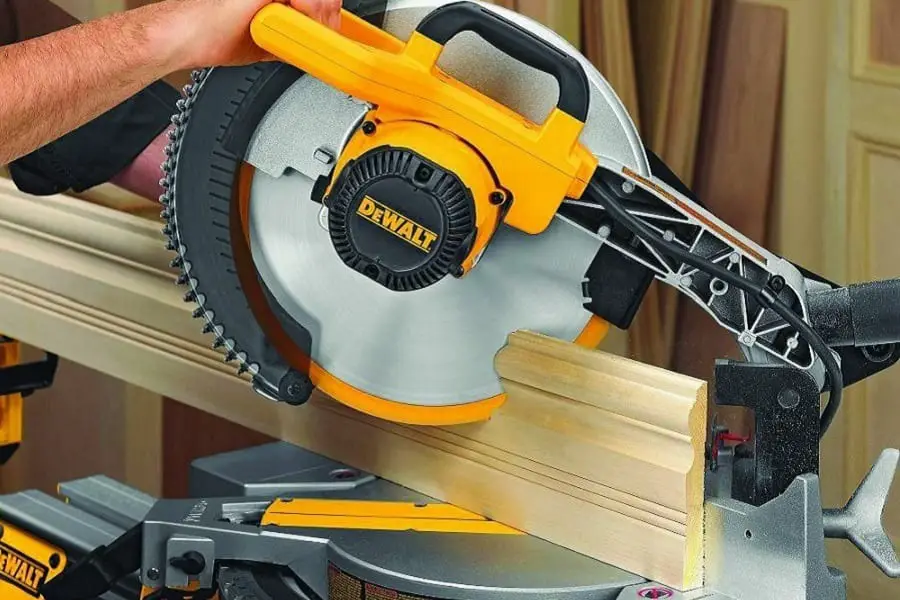 The DeWalt DW715 is a full-sized 12-inch compound miter saw that is designed to provide job site-level performance in a smaller package. Those who want a 12-inch miter saw for an affordable price will certainly appreciate this saw and its capabilities.
A powerful 15 amp motor offers a no-load speed of 4,000 RPM, making the DW715 great for fast and efficient cutting of framing or molding, and pretty much any other crosscutting and miter-cutting tasks.
At 42 pounds, it's incredibly light for a 12-inch saw, and its design includes a handle that lets you easily pick it and carry it safely and comfortably, whether you're on the job, or in your garage.
The saw's tall fence can support up to a 5-1/4-inch crown molding when nesting vertically, as well as 6-1/2-inch base molding when it has been set vertically against the fence. When making bevel cuts, you can easily slide the fence out of the table in just a few seconds.
The miter system's adjustable stainless steel miter detent plate comes with 11 different positive stops for quick setup. The DW715's cam-lock miter handle ensures fast and accurate miter angles, and also allows for detent override, letting you adjust the miter setting without the saw slipping into the miter detents.
The DW715 also has a wider miter capacity than other saws in its class, ranging from 0 to 50 degrees to the left and the right. It allows for setup for bevel cuts that measure between 0 degrees and 48 degrees to the left, and 0 degrees and 3 degrees to the right, adding a little more versatility.
The DW715 also comes with a clear blade guard for better visibility, a carbide blade, dust bag, and blade wrench.
We'll say it again: If you're looking for the affordable 12-inch miter saw, a performance from a reliable brand, look no further than this one.
If you'd like to learn more about this bike, read our review.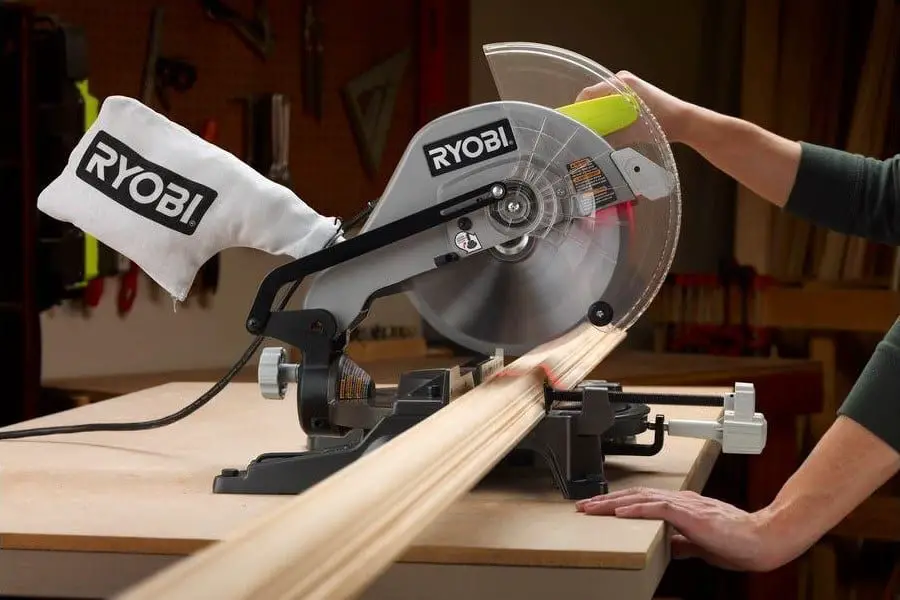 The Ryobi ZRTS is a well-known, certified refurbished single-bevel miter saw that is a great addition to a home workshop, without spending a lot of money. The ZRTS is a solid combination of higher-end features and impressive sawing power, and capable of larger-scale project use as well.
The ZRTS is powered by a 14 amp motor, with a 10-inch blade that spins at a very robust 5,000 RPM, making it highly suitable for an array of tough cutting applications. Its carbide-tipped blade can be changed out with a single wrench.
The saw is on the compact side, and weighs a very light 26 pounds, making it easy to carry, and saving you space in the shop. A horizontal D-handle improves comfort and control, while a clear blade guard gives you better visibility with each cut. The integrated stand design makes the saw compatible with larger stands, or on a tabletop.
The saw can miter up to 45 degrees to the left and right, with stops at 0, 15, 22.5, 30, 45 degrees. A maximum workpiece thickness of 3.5 inches can be accommodated.
The ZRTS includes a suitable dust bag that traps dust and debris in any position, a carbide blade, a laser sight feature for more accurate cuts in any scenario, and a changing wrench.
The Ryobi ZRTS may be small, but it delivers the highest RPM amount on this list while including precision cutting features, and cramming it all into a very lightweight and small package that you'll have no trouble moving around. We loved using this saw, and you could enjoy it too.
We've recently reviewed this bike. Click here to learn more.
Why Should You Be Careful When Choosing Your Miter Saw?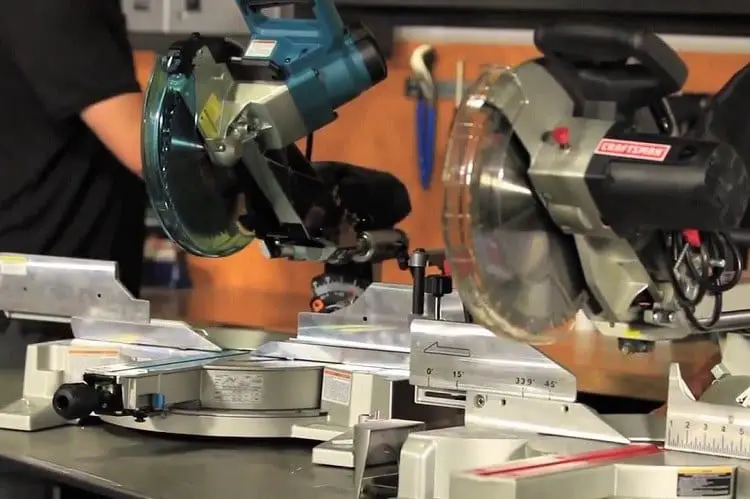 Are you still learning about miter saws? We've got you covered there too.
Miter saws are on the simpler side of things when it comes to power saws, but that doesn't mean they are all capable of offering the same uses and functions. There are several different types, some that can do a lot more than others.
For instance, some miter saws can actually slide back and forth to handle bigger workpieces, while others are only capable of coming straight down for a cut. That one aspect alone can make a huge difference.
Choosing a miter saw that's best suited for you means being knowledgeable about what you're even using it for, as well as its limitations. You also need to know about basic specs and features, along with any extra options available that can make the sawing process easier for you.​
Yes, all miter saws can cut stuff, but not all in the same way. If you just rush out and get any miter saw, you're setting yourself up for disappointment, and possibly a huge waste of money.
Why You Need A Miter Saw​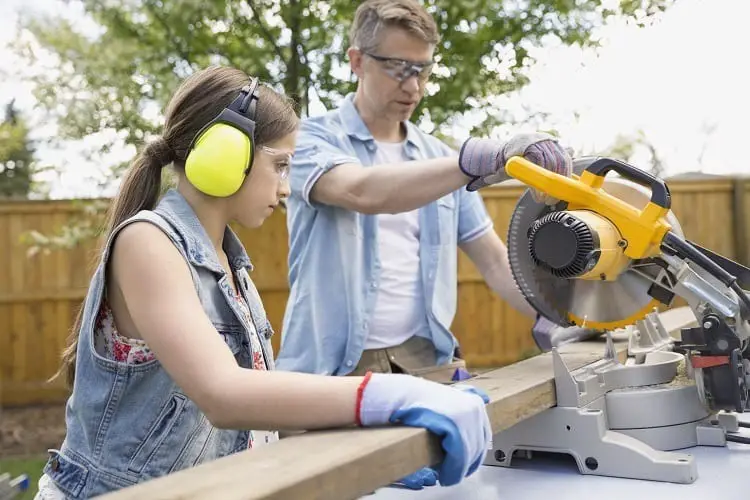 As we've already mentioned, miter saws are not the most versatile saw, but they can often be the most useful. They are great for making quick crosscuts and miter cuts, which is especially helpful when you're working with a significant amount of material.
In many cases, miter saws can be seen as a sort of "step one" saw, where you start by cutting the piece down to an ideal size or angle and then moving on to other saws to refine the piece further.
Many users can benefit from this, from the top professional level and all the way down. Miter saws are a common fixture on construction sites, as they are used to cut down main building materials that include everything from wooden wall studs, to piping and roof materials as well.
The most popular use with a miter saw involves its namesake: miter cuts. For those who may be unfamiliar, miter cuts are any angled cut that is made on workpiece downwards at a straight angle.
This is especially helpful for applications such as making frames, or anything with a corner that needs to pieces joined at 90 degrees angle on each end.
So, to recap, miter saws are used for finishing a workpiece in most cases, but they are great for making the initial cuts you'll need on a piece. And yes, there are plenty of times when a miter saw is all you need for a particular task, such as when you're working on fencing or decking.
Keeping a miter saw at the ready in your garage or workshop means you always have access to precise and fast cuts on some common materials. And fortunately, they come at several different sizes and prices, so it's relatively easy to find one perfect for you.
What To Keep In Mind When Choosing A Miter Saw
It's much easier to make the right purchase if you are aware of what you need to be looking for with a miter saw in the first place. There are a handful of core features and specs to know beforehand.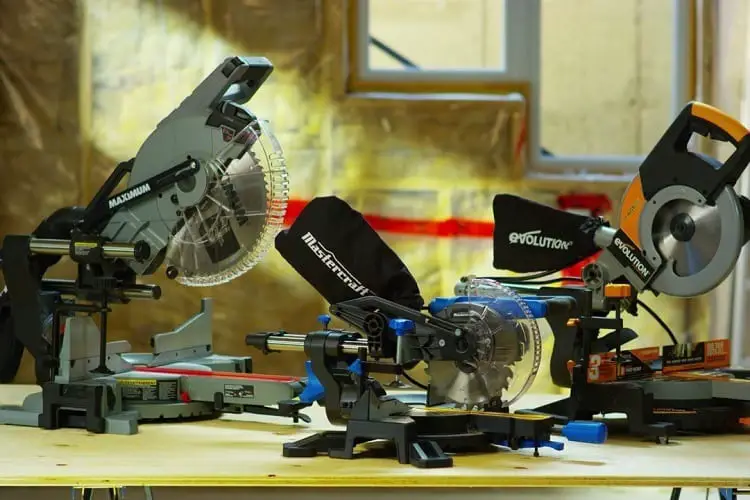 One of the main aspects of a miter saw is the fact that is not used to run along a workpiece, such as a circular saw or jigsaw. The cutting ability is limited to the size of the blade for most miter saws, so the size of the blade is an essential specification.
Although there are miter saws that can slide to take on an expanded cutting space, the actual blade size is still very relevant. Larger-sized miter saws are going to be more appropriate for industrial and professional use, while smaller sizes are better-suited for home use.
Most miter saws will have a sufficient amount of power, but any models that have an expanded amount will cut even more precise. 15 amp motors are common for higher-end saws, providing anywhere from 3,000 to 3,800 RPM for blade speeds.
Higher-powered miter saws can usually be used for a variety of materials that go well beyond wood, depending on the blade used.
This is where you need to pay attention. The actual type of a miter saw refers to its overall cutting ability, which in turn references how the head of the saw operates.
Chop Saw – The most basic of all miter saws (and in some opinions, not technically a miter saw in the first place,) a chop saw has a circular blade that you can lower straight down onto the workpiece, back up afterward, and that's it.
These are very simple and have fewer moving parts than other saws, but they are the most limited as well. For some, a simple drop-down cutting motion is all they need. No angles, no bevels.
Standard Miter Saw – A conventional miter saw is the most common you'll see used. These saws have the same cutting ability as a drop down saw, but also possess the ability to rotate on the saw's table so they can make angled cuts (miters.)
This lets you quickly create angled cuts that usually range between 90 degrees and at least 22.5 degrees, with some offering more angles depending on the model. If your woodworking needs are rather simple, and all you need is straight and angled crosscuts or miters, this saw will probably serve you best, while saving you some money as well.
Compound Miter Saw – Now we're moving up towards miter saws that offer a wider range of cuts. A compound miter saw has all the abilities of a standard miter saw but also has the ability to rotate the head and blade to the side, creating an angled cut down onto the workpiece.
This provides you with an easy way to make beveled cuts, often at a 45° angle, though you do have other options as well. For those who may not be familiar with beveled cuts, picture a ramp sloping downwards. If that was a board, that would be a beveled angle on end.
Regarding a maximum cutting angles across and down through the workpiece, the compound miter saw has it all. There is an even better option as too.
Dual-compound miter saws let the saw's head and blade rotate on both sides, saving you from having to flip the head and table back around to make a beveled cut on the other side. 
This seems like a minor convenience, but it does help to make the cutting faster and more accurate.
Sliding Miter Saws – Sliding miter saws have the saw assembly mounted on a sliding set of rails, letting you expand the maximum cut size. The sliding assembly acts as a sort of guide as you move the saw across the workpiece. This is what's known as a radial arm saw.
It gives the saw a wider range of cutting options for the more massive workpieces you encounter, which in turn increases the functionality of the saw. In some cases, the sliding aspect of the saw can double the cutting size of the blade.
Sliding miter saws are often compound saws as well, so you get the widest range of cutting in regards to angles, sizes, and bevels. If you plan on using your miter saw frequently, and anticipate using larger workpieces, this is the best way to go.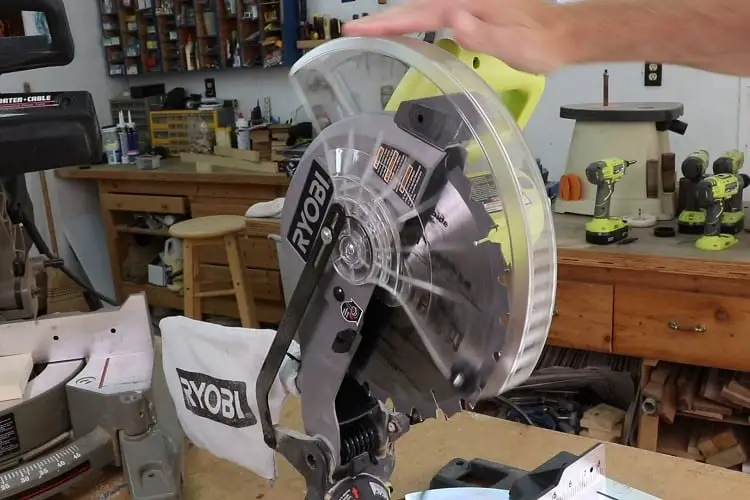 Safety is always a major concern with any saw type, so it's always good when a miter saw has some added safety features that can better prevent accidents.
There are three main safety feature options. The first and most common is a trigger-like power button that is located under the handle. Pressing down on the power button activates the saw, and deactivates it as soon as you let off, preventing the saw from just spinning on its own.
Blade guards are another essential safety feature, but some act differently than others. Blade guards full encapsulate the saw's blade, with the bottom portion either being removed before cutting by hand or moving off the bottom of the blade as you lower the saw down.
Pretty much every miter saw now has a bottom blade guard that moves out of the way as you lower the blade down. Some guards have a hinge, while most currently rotate into the top half of the blade guard.
Electric brakes are another common safety feature, but not as prevalent. These brakes activate as soon as you let off the power button, causing the blade to come to a full stop in around 1-3 seconds. It's good to use a miter saw with an electric brake if you can.
There are some different options, and extra features you can find on a miter saw that makes it easier and more accurate to use, along with some convenience features as well.
One of the more sought after features is some sort of dust collection system. This can come in several forms, ranging from a bag attached to the saw where the sawdust blows out, or even a vacuum tube. Either way, they capture most of the dust and debris that would otherwise fly all over the place.
LED lights and laser guides are favorite extra features nowadays. LED lights can help brighten your workspace so you can see more details, and just have a better idea as to what's going on in general.
Laser guides project a clear laser beam across the workpiece from the saw area, so you know exactly where the cut is going to be before bringing the saw blade down onto the workpiece. Lasers are highly preferred when using a sliding compound saw, as they drastically increase accuracy.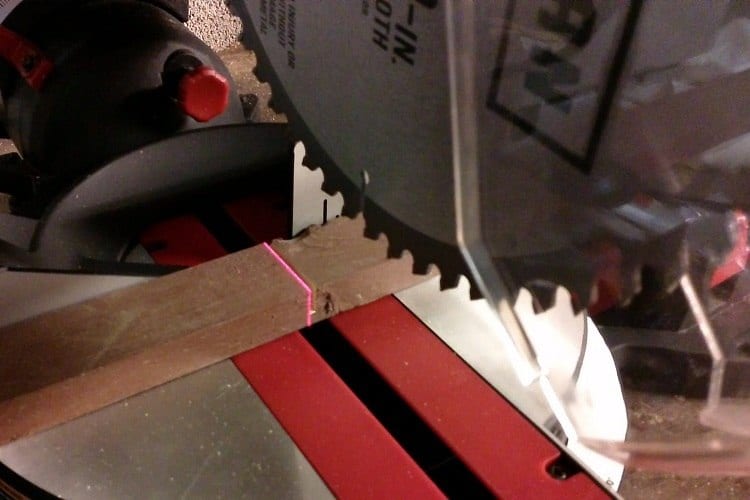 Hopefully, you now have a much better idea about miter saws, their capabilities, and what aspects to prioritize for your own use. We strongly recommend any of the six saws on this list, with each depending on your average project needs, and of course your budget.
You can also check a second opinion on the best miter saw on the market.
Regardless of which saw you go with, you'll soon be enjoying the convenience and efficiency that miter saws can provide for your woodworking and material needs, setting you up for many successful projects in the future.
Do you have a particular saw you'd like us to consider testing?
Let us know in the comments below!
Resources