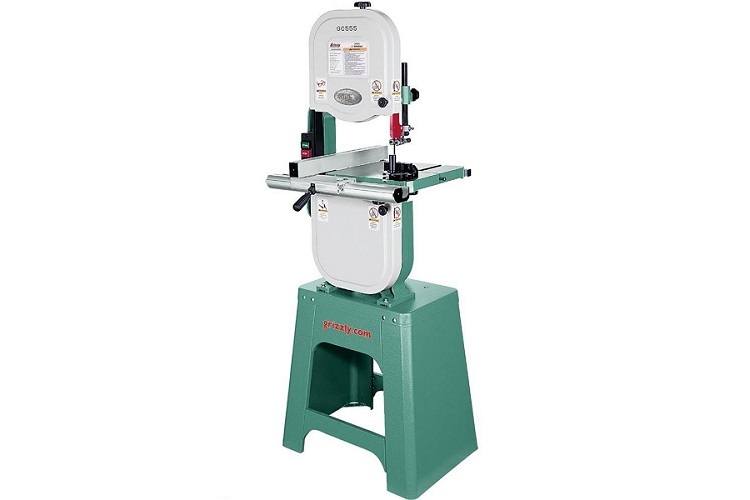 Not every home woodworker can get by with smaller, more basic models that are intended for smaller-scale tasks and cutting.
While there are a number of these models that can accomplish a lot of things, more experienced users with larger jobs need something that can handle it.
The 14-inch Grizzly G0555 is an ideal solution for the home or semi-pro woodworker that needs full-size performance and cutting power in a slightly smaller package.
This bandsaw bridges the gap between smaller tabletop bandsaws, and the larger, floor-standing models that are common in professional shops and worksites.
The result is an extremely capable and versatile bandsaw that can handle an expanded load, providing pinpoint precision, ease of use, and smart features that add to its longevity and durability.
Introducing The Grizzly G0555 Band Saw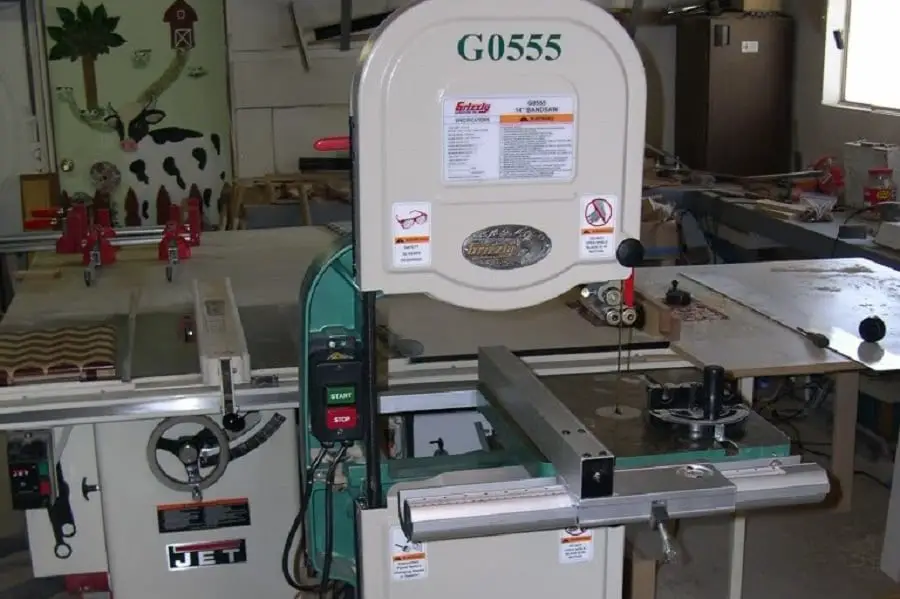 For the G0555, the differences are in the details. Instead of flashy features and gimmicks, the saw relies on small details and superior craftsmanship that ensures smooth operation and better cutting for any scenario.
The saw's 1 HP motor puts out 11 amps through a 110-volt/220v three-prong connection that works with any basic outlet. You also get the option of using two different blade speeds: 1500 FPM, and an amped up 3200 FPM, letting you dial in for specific tasks.
The G0555 comes with a ⅜ inch blade. If you need to use a different one, it can accomodate 92 ½ through 93 ½ inches in length, and 1/8th 3/4th inch width, so you do have some different options if needed.
One major aspect you'll notice with the G0555 is its smooth blade operation and stability that makes for better cutting, and better blade stability.
This is accomplished with upper and lower ball bearing guides, and computer-balanced cast aluminum wheels with rubber tires.
The saw's table is a full 14 x 14 inches across, giving you a lot of surface coverage, which works well with the 6-inch cutting height and 13 ½ inch cutting capacity. You can also tilt 45 degrees right, and 15 degrees left when the task calls for it.
The G0555's aluminum fence contains a scale with a magnifying window, along with a miter gauge, so you've got all the tools needed to make a variety of cuts in a wide range of materials.
The saw's 4-inch dust port can connect to a vacuum tube to help clear out the work area when cutting.
And although this is technically a tabletop bandsaw, the G0555 comes with a very stable, heavy-duty stand to put it at working height without the need for clamps and a workbench.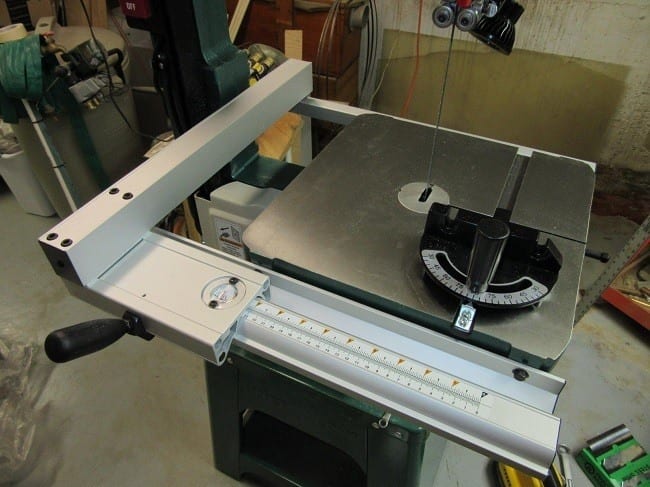 The two main advantages the G0555 offers is its cutting height and capacity, along with its overall smooth operation.
With 6 inches of cutting depth and a maximum capacity of 13 and ½ inches, you have the space needed to perform larger cutting tasks with bigger workpieces, expanding the saw's capabilities and use.
checkCutting any wood with this powerful saw shouldn't be a problem
checkYou can easily cut at the 45 degrees with Grizzly G0555
checkIt comes with miter gauge and stand
The ball bearings and rubber wheels keep the blade nice and tight, providing the reinforced stability needed to hold the blade in place without any noticeable flex, which not only makes it better for ripping and resawing but detailed freehand cuts as well.
The blade tensioner handle lets you disengage the blade for extended blade life, along with making it easier to change the blade whenever needed.
The included stand is much appreciated as well, helping give a floor-standing feel, while still saving on space overall.
And I've already touched on this a bit, but miter gauge and fence are nice inclusions that expand the cutting types and adjustments of the saw from the moment you get it set up.
This saw does a lot of things right, but there are some things that can be improved. This might seem a little nitpicky, but the instructions for setup were a little lacking.
You're probably going to have to look up a few videos on how to get everything going, many of which you can find from Grizzly themselves. There are plenty on YouTube as well.
The fence, although a nice inclusion, isn't exactly the best fence you'll use. You can't really account for drift angles, which is a bit odd considering.
For as nice as this saw is, it's strange that they left off an LED work light for help illuminate the cutting area.
The stature of the saw blocks out downward light depending on where it's set up, so you might want to get yourself one of those clip-on lights from Amazon. There are tons.
The G0555 toes the line between being a high-end home bandsaw, and a lower-end professional model. That's actually a good thing.
For more experienced home or hobbyist bandsaw users, you get a workhorse saw that offers the smooth, powerful, and versatile operation of a true shop saw, but without the much higher price, and of course the massive size.
The Grizzly G0555 is higher in price when compared to some similar models near its class, but the extra money spent delivers you a bandsaw with a higher sense of quality and overall feel that will make a big difference if you are a frequent or more serious user.
The smooth and efficient cutting operation, along with the expanded cutting size, durability, and ease of blade adjustments and changing make the G0555 a valuable ally for the more skilled woodworker that simply needs something better for the long run.