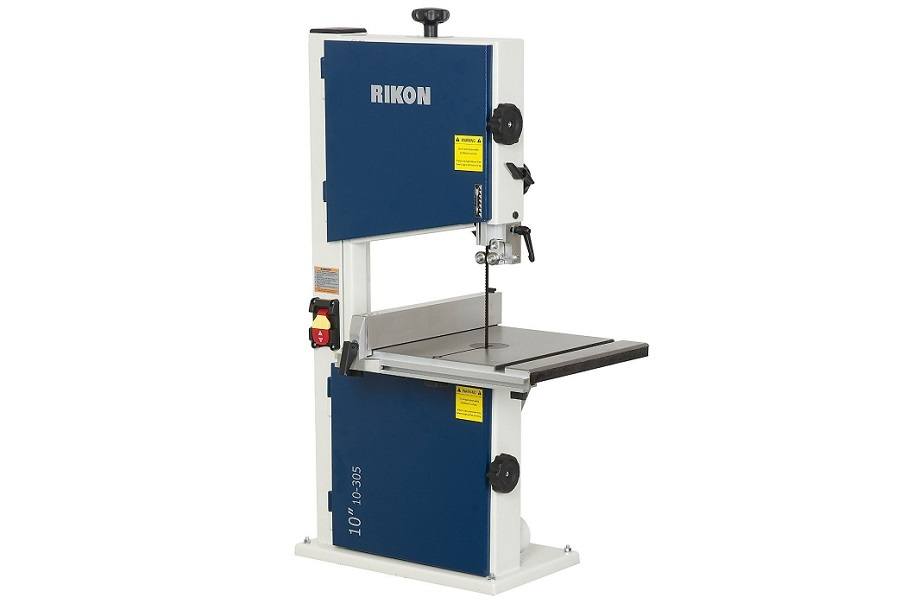 Smaller bandsaws can sometimes pose a problem for the average home user.
While you may be able to use it for most basic tasks without any issues, what about for when your skills get a little better, or you need to use it for more intensive cutting jobs?
The Rikon 10-305 is the perfect bandsaw for this situation. This saw is a scaled-down version of the longtime favorite Rikon 10-345, giving it most of the power and cutting capacity, just in a smaller package that won't take up half of your shop space.
Introducing The Rikon 10-305 Band Saw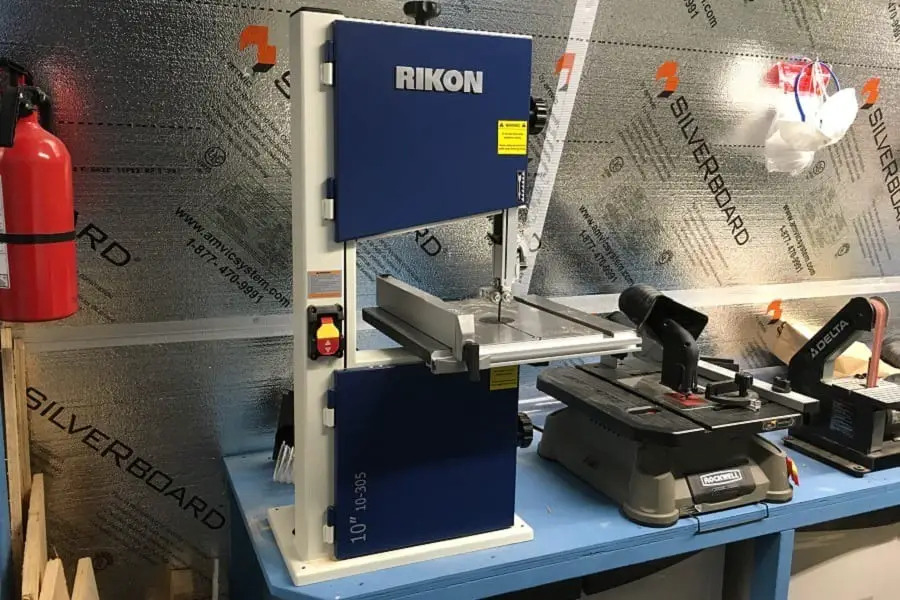 This saw far outperforms its size and is a welcome step up from lesser bandsaws you may have started out with.
The 10-305 uses an impressive ⅓ HP, 3.5 amp motor, which is more than enough power to take on handle bowl and pen blanks, as well as several other harder materials that less powerful saws would have difficulty with.
The saw's all-metal construction is preferred over the plastic bodies on similar models in this range.
With a cutting capacity of 4 ⅝ inches in height, and 9 ⅝ inches in width, the 10-305 provides some added room that lets you saw and resaw larger lumber pieces usually reserved for actual floor-standing models, while staying under 36 inches in overall height.
Cutting capacity is at a premium as well. The 10-305 has a capacity of 4 ⅝ inches x 9 ⅝ inches, which gives users some extra room to both saw and resaw workpieces that you'd normally need a typical floor-standing model to deal with.
This is still despite the saw being less than three feet in height. The saw's table is made of cast iron, measures 13 ¾ inches by 12 ½ inches.
The larger surface area is not only expansive but stable as well. Which makes it easy to get precise cuts while working with a wide range of workpiece sizes.
The 10-305 also comes with a handy rip fence, which is very useful for resawing. You can easily remove it for the times when you need to make freehand cuts.
The saw includes a micro-adjustable guidepost that allows you to raise and lower and height by the turning of a handle. A 2 ½ inch dust port lets you pull dust and debris from the work area by connecting a compatible hose.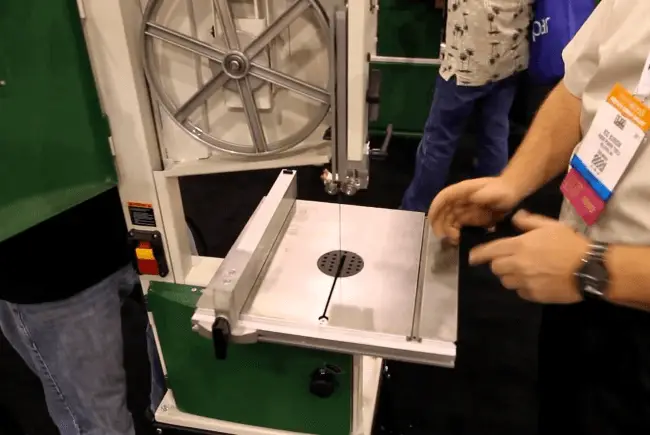 The Rikon 10-305 simply has a professional aesthetic and feel to it, and once you begin using it, you'll see that it performs just as well as it looks.
The metal construction gives it a certain ruggedness other bandsaws often lack, and it's also much more stable. It's also still well within the smaller size range, without skimping on the power and cutting ability.
checkPremium cutting capacity
checkLarge surface area that will be sufficient for any woodworking project
checkGreat designed dust port will assure that you shouldn't have a problem with saw dust
The motor is very adequate, and you'll find that it has no trouble cutting right through basic woods with hardly any effort. This makes freehand cuts as easy as possible.
The cast iron table is a big selling point here. It just has that industrial, heavy-duty feel that gives you peace of mind knowing that it can keep things stable, and allow for quick and easy adjustments whenever needed, Definitely feels like a full-sized model.
This may seem a little trivial, but the dust port works a lot better than most of the models I've dealt with in this range, so if minimal sawdust and debris are important to you, take heart with this saw.
As with any saw in this range, there will be a few drawbacks. The blade that comes with the saw is not the best.
If you're dealing with mostly soft or thinner woods, this may not matter all that much, but if you're going to be using the saw quite a bit, or need to trim and resaw harder woods, I'd suggest a replacement up front.
Also, the lack of a stand was a little off-putting to me. This saw should absolutely come with one considering the way it's been designed. You can buy a matching Rikon stand easily on Amazon.
I'd strongly suggest that too. It makes a huge difference. The lack of a miter gauge was a bit odd, so be aware of that before purchasing.
This looks and sometimes feels like more of a professional bandsaw, but it is definitely more suited for novices, or the weekend hobbyist.
Even in spite of that, there are probably more than a few contractors who would be impressed as to what the 10-305 could actually handle.
The Rikon 10-305 is a big step up from smaller, less powerful bandsaws, and it's still able to offer this is a smaller size range that most will find easy to fit into their shop or garage.
The heavy, stable, and more durable feel to this saw comes through in the cutting action, and you can buy it with the full assurance that you'll have it for years, and that it will be up to most any task you throw at it within reason.
If you're smaller, less powerful bandsaw just isn't cutting it anymore, and you want to make a step up without spending too much, the Rikon 10-305 is an ideal purchase that you can rely on for numerous jobs for the years to come.