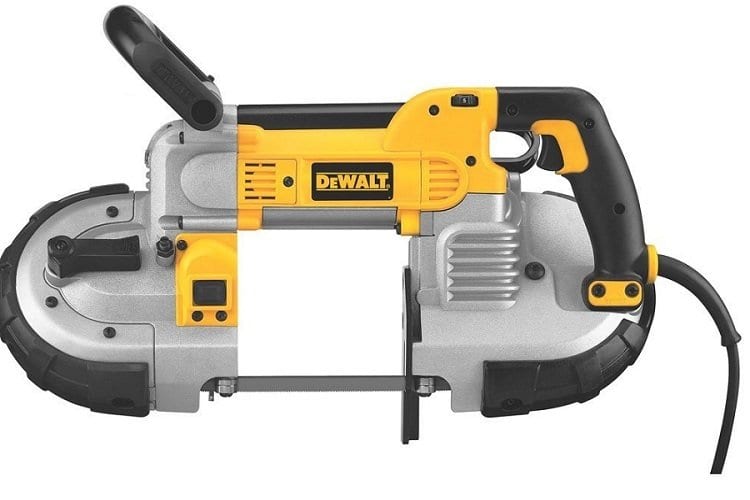 Portable band saws are an ideal power tool for those that need the cutting ability and benefits of a standard band saw, but either don't have the room to set one up, or simply need one that's actually portable and mobile for different job site needs.
DEWALT makes a number of saws, including band saws, but their DWM120K may very well be one of the best.
By combining enhanced cutting power with better versatility, large cutting capacity, and some helpful extra features, it's no wonder this product is one one the most popular band saws around.
Despite its superiority on many levels, the DWM120K maintains an affordable price point and ease of use that gives it a broad appeal to a number of different power daw users.
Introducing The DEWALT DWM120K Portable Band Saw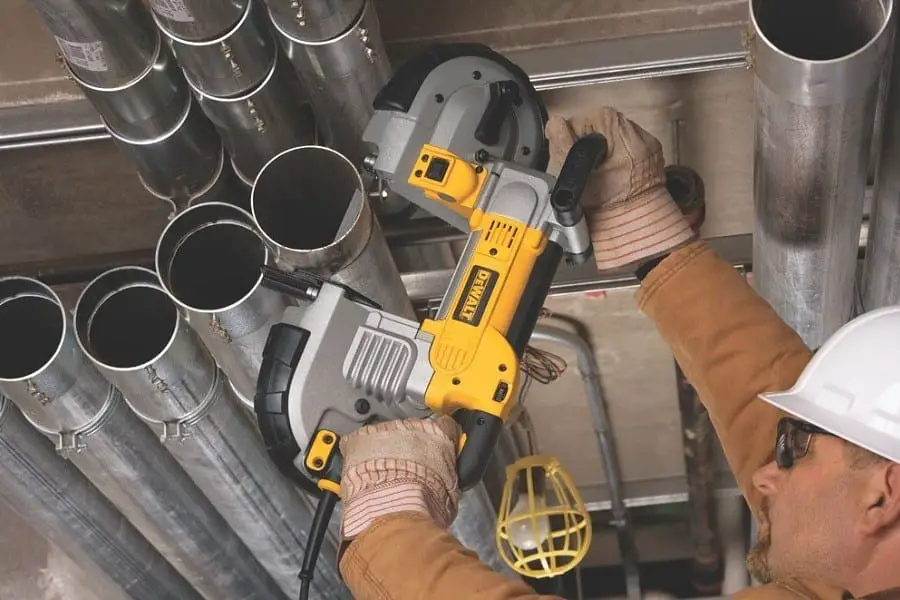 Portable band saws do things a bit differently, but the DWM120K still offers a number of familiar characteristics and features you'll find with a conventional bandsaw, just in a smaller package — and with a handle.
The core of the DWM120K is its 10 amp motor, that relies on a cord instead of a battery pack. While this does limit its mobility to an extent, the saw benefits from the extra power, giving it more than enough to handle several different materials that go beyond just wood.
The motor comes with a two-speed setup as well. For tougher jobs, or for when you need maximum blade speed, there's a 300 sfm setting. Materials and scenarios that require slower speeds benefit from a 100 sfm option. This is very useful for cutting metals.
The cutting capacity of the DWM120K is hard to match. The spacing and blade length allow the saw to accommodate 5-inch round stock pieces, or 4-¾-inch rectangular stock pieces. This gives the saw added versatility you won't find in many other portable band saws.
The handling of the saw is very firm, secure, and smooth, mostly thanks to a smart weight distribution, but also the saw's 15 lb weight.
Ergonomic handles provide superior grip and control, and the front handle can also be adjusted as needed, something you'll appreciate when cutting overhead, or awkward angles that require a bit of strain.
The DWM120K comes with a standard blade to allow for use right out of the box. Blade life and precision are extended with an included blade tracking adjustment, and changing the blade is made easier with an integrated blade lever.
An extra bright LED sight light comes equipped on the DWM120K, so you can have ideal vision on your cutting line no matter where you're working. A hex wrench and saw kit box are included as well.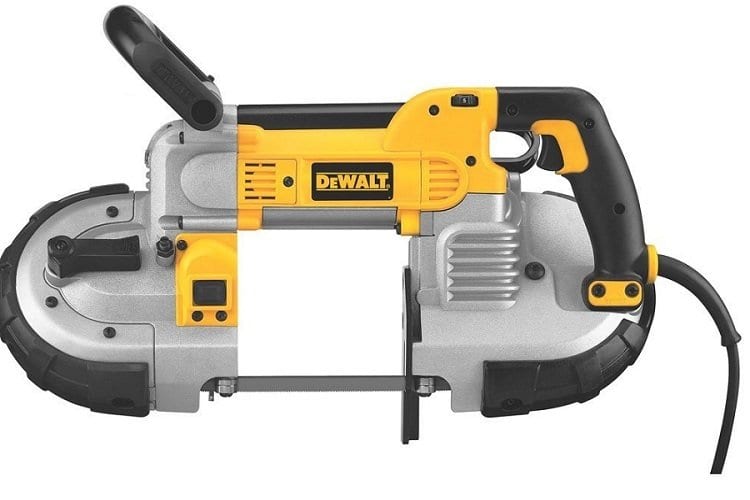 The DWM120K manages to get most everything right that one needs out of a legitimate portable band saw.
Everything starts with power. The 10 amp motor is plenty for what this saw does, and having the ability to toggle back and forth between two very different speed settings is not to be overlooked.
The slower speed gives the saw much more versatility, as these speeds are much better for metal.
check2 speed setup with 100 and 300 fpm setting
checkPowerful 10 amp motor
checkBest in the class cutting capacity at 5 inches
The other big advantages of this saw are the huge cutting capacity. 5 inches of round stock is certainly bigger than most pipes, so this saw will have no trouble in those situations. The same can be said for the slightly smaller rectangular capacity.
In fact, the large capacity of the DWM120K has led some to use it as an improvised table top bandsaw, simply by mounting it inverted onto a custom made table.
The handling is the icing on the cake. This thing really is simple to use, and you will rarely find yourself straining to make the cut, or feel like you don't have the control or accuracy that you should. Portable band saws can be a little awkward, but this one definitely is not.
There are a few small faults with the DWM120K, but they are not all that noticeable or problematic.
The case for the saw is not the greatest. Although it's nice to have, the case is hard to shut, doesn't always feel secure, and is difficult to fit everything into. Again, it's usable, just be careful when transporting the saw, or when you're packing it in.
I do understand the lack of a trigger lock, but having the option to use a trigger lock would certainly be nice. This is especially true if you plan on mounting it from time to time and using the saw as a modified tabletop version.
One great thing about the DWM120K is that it's equally suited for professionals as it is home hobbyists. Contractors and welders can appreciate its efficiency and precision when cutting metal tubing and pipes, and also plenty of other smaller materials.
Home users can make use of its portability and overall smaller size, which gives it the ability to take on a wide range of home saw uses that you'll encounter frequently.
The saw's simplicity, handling, and size make it easy to use regardless of skill level or familiarity.
The DWM120K is simply the best portable band saw you can buy for under $300, and it likely outperforms other models in higher price ranges too.
The combination of power, handling, and cutting capacity makes it truly stand out, and gives it broad appeal to a number of users.
If your work or projects can be benefited by using a quality band saw, and you don't want to spend a ton of money, the DEWALT DWM120K is the perfect product. No need to look elsewhere.