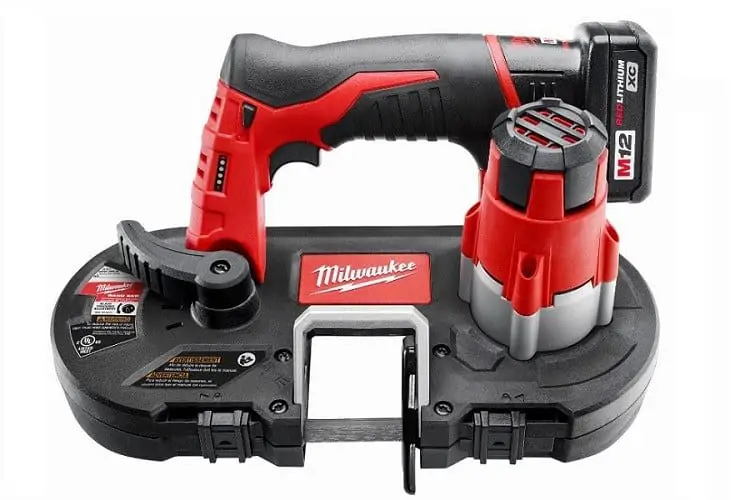 When it comes to portable band saws, you basically have two choices. You can go with something bigger that can still cut larger pieces for more heavy-duty jobs, or you can go with something even more compact that has a limited cutting range but is lighter and more convenient.
The Milwaukee 2429-21XC M12 definitely falls into the smaller category, as this saw is the very definition of a truly portable band saw that acts like a motorized hacksaw in a lot of ways.
No, it's not as big and strong as its larger cousins, but when it's put to its intended uses, nothing can beat it.
This saw is light, powerful enough, and extremely versatile, and also comes at an affordable price range that is certainly attainable for most. It performs well above its size, and its stature lets it do somethings other portable band saws simply can't.
Introducing The Milwaukee 2429-21XC M12 Band Saw
If you're used to conventional band saws, or even larger portable versions, the 2429-21XC M12 may seem a bit gimmicky at first, but I promise you it's anything but.
The first thing you'll notice about this saw is the size and weight. The 2429-21XC M12 has a similar size to a large power drill and is intended to be used with one hand. It weighs only 12.4 lbs, and actually feels lighter thanks to the way the weight has been distributed.
This setup allows the user to easily hold it in place when making cuts, and this is even more appreciated when cutting slightly overhead. You can use two hands if needed, but one hand should be fine in most cases.
The 2429-21XC M12 doesn't come with preset speed settings but does have a maximum sfm of 280. Fortunately, the blade speed is variable and controlled by the trigger pressure on the handle, which again, is similar to a power drill.
The cutting capacity of the 2429-21XC M12 is 1-⅝ inches. This isn't very big, but it's just the right size needed for electrical work, small handyman jobs, small pipes, and a variety of other workpiece and cutting situations.
Power to the saw is provided via XC battery, which is 12 volts and can offer about 150 separate cuts in between charges. The battery and charger itself are set up to ensure rapid charging, making it perfect for work environments.
The saw does come with an 18 TPI blade, which is a lot more than a standard blade, but makes up for the smaller blade size, and the shorter blade action. Plus, it allows you to use it right out of the box.
Did You Know?
Surface feet per minute (SFPM or SFM) is the combination of a physical quantity (surface speed) and an imperial and American customary unit (feet per minute).
It is defined as the number of linear feet that a location on a rotating component travels in one minute. Its most common use is in the measurement of cutting speed (surface speed) in machining.
The 2429-21XC M12 also includes an LED cutting light that illuminates the cutting area and actually creates a cutting line projection by casting a shadow onto the workpiece from behind the blade.
A hard case accompanies the saw, and there's also a bare tool that allows for maintenance and fast blade changes.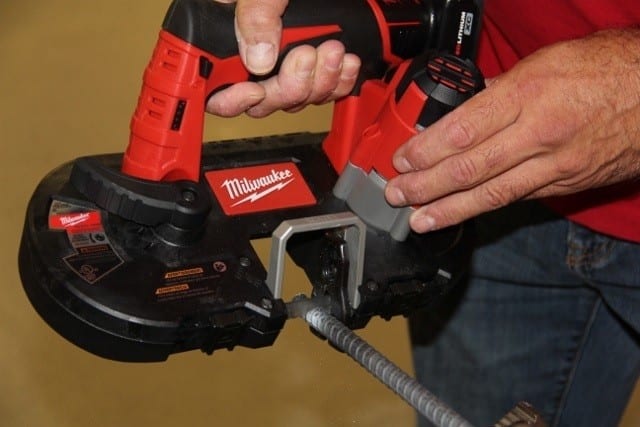 As I've said, there are specific uses and situations for having a band saw this small and light, and as long as you know its limits, you'll love what it can do.
The lightweight and small stature of this saw give it a usability that you really can't get anywhere else. The ability to operate it and slice through metal and wood with one hand is awesome, and even fun most of the time.
checkPerfect for making small cuts in plumbing and electrical work
checkAt just under 15 lbs it can be wielded by just one hand
checkIt is portable, cord free, table saw. That should be enough
The weight and size result in less strain, and gives it more uses, as long as you're staying within the cutting range.
The variable speed trigger is an excellent feature as well. I appreciate when saws have multiple speed settings, but a pressure-sensitive trigger is always much more preferred and gives you more control over what you're doing, and in a much more seamless way.
This is a natural result of the size and power setup of the 2429-21XC M12, but the portability of this saw is unmatched. Lightweight, compact, a nice hard carrying case, and of course a battery pack. You can take this anywhere.
The cutting power is not going to wow you, but this won't be a problem when cutting smaller materials. The same can be said for the blade capacity, which is quite small, and well off the 5 inches, you can get with a product like the DEWALT DWM120K.
The 2429-21XC M12's blade is decent, and the concentrated TPI us good, but it can still wear out rather quickly. Throwing on a high-end blade right off the bat makes this saw even more efficient.
Back to the capacity for a moment. Again, it's small, like very small. Please be aware of the size before buying. This is not for larger workpieces, but rather small piping and framing, and a variety of household tasks you may encounter as well.
The size and capacity of the 2429-21XC M12 may make it seem like it's only for weekenders, but I know for a fact that plumbers, welders, framers, and electricians all love this saw, for the very same reasons some others can't find much use for it.
It's targeted in its applications for sure, but like I highlighted, it's also a good general saw to keep around the house for random stuff, as it's a much better option than using a handheld hacksaw.
The 2429-21XC M12 packs a punch in an extremely small package. Stick to what it's good at, and you'll have yourself one of the handiest and easy to use power saws you'll even touch.
You get the same Milwaukee quality, and a portable size, and for a smaller price. This is for sure a great portable band saw and is a versatile and enjoyable power saw that will earn its keep for years to come.