Sometimes I feel like reconditioned or refurbished power tools get a bad rap. Most everyone likes buying things new, especially when it's a power tool, and the reasons are understandable for sure. New power tools last longer, as they have less wear.
Reconditioned saws like the ZRTS1345L are a little different. While the body and table of the saw may have been used at some point, all of the most important parts such as the motor and table are still brand new.
This means you're getting a "used" saw, but one that's 90% new, especially where it counts. The Ryobi ZRTS1345L is a reconditioned miter saw geared mostly for smaller scale use, but still packs a ton of power and precision into a deceiving size.
The saw's combination of performance and value make it an attractive buy for those needing an above-average miter saw while saving a significant amount of money in the process.
Introducing The Ryobi ZRTS1345L Compound Miter Saw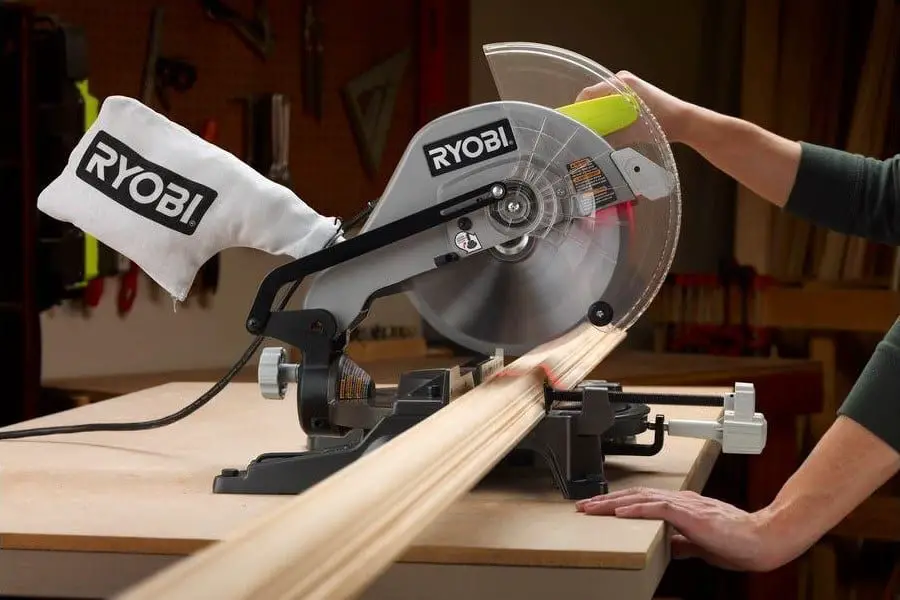 The ZRTS1345L is not very flashy, as it focuses more on getting the core features right. Still, it has a few small conveniences thrown in that make cutting easier, along with better accuracy and overall feel/handling.
With a weight of 25 lbs, the ZRTS1345L has a stable feel and size but is still easily carried when you need to transport it, whether that's within your shop, or on the way to a job site.
The ZRTS1345L is a mid-range miter saw in terms of size, but it still retains full-size power thanks to a 14 amp motor that cranks out a blade speed of 5,000 RPM, giving the saw fast cutting action with smoother edges.
Cutting action is made even easier thanks to an ergonomic handle with easy trigger access, along with a clear blade guard that lets you see where the blade is before you bring it down.
An electric brake stops the blade spin in just a few seconds for safer and more seamless operation.
When it comes time to change the blade, a spindle lock and single wrench blade changing system provide quick access that saves you time and hassle.
Often overlooked for saws in this class, the ZRTS1345L was sure to include an integrated laser cutting guide, providing enhanced cutting accuracy for any size workpiece.
Maximum miter cut angles range from 45 degrees left to right with stops a 0, 15, 22.5, 30 and 45 degrees. The included fence is simple to adjust, letting you make quick changes for different workpieces and angles as needed.
An included dust bag captures a good portion of loose sawdust and debris, saving you from the mess and hassle of a large amount of sawdust flying all around as you saw.
Make no mistake about it, people buy this saw for the incredible value that it offers. 
Since it's a refurbished saw, you're getting a quality product at a drastically reduced price, yet with all of the features and performance of the saw at its original condition when it was first made.
checkReduced price for a great saw
checkOne of the lightest miter saws on the market
checkEasy angle adjustments
The ZRTS1345L has a very easy feel and action to it, giving it a higher sense of precision when used in standard conditions.
The cutting action feels very fluid as you bring it down onto the material, which is made better thanks to the 5,000 RPM blade speed.
And while this is an easy inclusion, the see-through blade guard helps accuracy. The laser guide certainly helps as well. That combination is relatively unheard of for this price range.
Angle adjustments are quick on the fly, letting you make changes as needed without having to completely stop everything you're doing.
There are a few areas where the ZRTS1345L could be a bit better, even for its value.
The biggest complaint is the fact that the saw lacks any detents. This is a fairly common feature with most miter saws, so the absence of detents is a bit puzzling to be honest.
You can still lock in the right angle, but it's just easier with detents. The saw has a limited capacity that restricts it to smaller workpieces, which may be a little-scaled back for some.
This isn't an issue with smaller wood pieces, but don't expect to use this for heavy-duty work.
The included saw blade is nice to have if you'd like to get started immediately, but you may want to consider an upgrade early on when you get a chance.
It's safe to say that the more serious contractor types will likely be avoiding this saw, even with the inherent value it offers.
Still, I can see some professionals appreciating it if they have some basic sawing needs on the job site, but don't want to lug around their usual miter saw that is two or three times bigger.
If you're a weekend hobbyist needing a capable saw for home project use, the ZRTS1345L is perfect in every way, especially for the price.
The Ryobi ZRTS1345L is a great example of why refurbished power tools are almost always a great idea for those that are looking to save substantial money.
You get a quality saw for an entry-level price, which includes great sawing action, enhanced precision features, and a portable size that won't require help just to move it from your shop and into the backyard or work site.
Despite a few small flaws, the ZRTS1345L is a great value for the price, and perfect for the DIY enthusiast that needs an affordable miter saw for moderate or even frequent use.