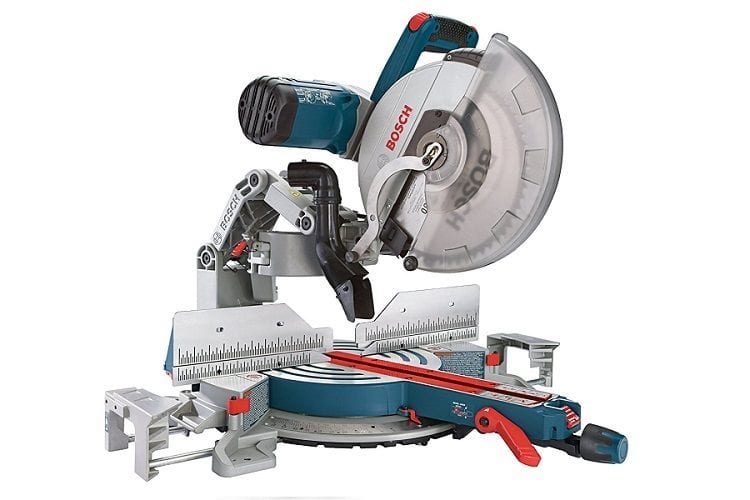 Bosch has been a longtime favorite of many professionals and contractors, and their inventory of saws remains a best seller each year.
The Bosch GCM12SD is a high-capacity miter saw that puts an increased focus on smoother cutting action, while making adjustments much easier, and also providing expanded cutting capacity thanks to a smart rail system that also saves some space.
If you're looking to take a step up from your current miter saw, or want to get started with one of the best on the market, the GCM12SD is an excellent choice.
Introducing The Bosch GCM12SD Sliding Miter Saw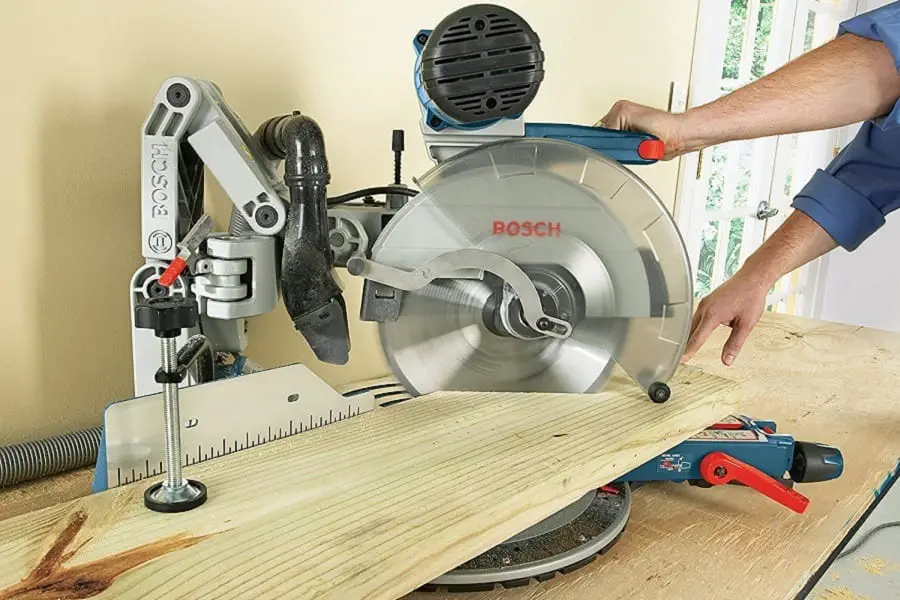 The Bosch GCM12SD runs off of a 15 amp motor that offers no-load speeds of 3,800 rpm, giving the blade more than enough speed to conduct smooth, accurate cuts in a variety of materials.
And while the saw does come with its own blade, it's compatible with numerous 12-inch blades and includes a clear lower guard so you can have maximum cut line visibility.
Overall, the GCM12SD has a 14-inch horizontal capacity, a 6-1/2-inch vertical capacity for material against the fence or base, and a 6-1/2-inch nested crown capacity against the fence at 45 degrees, which gives it an added amount of versatility to accommodate a number of different cuts and material sizes.
For larger pieces, there are two sliding integrated base extensions that offer adjustable support for materials measuring up to 40 inches long.
An exclusive Axial-Glide System helps to ensure smoother cuts and giver the operator user full control over the GCM12SD's cutting action. A benefit of this system is wider cross-cuts, improved alignment, and of course a smoother glide as well.
Also, the Axial-Glide doesn't use the typical rail setup, so this allows the saw to shave off 12 inches in size, freeing up more room in your workspace.
As for the fencing, the Squarelock quick-release system provides easy, exact alignment. The fences come aligned at 90-degree angle to the saw's table, side-stepping the need for any adjustments.
They also use a one-touch lock/unlock feature that lets the operator effortlessly slide each fence into the preferred position for precise material alignment.
The GCM12SD uses an all-metal bevel lock lever and range selector that are conveniently front to make bevel adjustments easier.
The bevel capacity lets the operator make cut at angles that range anywhere from 0 to 47 degrees to the left and the right. Marked detents and roof pitch angles make setting the most common angles easier as well.
The saw features bevel detents at 0, 33.9, and 45 degrees for both left- and right-facing cuts, which also includes a high visibility dual-bevel scale.
The GCM12SD comes with a material clamp, blade wrench, 90-degree dust chute elbow/vacuum adaptor, a dust bag, and the 60 tooth blade.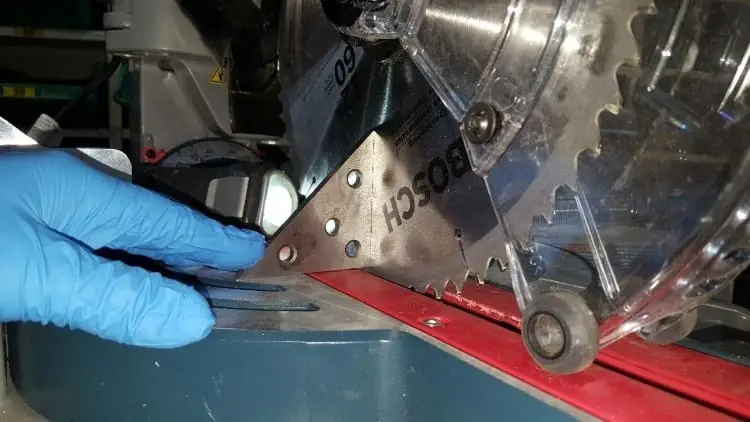 First and foremost, the GCM12SD really does have one of the smoothest cutting actions you'll encounter. 
The 3,800 RPM makes a big difference, and when dealing with ordinary workpieces, you'll notice how effortless the whole process is as you bring the blade down.
The Axial-Glide system is a very nice inclusion. Not only does it expand the range of the saw, it does so while saving space on the back end. The saw is a bit larger than others in its class, so this small design tweak makes a big difference.
check3,800 RPM is great for all types of wood
checkAxial-Glide system expand the range of the saw
checkCutting accuracy is on the spot
The Squarelock system is great to work with as well. It makes the fences easier to move around and adjust, which helps your work move right along.
Again, nothing too fancy here, but it's a good thing. The GCM12SD gets all the crucial aspects right, focusing on the cutting accuracy and capacity while ensuring that the saw can hold up to frequent job site use. That's all you can ask for.
There are a few disadvantages with the GCM12SD, mainly having to do with its stature.
This saw actually does weigh less than some others in its class, but the way it's shaped and designed makes it a little harder to lug around. We'd recommend a self-rising stand if you plan on using it outside of your shop with any frequency at all.
The trigger safety is a bit difficult to work with as well and feels like it requires an unnecessary amount of pressure to engage. You do get used to it, however.
There is one warning we'll make you aware of. The GCM12SD can't cut true 45 degree angles against the fence, so if that's a problem for you, you may want to steer clear.
The GCM12SD is definitely intended for professional use, and makes a fine addition to a remodeler's saw lineup.
If you're just starting out, this saw may be a bit much for you, but you can always grow into it, especially if you plan on doing frequent projects at your home.
The Bosch GCM12SD is a workhorse of a miter saw that will make your life much easier if you're looking to upgrade.
Its cutting action, capacity, smoother operation, and convenient precision features all collide to bring you a seamless miter saw that is always up to the task.