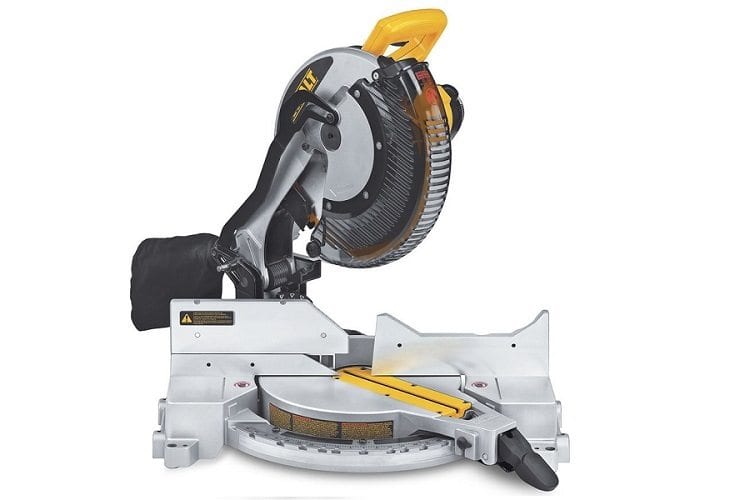 DEWALT is no stranger to putting out some of the best power tools you can buy. Their saw line is among the most popular in the world, and the DEWALT DWS780 is the perfect example as to why that is.
The DWS780 is designed to offer rugged and high-end performance for the most demanding contractors who need to rely on a miter saw on a regular basis.
What does this mean as a result? A miter saw that prioritizes power and durability, while also ensuring the highest cutting capacity in its class. So, basically all one could want for both job site conditions, and in the workshop.
For those that think this means a huge, bulky miter saw that is hard to lug around, think again. The DWS780's collapsible design and low weight make it portable in every way.
Introducing The Dewalt DWS780 Compound Miter Saw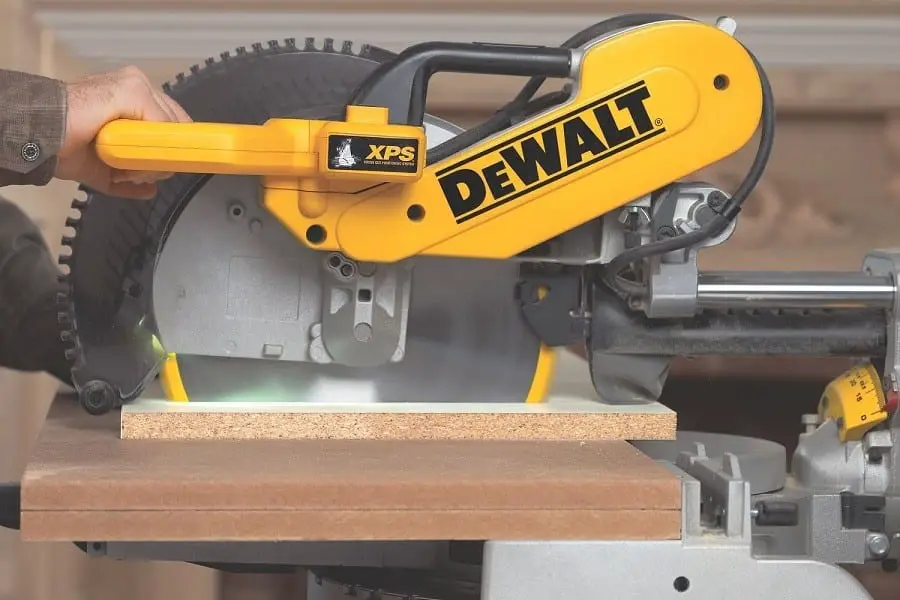 The DWS780 is as good as it gets when it comes to professional-level compact miter saws. A powerful 15-amp motor offers 3,800 RPM, which only adds to its superior cutting ability.
The motor is comprised of heavy-duty parts that are designed to handle frequent use on the job site, giving it better longevity and less maintenance.
The DWS780 places a premium on durability, as evidenced by the miter saw's rugged guards; precision-machined castings, fences, and bevel system; along with an extremely tough stainless steel miter detent plate that can hold up to the typical abuses one encounters on the average job site.
The saw's cutting capacity range is on a level of its own. This includes 6-3/4-inch vertical capacity, 7-1/2-inch nested crown capacity, 13-7/8-inch horizontal capacity, and smart back fence design that cuts up to a 2×16 at a 90-degree angle, and 2×12 at a 45-degree angle.
The saw also includes a rail lock latch for holding the head away from the fence. This helps to both simplify and maximize vertical cutting capacity.
A dual-bevel system is designed to be easy to view in job site conditions, which is made possible by its high-visibility scale and easy angle adjustment.
The DWS780 can bevel from zero to 49 degrees with positive stops at 0 degrees, 22.5 degrees, 33.9 degrees, 45 degrees, and 49 degrees in both right and left directions.
It can also miter 60 degrees to the right and 50 degrees to the left, and comes with an adjustable miter detent plate with 10 positive stops.
A cam lock miter button allows for locking angles between detents, and a miter detent override can be utilized to create precise angle adjustment, without falling into the detents.
The saw has a very solid construction that gives you a ton of stability, and uses an XPS cross-cut alignment system that comes with an ultra-bright LED light that casts a precise shadow on your surface to indicate exactly where the blade will contact it.
The advantage of this alignment system is that it avoids the need for any bothersome recalibration over time, or after changing blades, which is a vast improvement over more conventional laser guides.
When ordering a DWS780, you also get a carbide blade, one blade wrench, one dust bag, and one vertical material clamp.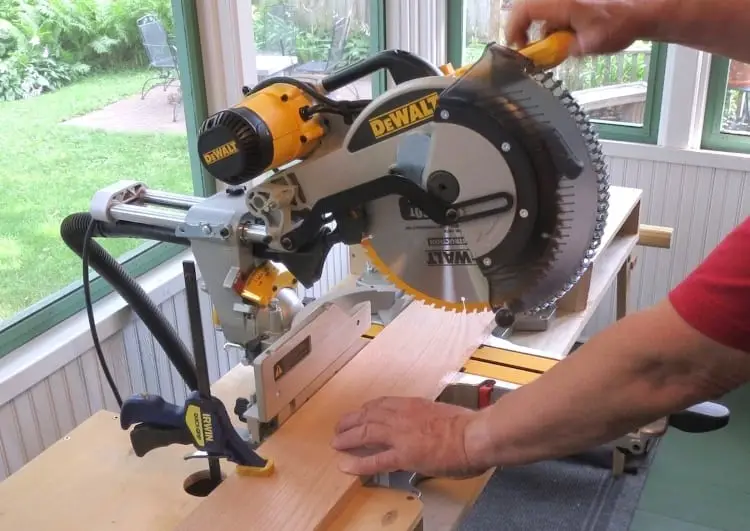 The DWS780 comes with a number of benefits and advantages that help set it apart from other miter saws in its class.
Everything starts with the construction. Every effort has been made to create a true workhorse saw that can handle tough working conditions and prolonged usage with heavy-duty wood materials with ease. You can literally feel it as you set it up and then cut your first piece.
checkGreat saw cutting capacity
checkPortability (this saw only weights 56 lbs)
checkAdditional features (LED lighting system, carbide blade, dust bag)
The saw's cutting capacity is perhaps it's the best feature. You can already handle large workpieces without having to slide the saw on the rails, but should you need that extra reach, it's always there. This is invaluable on the job site.
The DWS780 seems a little on the larger side of things when fully set up, but its design allows it to be collapsed into an extremely small size, and with a weight of 56 lbs, it's not all that difficult to transport for most.
The LED-lighting system is also a godsend to those who are frustrated with the ordinary versions that always need to be calibrated all the time.
It's honestly hard to find many faults with the DWS780 — it's a top-selling miter saw for a reason, after all. That doesn't mean it hits everything perfectly, however.
The included hold-down clamp can be a bit difficult to deal with, and do keep in mind that this is better on a stand, than attaching to a typical shop countertop. The saw's slide can feel a little rigid to use when in use at first, but it does get smoother over time.
The price of the DWS780 may be too high for some, but experienced contractors will have no qualms paying for the quality it offers.
Due to the price, features, and power of the DWS780, professional remodelers, furniture builders, and other experienced craftsmen are best suited for it.
DIY enthusiasts can obviously get a lot of use out of it, but if you're just starting out, this may be too much saw for you at first.
As far as job-ready miter saws go, the DEWALT DWS780 is all you can ask for, in all the crucial areas.
Ease of use, durability, and massive cutting capacity all contribute to making it a superior miter saw that will offer years and years of peak performance in every way.
If you're looking for the best conventional miter saw on the market, this is it right here.