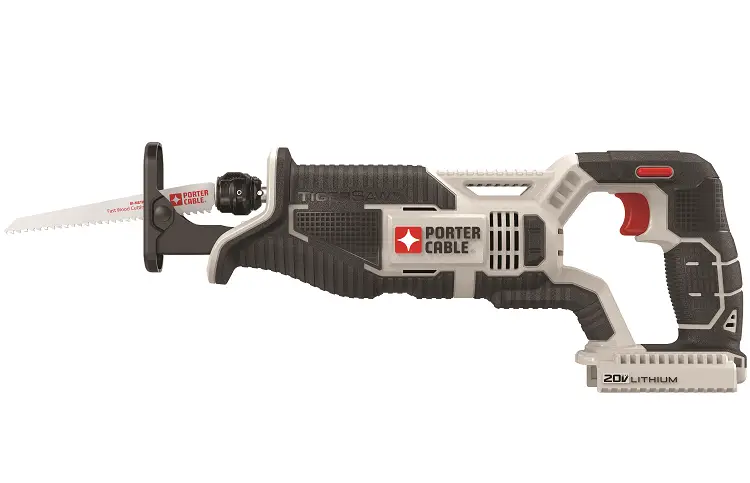 If you haven't noticed lately, more and more tool manufacturers are selling bare tools that include the body only.
This makes it easier for those that already have power packs and other parts for the company's other power tools to save money and retain functionality.
That's the case with the Porter Cable PCC670B. This reciprocating saw requires you to purchase or use your battery of choice and provides a huge amount of value thanks to its surprising level of performance in an affordable package that's also a bit smaller than usual.
That's Porter Cable in a nutshell. The company strives to provide power tools that operate on the same level as big-name manufacturers while saving buyers a significant amount of money. The PCC670B is a great example.
Introducing Porter-Cable Reciprocating Saw
If you're used to conventional full-sized reciprocating saws, the PCC670B does things a bit differently.
While the saw does not come with a battery, it is compatible with Porter Cable's 20V MAX line, which is not only a more powerful battery voltage than most reciprocating saws use, it also has a long battery life, and perhaps more importantly, charges really fast.
Also, the fact that the PCC670B is cordless bodes well for those that hate using electrical cords with their power tools. I always try not to when I can, so a battery-powered model is preferred. 
The mobility aspect is advantageous in all the obvious ways, especially if you're using it for yard work.
The size of the PCC670B is about 14.5 inches, making it more on the compact side of things, but not quite all the way there. Still, the smaller size lets you use the saw in cramped situations where you may not be able to use a standard-sized mode, such as cutting pipes behind a shower wall.
Since this saw is on the smaller side of the spectrum, it also has lighter weight. At just 3.75 lbs, it's one of the lightest on the market, making it easy to handle and maneuver
. The shape of the handle helps to reduce vibration, something that's often a problem with smaller reciprocating saws.
The stroke length of the PCC670B is a bit shorter than conventional reciprocating saws, coming in at an inch. Fortunately, the saw has a blade speed of 3,000 SPM, which makes up for the shorter length, and gives it a great measure of overall cutting power.
Changing blades on the saw doesn't require any tools, thanks to the quick twist-lock mechanism. There's also a pivoting shoe that ensures better cutting accuracy and ease while keeping contact with the material being cut.
Take a look at our video review of this great tool.
The thing that will attract most buyers to the PCC670B is the price, and it's easy to understand why. 
For just under $60, you really are getting the performance and capability of a reciprocating saw that costs more than twice as much.
Smaller reciprocating saws have a reputation for being small in power, but that's not the case with the PCC670B. With 3,000 SPM, you don't have to worry about the saw falling short during any cutting task.
Harder wood materials, metal pipes, stubborn tree branches in the backyard, the PCC670B handles them all with ease.
The small aspect really works to the saw's advantage here. Anyone who has ever gotten strained when using a larger reciprocating saw knows how difficult it can be to use one for a long period of time, especially if you're not used to it. 
The weight isn't the only benefit either. The smaller size really does let you fit the saw into very tight spaces.
If you've ever worked on piping within a wall in a bathroom, you know that inches matter when trying to make cuts on a pipe section you're replacing.
The low price of the PCC670B is great for sure, but they did skimp on a few things in order to keep the price so low.
First off, don't expect the same rugged durability you'll find with more expensive saws. While the PCC670B still has comparable power and speed to bigger reciprocating saws, its body is made with less durable materials. Use a little extra caution and you'll be okay.
The smaller stroke length is a tad bit noticeable as well. While the loss of a standard ⅛ inch doesn't sound like much, it does diminish the sawing efficiency just a little.
The lack of a battery may be bothersome to some, so let me remind you again that this is a bare tool, so you'll need to provide your own battery AND charger.
If you already have Porter Cable Power Tools, this shouldn't be a problem. Also, you can easily find batteries on Amazon.
The PCC670B is not necessarily ideal for the most demanding contractors, but it can definitely get the job done when called upon. Still, if durability is essential for you, and you need something a little bigger and more rugged, you may want to look elsewhere.
However, if you're looking for an economical all-around saw that provides mobility, power, speed, and ease of use to use around your home and property, this is one of the best buys you can make, period.
The Porter Cable PCC670B is an exceptional value in many ways. It outperforms its size, offers comparable power to larger saws, while still retaining a more compact stature that makes it more maneuverable in tight situations.
The build and features of the PCC670B give it a sense of versatility that's pretty hard to equal. Yes, you'll need to provide your own battery when purchasing this saw, but the value and quality remain.
This is easily one of the best reciprocating saws for under $100, thus earning our strong recommendation.