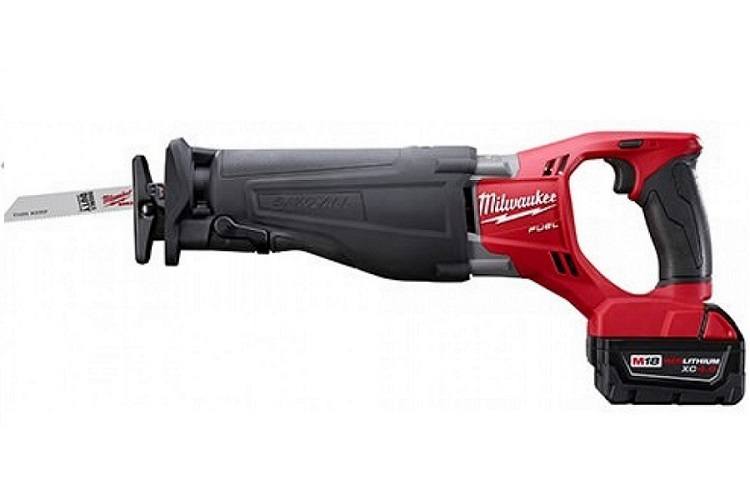 Milwaukee has long been a favorite among professional contractors that value high performance and durability from their tools. This is especially true with their power saws.
If you're familiar with reciprocating saws, you know they're basically a miniature wrecking crew designed to cut almost anything in their path.
As far as reciprocating saws under $300, you'll be hard-pressed to find a better representation of that description than the Milwaukee 2720-21 reciprocating saw.
The is one of the most capable saws you'll ever hold in your hands. It has the power of a larger corded model, yet runs off of a battery.
Not only that, it also has a number of beneficial features that help it perform at a consistently high level regardless of when or where you're using it, along with some added convenience as well.
Introducing The WEN 3962 Band Saw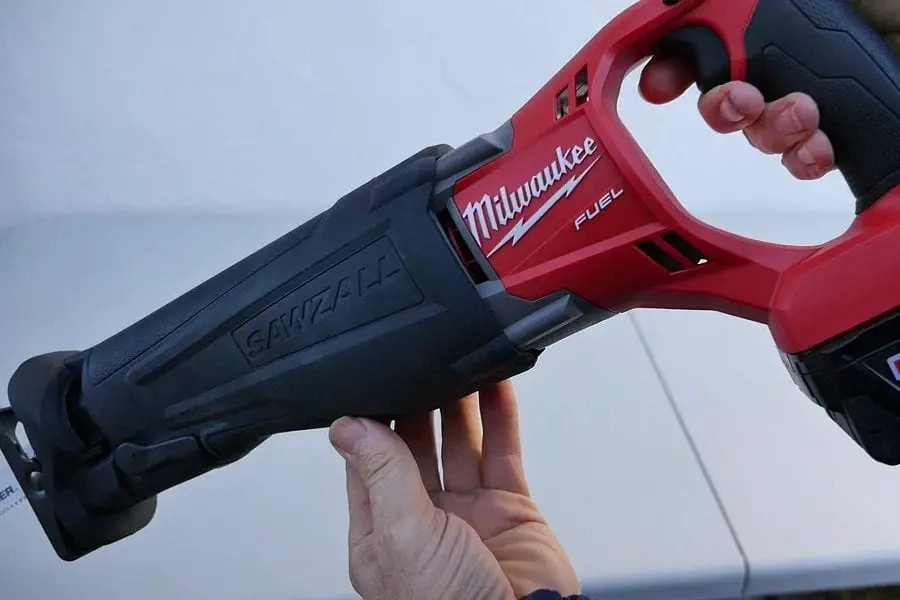 There is a lot to go over with the 2720-21. I'll start with the battery pack. The 2720-21 uses an 18-volt pack that is recharged with the included charger docking station.
The battery pack is actually a REDLITHIUM XC 4.0 version, so it has a substantially long runtime that gives it more use than every other battery pack out there.
As for where that power goes, the saw uses a brushless motor, which is definitely a more superior build to conventional saw motors. The brushless design lets the motor run longer with a lower amount of heat, which is perfect for more intensive contracting and construction scenarios.
Saw capacity is standard with the 2720-21, as it uses the typical 1-⅛-inch size, (blade included) which is definitely enough to handle standard tasks, like 4-inch posts and 3-inch tree branches and pipes.
The 2720-21 maxes out at a whopping 3,000 SPM. This is about 300-500 more than you'll find with most other saws in its class. Thanks to a variable speed trigger, you can easily determine the blade speed by how hard you press down.
The handling aspect of the 2720-21 is impressive. Despite a large amount of power and battery capability, the saw has a weight of about 7.4 lbs, and measures 17-¾-inches in length. The weight balance and ergonomic handle make it very easy to hold and angle for extended periods of time.
Everything on the saw is run through Milwaukee's REDLINK PLUS intelligence system. Without getting into all the boring details, just know this means that the 2720-21 has an optimized performance level at all times, which includes protection from overheating, overloading, and too much discharge. You definitely notice the moment you turn it on.
As for the other added features, the saw has a very helpful LED light, something you don't always get with a reciprocating saw. An adjustable shoe offers more versatility and control with cutting depths, a utility hook lets you hang the saw on your shop wall, and a hard carrying case protects the saw during transport.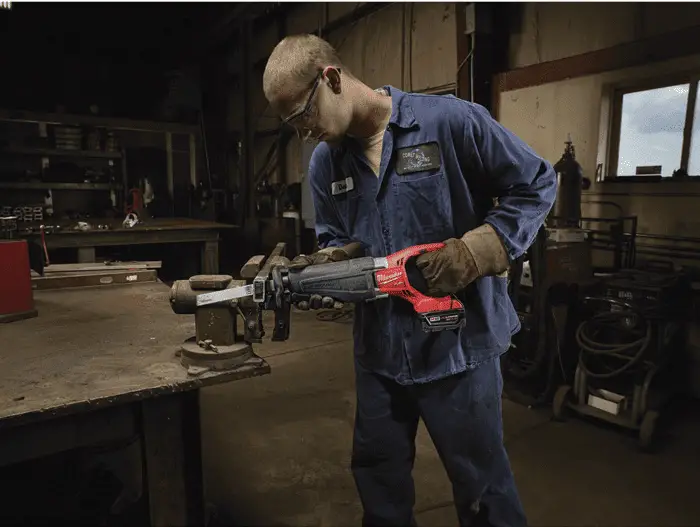 There are several reasons to purchase this saw, and none of them are gimmicky. The sheer power of the 2720-21 is a big reason as to why so many professionals love to use it.
While the most powerful sawzall saws are usually corded models, the 2720-21 is on par with any of them, running off a battery.
Longevity of battery
State of art REDLINK PLUS intelligence system
Cutting accuracy is on the spot
The 3,000 SPM blade speed is another huge advantage with the saw. The trigger makes it easy to ease into cuts by slowly squeezing the trigger, and when you get it going at full speed, you can basically cut anything. It's pretty awesome.
The battery itself offers exceptional longevity, especially when on the worksite. You can go at full speed for a surprising amount of time without worrying about the saw suddenly dying in the middle of a task.
And when you do recharge it, it takes about an hour or so and you're all set. The weight balancing, ergonomic handle, and LED light just go to make it even easier to use, more accurate, and less straining. This saw is fun, bottom line.
I can usually find a few things on most any saw that needs some extra attention for future improvements, but with the 2720-21, I'm mostly at a loss.
I will say that not everyone will appreciate the price, but that's a given. Getting close to the $300 range may be a bit for some, but realize you're getting a saw, a blade, a charger, a battery, and a case altogether at once. The price range is actually great when considering this is a professional tool.
The included battery is definitely appreciated, but it would be nice to have two included with the kit, so you can always have one charging while using the other. If that's you, just buy another battery.
As I've mentioned already, the 2720-21 is ideal for professional contractors, plumbers, electricians, builders, and a range of others. This is the most power and battery life for the money, and the extra features and designs are certainly beneficial.
That doesn't mean a DIY craftsman can't get a lot out of this saw as well. In fact, buying a 2720-21 may take the place of a few other tools and saws, as it can do everything from yard work to demolition, to trimming, to really anything else.
No matter who you are, you win with this saw.
The Milwaukee 2720-21 is one of my favorite reciprocating saws ever. On certain days, it may actually be my most favorite. The power and motor design make a huge difference in the way it operates, making it a can't miss buy for a wide range of uses and user types.
If battery life, power, and durability are the most important to you, the 2720-21 should be at the top of your buying list.