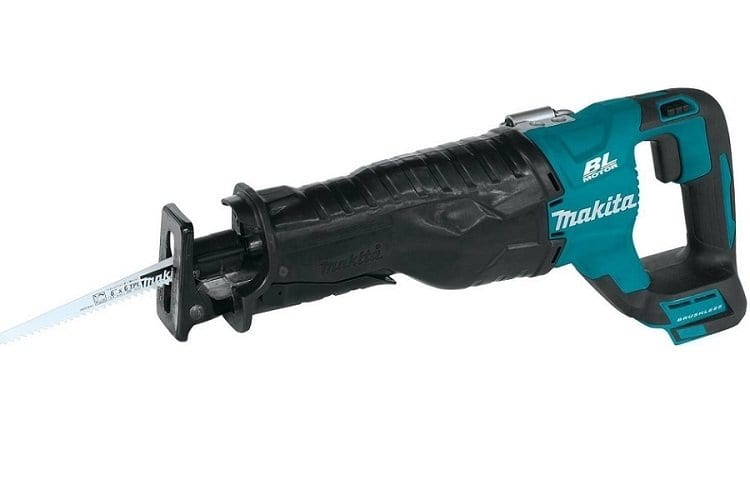 Makita has earned a stellar reputation over the last few decades as a reliable power saw manufacturer, with a hallmark in making extra-durable products that are perfectly suited for demanding job site needs.
Reciprocating saws are an essential contractor tool, so toughness and durability are at a premium. 
The Makita XRJ05Z offers that and more, combining rugged design with expanded capabilities and precision handling, making this saw a longtime favorite of everyone from plumbers, to electricians, to homeowners needing the very best for their various property needs.
Because of this, it's no surprise that this saw is one of our favorites of the reciprocating variety. You get the typical Makita quality and innovation, along with a lower price than most of the other reciprocating saws in its class, and all without compromising on overall quality and capability.
Introducing The WEN 3962 Band Saw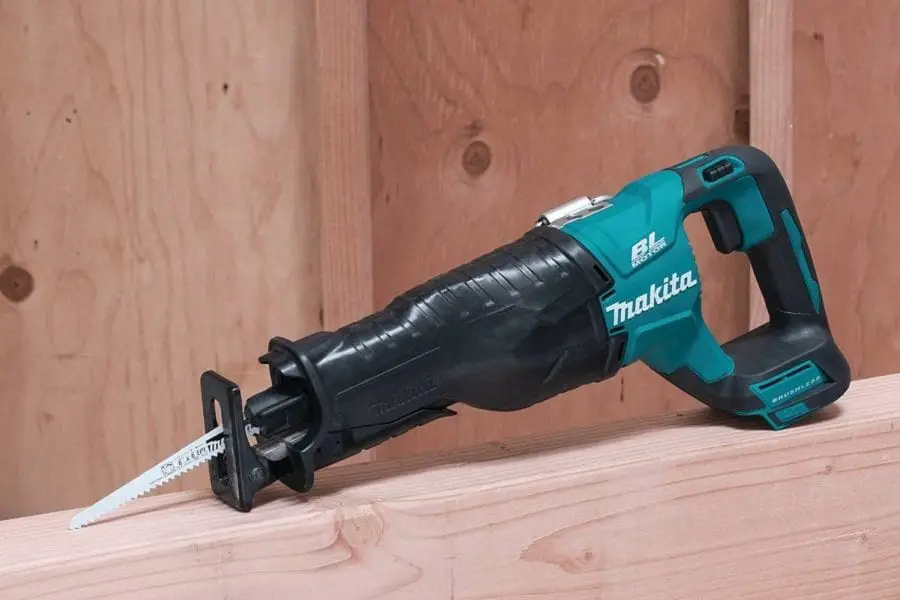 The Makita XRJ05Z is on an elite level in terms of power, speed, and cutting ability.
The saw uses a standard 18-volt battery pack for its power source, and if you have other Makita products, the batteries are compatible with those as well. The battery is very fast to charge as well. In fact, it's the fastest charging battery pack in the industry.
The help everything run at its peak, the saw uses Star Protection, Makita's trademark communication technology which facilitates communication between the saw's battery, and the motor and components. This prevents overheating, overloading, and over-discharge.
These features give the XRJ05Z a noticeable smoothness and efficiency with each use, that's furthered by a refined crank mechanism that works to prevent blade deflection, and also minimizes vibration during operation.
As for cutting capacity, the saw offers a bit extra than others in its class by the way of a 1-¼ -inch stroke length, giving it expanded versatility and capabilities. With additional blade choices, you can cut up to 10 inches in diameter.
With a maximum blade speed of 3,000 SPM, the XRJ05Z has the power needed to cut through the hardest and thickest woods, and thanks to a variable speed trigger design, you can also cut as low as 2,300 SPM, ideal for metals, PVC pipe, and more.
The size of the XRJ05Zif fairly average, with an overall length of 17 and ¼ inches, and a weight of 8.4 lbs The grip jas made from soft rubber got added comfort and control, and the saw has a somewhat even weight distribution that avoids the front-heavy design of some counterparts.
Other noteworthy features include an LED light for better cut line visibility, a retractable hook for hanging and storage, and a travel bag to protect the saw and accessories during transport.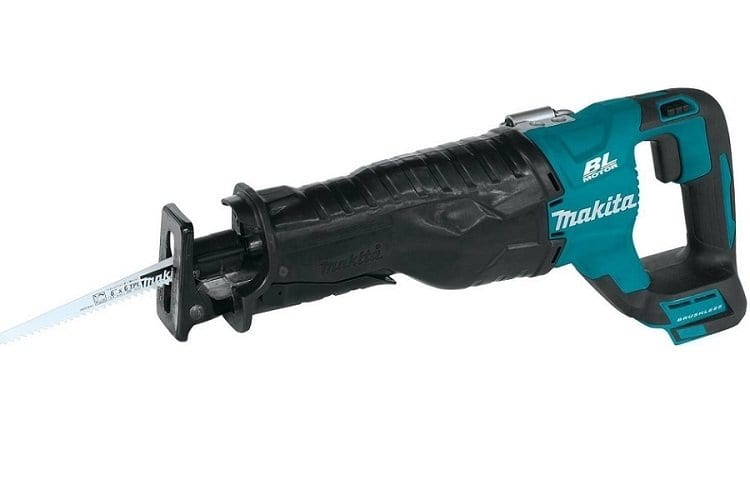 The XRJ05Z performs on the same level as many other reciprocating saws in its class, and also offers a few choice advantages of its own.
First of all, the 3,000 SPM capability makes is exceptional at cutting tougher materials and dense woods. There likely won't be many times you need that much blade speed, but having the option is certainly nice to have.
The trigger has the right amount of sensitivity, so it's fairly seamless when selecting your blade speed during a task, and adjusting on the fly accordingly.
The durability of this tool is worth pointing out. Not that I'd suggest throwing it around all the time, but know that the XRJ05Z can take a beating and retain its performance level.
The vents on the motor also filter out sawdust from getting inside quite effectively, so no need to worry about that either. Still, performance is the name of the game here, and that's what you get with the XRJ05Z.
The extra ¼ inch of blade stroke length give the saw an upper hand, and the Star Protection system and anti-vibration design give the XRJ05Z a noticeable smoothness that makes things a lot easier in general.
This is a fantastic sawzall, but there are some things that can be improved a bit.
Over time, the rubber on the grip has been known to peel a little, so you'll want to make sure to not let it get nicked up or cut all that much, at least as best you can.
While the battery of the XRJ05Z is very fast to charge, it's also faster than most other batteries to drain. If you're going at full speed for a number of minutes during work on a job site, you'll likely need to throw the battery back on the charger afterward.
I'd recommend getting a second battery. If you're just doing work around the yard, or some light cutting on a single pipe or frame, you'll be just fine.
The sheer power and the cutting length of this saw make it great for demolition and renovation work, and also for a variety of plumbing and electrical work.
And as always, this transfers over to home use as well. This may be more than most weekend hobbyists and basic homeowners needs, but that's in a good way. Even if I didn't do much woodworking and contracting, I'd still love to have this around the home.
The Makita XRJ05Z is definitely one of the best reciprocating saws on the market. Its power and speed are above most other saws, and its handling is noticeably smoother and easier.
Whether you're a professional operating under demanding conditions on a regular basis, or simply someone looking for a workhorse to have for your property, this is a great choice.