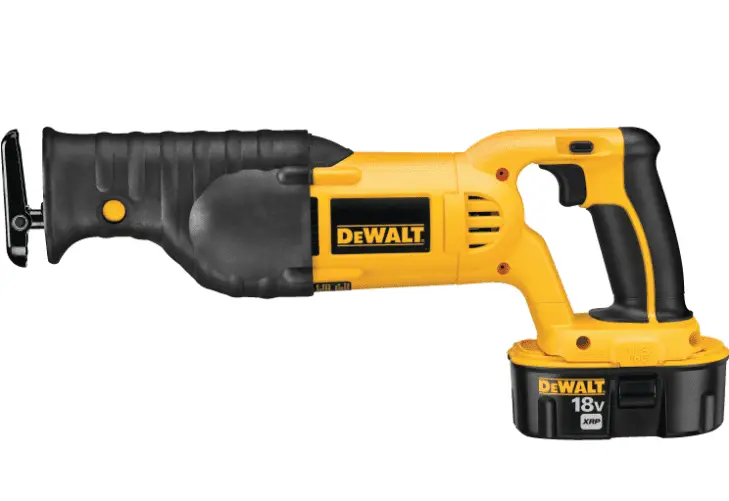 One of the best things about power saws is the compatibility they have amongst various blades and power sources, especially when you stay within the same brand. If you already have various blade and batteries, you can use them amongst various models.
The DEWALT Bare-Tool DC385B is intended for saw owners that need just the saw body itself, which cuts down on overall initial cost.
Despite the lack of external parts, you get a very powerful saw that still maintains a performance level required for serious professional work.
Not only is the saw a little lighter and smaller than other reciprocating saws, it also has some choice conveniences available thanks to its smart design and emphasis on handling.
If you want a professional level reciprocating saw for under $100, this is it.
Introducing the DEWALT DC385B Reciprocating Saw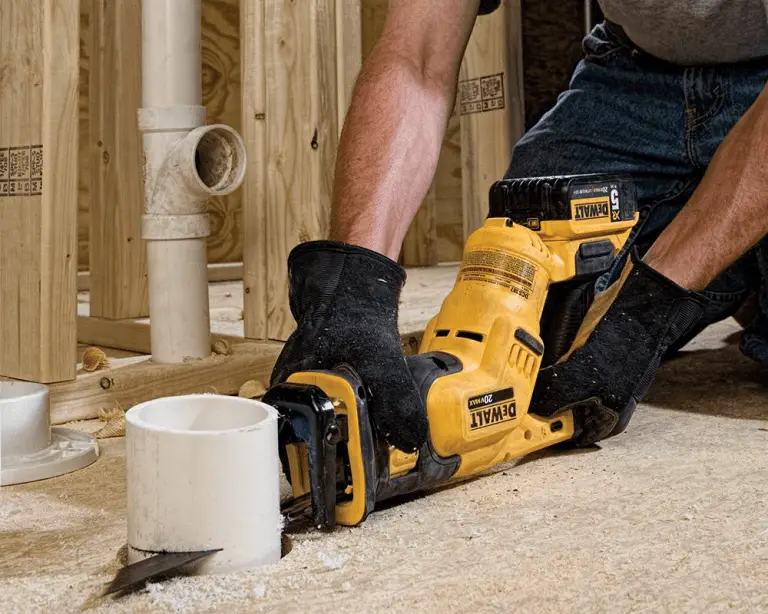 4-position Blade Clamp: Yes 

Adjustable Shoe: Yes

Anti-slip Comfort Grip: Yes 

Keyless Blade Clamp: Yes
Power Tool Type: Cordless 

Stroke Length: 1-1/8 In

System: 18v 

Tool Weight: 5.8 Lbs
Not that I don't prefer saws that come with all the necessary activities and parts, but I'd like to remind you that reciprocating saws are only as good as what's inside, along with the design.
Blades and batteries can be changed out, but you can't swap out a motor or the body of the saw.
The DC385B doesn't come with a battery, but it does accommodate a number of different 18-volt models.
The run time will depend on which product you choose, but DEWALT does have a number of batteries to choose from, so it's easy to find a good one to use. Or, you may have one from another DEWALT tool.
I want to talk about the size next, because it gives a good context for the rest of the saw's traits. 
The DC385B weighs 5.8 lbs, which is about 3 lbs lighter than some other models that are similar.
Despite the smaller weight and slightly smaller than average size, the DC385B still offers the basic 1-⅛ inch cutting stroke, so you're not losing anything there. But perhaps more importantly, it has a max cutting speed of 3,000 SPM, which is very impressive.
You also get a variable speed trigger, so you can go from 0 to 3,000 SPM with the trigger's pressure. This gives you full control of cutting speed without having to use different settings.
There obviously aren't any blades included with this saw, but when it does come to equip one or change one out in a hurry, the DC385B has a leverless blade clamp that not only lets you change out blades in a matter of seconds but also move to 4 specific cutting positions.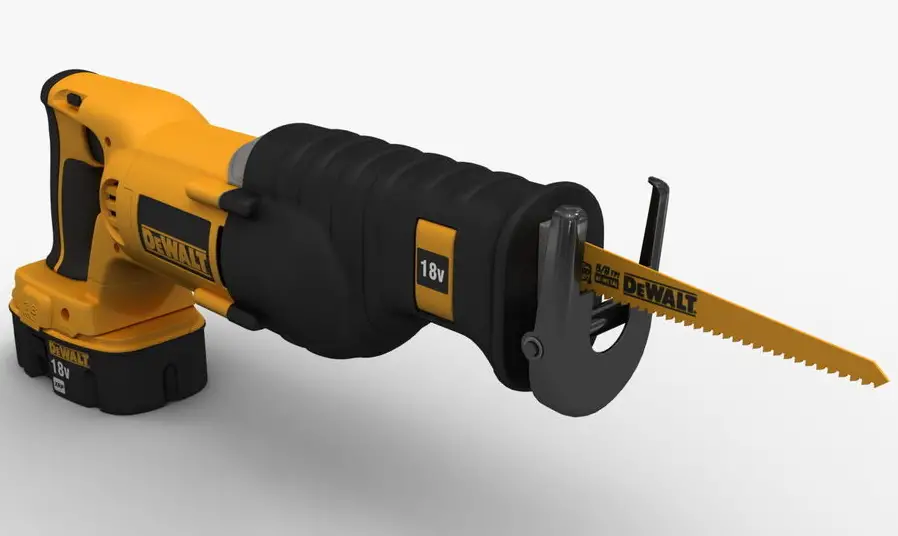 I've touched on this already, but the performance in relation to the size of the saw really is awesome.
Having a lower weight reciprocating saw really does provide a lot of advantages in regards to how easy it is to use, and how comfortable it is.
With a weight of 5.8 lbs, you can usually operate it with one hand when needed, without straining yourself.
The same goes for frequent use throughout the day when on a job. It's not very common to get 3,000 SPM and a standard 1-1/8th inch cutting stroke with a compact-like weight.
The advantages go beyond weight though. The cutting power and control offered with eh DC385B gives it a lot of versatility and ease of use and allows you to go from different tasks and materials with ease.
The pivoting, adjustable shoe certainly helps things as well, and the blade change system is very nice. Oh, and you really can't beat the price for a saw of this quality.
The disadvantages to this particular version of the DC385B are somewhat obvious. If you're looking for a full package that gives you a saw that's ready to use the moment it arrives, you won't get that here.
Aside from lacking the required parts for immediate use, the DC385B is also a little bare even when fully equipped.
There's not LED light, no hanging hook, no carrying case, etc. Still, this isn't that big of deal, as the saw still performs on a high level, and in a small package.
I will say that the speed control in relation to the trigger pressure could stand to be a little bit better, but the fact that you can alter the speed with the trigger is still good to have.
The DC385B has a broad appeal for a lot of reasons. If you're a big DEWALT fan, and you have compatible batteries and chargers, this would be perfect for you. The same goes if you already have blades from other reciprocating saws.
But you don't have to already own a battery and blade to benefit from the DC385B.
It's easy to find a new blade pack and battery on Amazon, and still, keep the total price down below $175. So either way, it's a great deal.
As far as the performance level in relation to who can use it, most contractors and professionals will be fully satisfied with the DC385B.
If you're a novice saw user needing a versatile tool to use in and out of the home, this will be perfect.
Not much more to add here. Whether you're trying to go for a custom setup, or just need a high-level reciprocating saw for a small amount of money, this is the one right here. It's a DEWALT saw for under $100, that's all you need to know.
The DEWALT DC385B is one of the best buys in the power tool world.