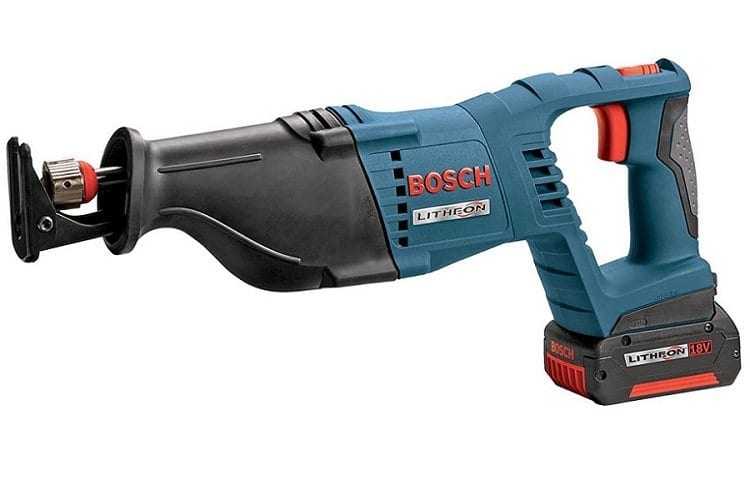 Reciprocating saws are fairly simple tools, for the most part, so you can often get a lot more quality for the money. If you're willing to spend a little extra, you can make the jump up to the upper tier of reciprocating saws.
That's exactly what the Bosch CRS180K is. This saw provides professional-level performance, yet is still ideal for novice craftsman and weekend hobbyists, and also various uses inside and outside the home.
This is our favorite reciprocating saw for those who can spend more than $100, as it is surprisingly powerful and light despite being a cordless saw, something you don't always get with this genre.
Simply put, the CRS180K gives you typical Bosch quality you've come to expect from the brand, making it a formidable and versatile tool that does much more than just cut plywood and pipes.
Introducing The WEN 3962 Band Saw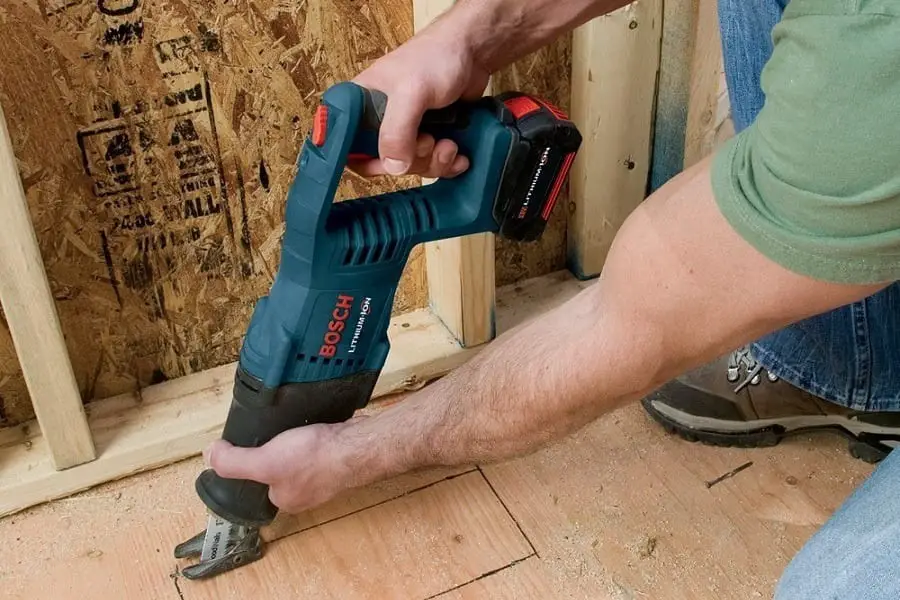 The Bosch CRS180K is a cordless reciprocating saw, but if you think that means' it's lacking in power and longevity of use, you'll be pleasantly surprised.
The saw has the highest power-to-weight ratio in its class, and you can definitely tell. No drop off from a corded model to be found here.
The saw uses an 18v lithium battery, and it will almost always last for the duration of your task, even when trimming multiple limbs in your backyard. Once depleted, you can often charge the battery back up in a little over an hour.
As for the blade of the CRS180K, you get 1 and 1/8th inch with each stroke, so that's enough length to cut through wood and pipes up to 4 inches in diameter, and 3-inch tree limbs.
If you're using the saw for basic tasks and common contractor applications, you'll find that more than enough.
A trigger operates the blade, and you don't have to worry about some weirdly placed safety switch to turn it on. The trigger pressure controls the blade speed, which ranges from 2,400 to 2,700 strokes per minute, allowing you to ease into a cut when needed.
This particular saw comes with two blades, so you have everything needed to get up and running as soon as it arrives in the mail. One blade is enough obviously, but it's nice to have a backup without having to go out and buy one.
One of the more notable aspects of the CRS180Kis its actual size. At just over 17.4 inches long and a weight of 7.6 lbs, it's very lightweight, which makes it easy to use in awkward cutting angles and scenarios, or during extended uses that may otherwise tire your arm out.
Some other helpful features of the saw include an adjustable shoe, a carrying bag, and a Lock-Jaw blade holder which provides very fast and easy blade changes. I know there are plenty of contractors that will find this extremely convenient.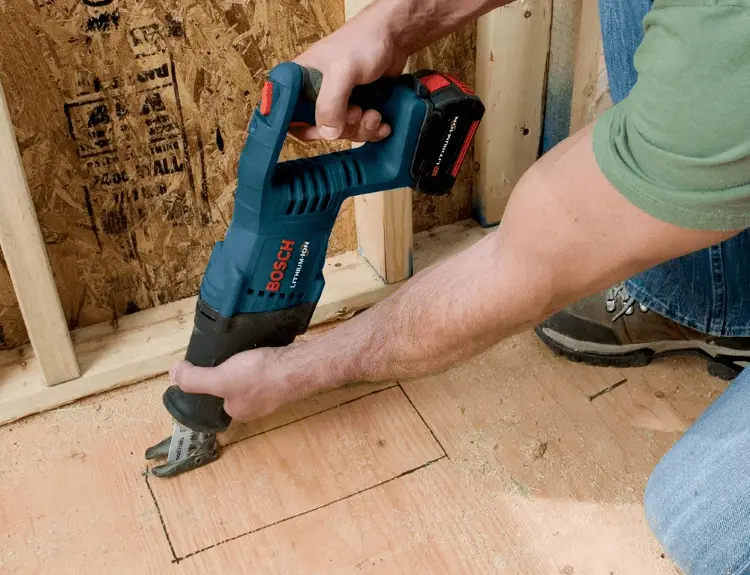 One of the main selling points of the CRS180K is its size and power.
As I mentioned, it has a top power-to-weight ratio, which is definitely impressive when considering the fact that it's a battery-powered reci saw.
If you've been disappointed with the drop off from corded to cordless in other models, that's not a problem with the CRS180K.
The low weight makes it easy to maneuver and hold in tricky situations, which are mostly what reciprocating saws encounter in the first place. If you've got a long day ahead of you, the 7.6 lbs will not tire you out.
checkLow weight makes it easy to maneuver in small spaces
checkVariable speed trigger
checkLong lasting battery will endure hundreds of cuts
The variable speed trigger is another great feature that so many reciprocating saws seem to skip over.
More often than not, the ability to ease into a cut is essential for better accuracy and effectiveness, so this is greatly appreciated.
Long-lasting battery life is already nice to have, but the fact that the CRS180K recharges in such a quick amount of time is notable too, and certainly something that can come in handy on the job site.
The low weight makes it easy to maneuver and hold in tricky situations, which are mostly what reciprocating saws encounter in the first place. If you've got a long day ahead of you, the 7.6 lbs will not tire you out.
This is definitely the best reciprocating saw for the money, but there are some small aspects that could be improved a little.
This may seem a little petty, but the carrying bag is not on par with the usual cases and bags seen with other Bosch products. A fitted hard case would've been much more preferred for this saw.
Also, the blades that are included with the saw are not the best you'll use, but that's usually the case. It's still nice to have them.
The blade locking system is simple and convenient, but does require a bit of experience to get used to how it works. You'll get the hang of it fairly quickly, however.
This is reciprocating saw has a broad range of appeal to many different users. Contractors, electricians, and plumbers will absolutely love how well this saw works, and the combination of power, battery life, and size.
And although this saw is ideal for professionals, the average home user can find it just as handy, whether it's for small jobs around the home, in the shop, or for some landscaping uses as well. Basically, everyone can appreciate the CRS180K.
The Bosch CRS180K is the best reciprocating saw for the money, there's no way around it. It has a mid-range price that should be affordable for most, and retains a level of quality that makes it capable of professional use.
The power of this saw should be a breath of fresh air for those who have been disappointed with cordless saws in the past.
You get full mobility and variable cutting speeds that allow the CRS180K to handle most any task you'll throw its way. We can't recommend this saw enough.