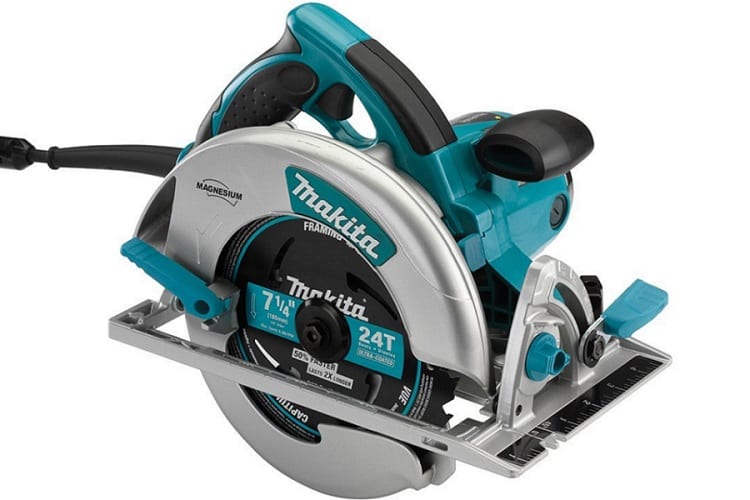 Sometimes industrial-level circular saws tend to favor power and cutting ability above all else while leaving the comfort and handling off the list of priorities.
And although maximum motor power and blade rotation sound all well and good, if the handling isn't there, the saw can be a pain to use.
Makita has made a name for themselves by always striving to seek a balance between power and handling, and the 5007MGA is a natural result.
While equipped to handle tough job site cutting and framing use, the 5007MGA is easy to control and adjust, and always feels smooth when cutting.
Add to that a lower price than one might expect, and you have an accessible circular saw that is great for professionals and DIY enthusiasts alike.
Introducing The Makita 5007MGA Circular Saw
The 5007MGA utilizes a combination of smart features and design qualities that make it a force on the job site or in the shop.
Everything starts with the saw's 15 amp industrial motor, which powers the blade up to 5,800 RPM, allowing for smoother cuts with little effort at all. Using the saw on standard materials like 2×4's showcases the power and ease the motor provides, regardless of the blade.
The saw has a big cutting capacity for its size, up to 2-1/2 inches at 90°. A maximum bevel capacity of 56° includes positive stops at 22.5° and 45° for quick changes from one to the other. An electric brake quickly stops the blade for more efficient and seamless work situations.
A spacious clearance between the rear handle and the blade case offer a more secure grip for larger hands, or when using bulky gloves, along with a wider space between the blade and housing that gives a clearer view of the blade and measurement scale.
The highly visible depth and bevel markings and an ergonomic handgrip give a better sense of control while keeping fatigue to a minimum. Large rubberized levers allow for easy, one-handed adjustments in a moment's notice.
For improved accuracy and precision, two LED lights are built into the saw, illuminating the line of cut in any scenario, but especially helpful for when lighting may not be ideal.
The saw's 7-1/4-Inch Premium Ultra-Coated Framing Blade with Advance Tooth Design features a two-pointed tip and two 10° bevel faces to maximize cutting performance for a faster, cleaner and longer lasting cut. The blade is also ultra-coated to reduce heat and pitch build-up.
The 5007MGA includes a blade wrench attached to the saw for fast and convenient blade changing, along with a built-in dust blower that keeps the line of cut clear during use and a hard carrying case with handle.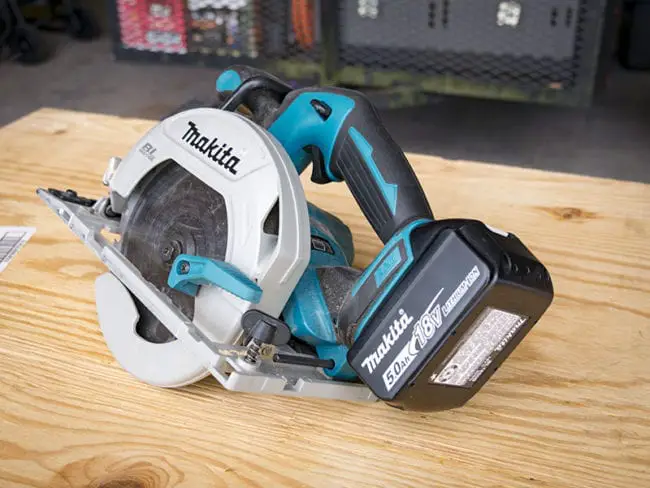 This saw prioritizes feel and control above all else, and you can tell as soon as you make the first cut. With an overall weight of 10.6 lbs, the 5007MGA is definitely on the lighter side, but it still offers stability and an even balance for better handling.
The ergonomic handling and actual handle placement give you a much better grip on the saw, providing an optimal position as you make your cuts. The automatic blade brake stops faster than most, contributing to the overall snappy feel the 5007MGA has.
checkA neto weight of just under 11 lbs
checkAutomatic blade brake that stops faster than most other models
checkEasy to handle adjustment levers
The two LED lights are pretty great and certainly appreciated when you're cutting in the shade at job sites, or when the sun is on its way down for the day — or if it's still making its way up.
Another great aspect to the 5007MGA is the oversized adjustment levers. I don't know why more saws don't have this.
Sure, it cuts down on the aesthetic appeal a bit, but the functionality is definitely improved.
The 5007MGA does a lot of things well, but there's always room for improvement.
The 15 amp motor seems a little lacking in at times. Cutting through harder materials like pine takes a little more effort, and can sometimes be a bit difficult. This can be sidestepped by using a premium blade.
Speaking of the blade, the 5007MGA does come with one, and while it sounds fancy, it's still not all that efficient. If you are only working with softer woods this is fine, but anything harder may require a better blade.
Another small complaint is the 5007MGA's lack of a hanging hook. This should be standard on all circular saws by now, but some still reserve this small but essential feature for more heavy-duty models.
The 5007MGA is definitely geared towards framers and structure builders. It's designed to be light, quick, and efficient for ripping multiple pieces of lumber without much effort or strain. This can be seen with its low, distributed weight and handing design.
While it may be made for wood, different blades will also let you take on stone and some metals as well, giving it some added versatility with the simple blade swap.
While the 5007MGA is made for professionals, it's every bit as useful for the home project enthusiast looking for a high-quality circular saw they can rely on for years.
The 5007MGA aims high, and manages to hit on nearly everything. Low weight, easy handling, efficient cutting, and quick adjustments all combine to make this a joy to use, especially if you're used to interior circular saws.
For under $200, it offers a high amount of value, and added versatility that further expands its use. Novice or professional, anyone can enjoy the advantages and performance the 5007MGA offers.