In case you've never heard of one, a tachometer is an instrument that measures the revolution and rotation speed of objects such as a shaft or engine.
The device measures revolutions per minute, also known as [RPMs] of engines that are used in airplanes, automobiles, and marine engineering fields.
What this ultimately means is that the tachometer puts the control back in motion control.
There are hundreds of different types of chainsaw tachometers out there, and in the following guide, we'll take a closer look at some of the best ones on the market and why you should be using them.
Top Pick
Saw brands that it fits
Polaun, Ryobi, Homelite, Echo and more
Package included
10 x carburetor adjusting tool, cleaning tool
With all the choices out there, it can be difficult deciding on the best tachometer for your chainsaw
Take a look at our top saw tachometers.
Best Chainsaw Tachometers for 2020
winner: hardline products hr-8061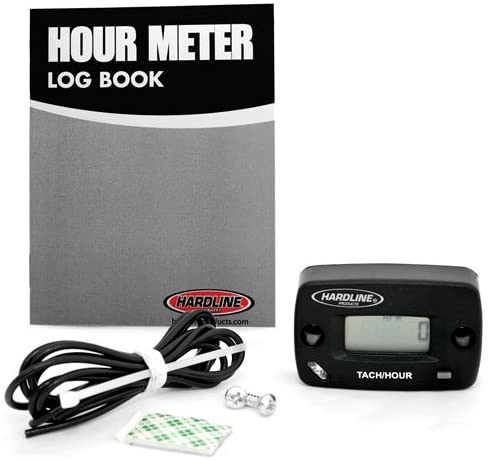 The Hardline Hour Meter works on any gas engine up to two cylinders and 16,000 RPM. It also has an adjustable input and a resettable maximum RPM.
These devices provide what today's power sports users both require and want from hour meters.
They are the most popular on the market, and no other device can provide the same reliability, quality, and set of features that this one can.
So ultimately, in order to maintain your generator or any type of motor, you need to maintain it at all times successfully.
This hour meter is also easy to use and install and comes with a handy display that you can read all the time irrespective of whether power is applied or not. Insulation is also easy and simple and comes with solid-state electronics, modern LCD, enhanced functionality, and environmental ability. So ultimately, no expense has been spared to ensure that this hour meter gives you the ultimate performance, operation, and simplicity on a budget.
Pros:
Real time reading
epoxy encapsulated water resistant case
Batter lasts up to 10 years
Cons:
Runner Up - Hipa Tachometer Tach Meter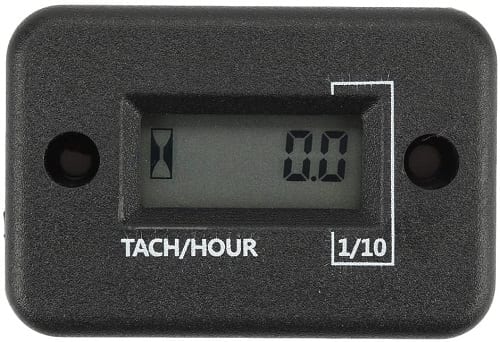 The Hipa Tachometer fits various brands of equipment, including Poulan, STIHL, Husqvarna, Echo, Weedeater, Ryobi, Homelite, and more.
It also provides up to 16,000 RPMs, which is great for 2/4 cycle engines. It also comes with a carburetor adjuster with provided needles and brushes, so your tuneup work is much easier.
So if you are maintaining personal equipment for family and friends, then this device is indispensable.
Pros
Fits various brands
Real-time reading
Carburetor adjustment tool
Cons
Prone to bending and warping
Alternative - Backlit Upgraded Tach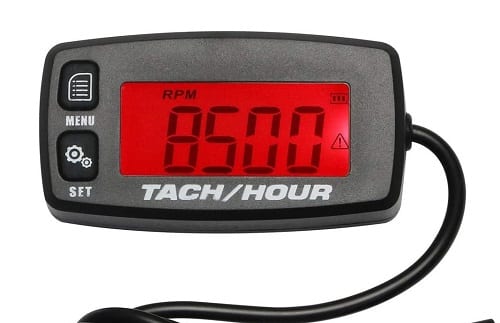 The Backlit Upgraded Tach Maintenance RPM Hour Meter is designed for use in various applications such as motorcycles, chainsaws, lawnmowers, tractors as well as marine engines.
It can read the RPM when the engine is on, the recall maximum RPM, and has a programmable RPM alert with red backlighting warning.
It also comes with a replaceable battery, which many other models don't have, and it has an on and off switch as well.
Pros
Displays total running hours
Records job hours
Reads RPM when the engine is on.
Cons
Backlight doesn't stay on long
Alternative - AIMILAR Digital Engine Tach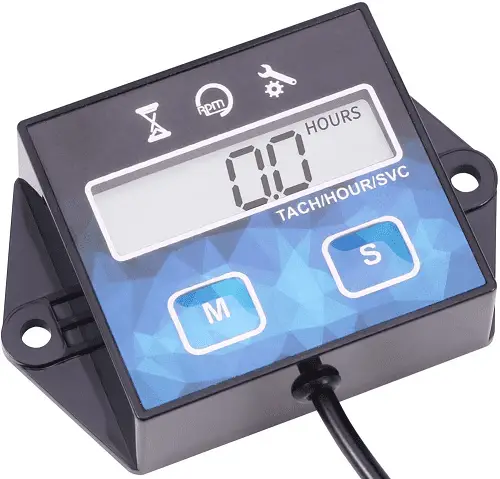 The AIMILAR Digital Engine Tach Hour Meter Tachometer is designed for small engines.
It's also self-powered and compatible with various gas engines such as one, two, and four-stroke cylinders. The device will read the RPM of the engine, provided the engine is switched on.
Once the engine is switched off, the display shows the total run time and remains visible. It also has an RPM display of 20,000 RPMs.
No external power connections are needed, and it works in a wide range of applications such as chainsaws, boats, lawnmowers, generators, motorcycles, and snowmobiles.
Pros
Self-powered
Ideal for various applications
No external power connections needed
Cons
alternative - Digital Photo Laser Tachometer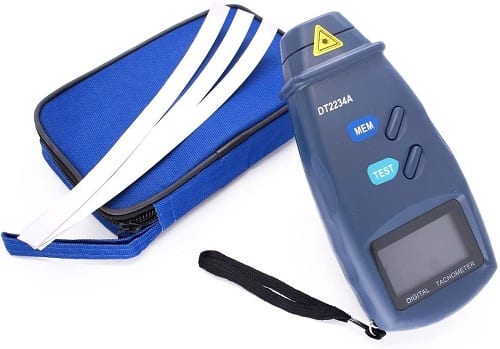 This Digital Photo Laser Tachometer users the red visible light beam from a LED  to measure the rotational speed.
This laser measures from 2.5 to 99, 999 RPM. It's ultimately a great tool to measure the RPM of machine parts and motors.
It can also be used to measure the speed of a milling machine as well accurately.
If you'd like to measure fan speed on an HVAC system, this would be suitable as well. It's a highly accurate digital tachometer.
Pros
Powerful LED
Can be used for various applications
Read RPM up to 9,999
Cons
What exactly is a chainsaw tachometer?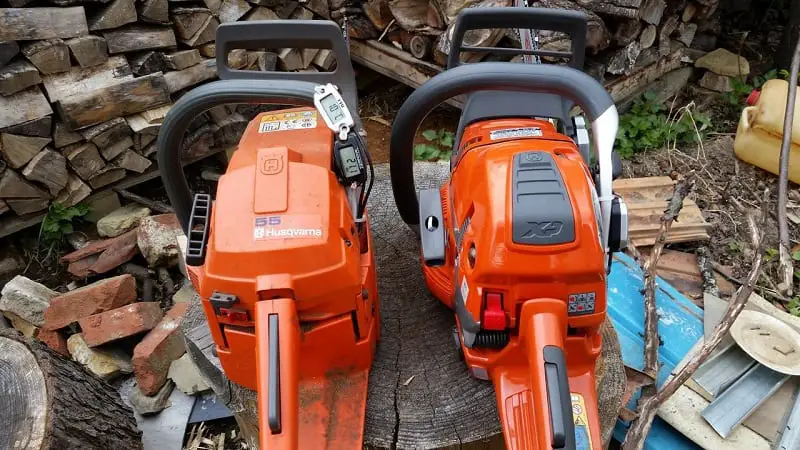 A tachometer is a device used to measure the rotation and revolution speed of objects such as engines or shafts.
It measures revolutions per minute of engines that are used in marine engineering, airplanes, automobiles, amongst other objects.
The first models of this device used needles and a dial to show the current reading; however, today's tachometers use highly advanced digital displays that show the readings.
The rotating speed of shafts and motors need to be measured in machinery and devices.
For example, car drivers need to know the exact rotation speed of the shaft so they can select the suitable gear and throttle settings for certain driving conditions.
If using a car at prolonged use at high speeds or unsuitable gear, it can lead to insufficient lubrication, and this will have a negative impact on the engine.
Therefore tachometers are essential to prevent exceeding the top speeds and protect the engines from a lack of lubrication.
In addition to this, the sensor device can measure the rate at which the ignition system of vehicles sends sparks to the engine.
Some tachometers use a dial and the needle to indicate readings. It also has low and high markings that indicate dangerous and safe levels.
The first mechanical tachometer is created to measure centrifugal force; however, years later, after being upgraded, the instrument can now measure the rotation speed of objects and machines.
Currently, there are various different classifications of tachometers, but the most common types are the digital tachometer, analog, time, and frequency, as well as contact and non-contact tachometers.
Each type is suitable for a certain range of applications, and this is basically because each type of tachometer has different construction, use, and principle.
The digital tachometer is probably one of the best models available on the market. It can measure the rotation speech of any mechanical object and gives you accurate readings on a large digital display.
These devices are usually placed on the dashboard of vehicles to show you how much revolutions per minute the engine is providing.
However, they also used in airplanes, medicine and laser instruments, etc. In medicine, this instrument is placed in a vein or artery and accurately assesses the blood flow rate.
Why do you need one for your chainsaw?
If you are new to the world of tachometers, you're probably wondering exactly what they do and why you need them?
Well, the short answer is tachometers measure the speed of the rotating engine or the RPM of an engine. RPM stands for rotations per minute. The reason why RPMs are important is that knowing how your machine or piece of equipment is functioning is useful information when it comes to maintaining it.
Depending on how you are using a chainsaw, if it's equilibrium has been thrown off or it's not functioning as effectively as it should, your tachometer will let you know.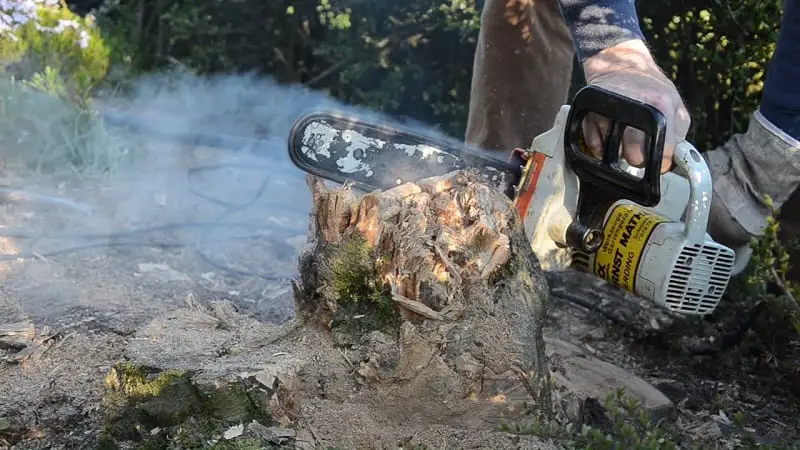 A tachometer shows the rotation of the engine, and because it shows the rotation of an engine, this measurement can be compared to the safe range of rotations when the tachometer can ensure that the device or piece of equipment is functioning properly.
Some tachometers may require a longer wire, and if that's the case, you can cut the wires for two to suit your individual instrument better.
When installing a tachometer may also need a screwdriver to get correct placing a chainsaw; however, the essential thing you need to remember is that the user manual or sheet provided with your chainsaw should be read thoroughly.
If you don't have the manual or don't read over it, then you won't know where the speeds need to be at.
Setting the speeds incorrectly can cause your saw to overheat and ultimately burn out. So you need to be careful with the adjustments to make sure that they are correct for your device.
You don't want your chainsaw to overheat when you are in the woods cutting trees.
As mentioned earlier, there are different types of tachometers. Some models clip or wrap around spark plug wire.
And then, you will find newer models that have digital controls, and you don't need a physical connection in order to read the RPM of your machine. However, they all work on the same principle but simply collect information differently.
You can use a tachometer for other types of saws, like circular, miter or reciprocating one.
How to properly install a chainsaw tachometer?
You can adjust idle and low speed was on a chainsaw without a tachometer.
However, a tachometer is needed to make perhaps an essential adjustment, and that is the high-speed setting. All chainsaw carburetors have three setting screws, which are indicated by the letters 'I", "L" and "H," respectively.
The two tools that are needed in order to make proper adjustments are your screwdriver for turning the screws and, of course, your tachometer for recording engine speed.
Older tachometers clip onto your chainsaw and use wire, but newer digital tachometers, however, record revolutions per minute or RPM without the need for any physical connection to your chainsaw.
Step 1: Start by removing the chainsaw's filter and cleaning it. If you can't get the filter clean, you should try replacing it. This is because a dirty filter affects engine speed and will give you false readings.
Step 2: Next, you should full the chainsaw's tank with the correct fuel-oil mixture. If the mixture has been in the tank for more than six months, drain the tank and fill it with fresh mixture.
Adjust the carburetor when the chainsaw has a full tank; otherwise, the settings will create a rich fuel mixture the next time you refuel the chainsaw.
Step 3: Then start the chainsaw's engine and let it idle for approximately 3 to 4 minutes. If you have a problem, turn the "I" screw clockwise and start the saw and then turn the screw counterclockwise until the chain stops turning.
Step 4: Adjust the idle by turning the "I" screw once again clockwise until the chain starts to turn. Then turn it the other way until the chain stops.
Then record the engine speed with your tachometer to the spark wire plug or if you have a digital one by hovering it over the spark plug.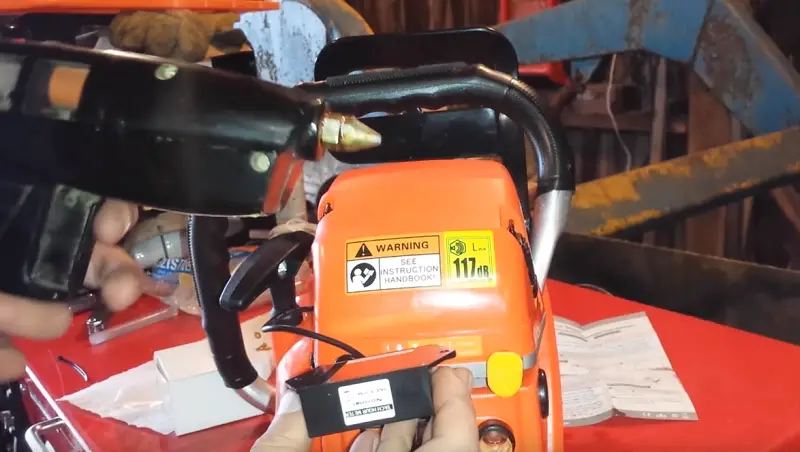 Step 5: Compare the idle speed with the specifications for your saw as listed in the user manual. The idle speed for most saws should be 2,300 to 2,500 RPM.
Adjust the speed to match the specified speed for your saw. If you don't have the user manual, find a copy online by using your saws make and model.
Step 6: Next, you should turn the "L" screw clockwise until the engine begins to starve for fuel and die.
Then take note of the position of the screw. Turn the screw in the opposite direction until you notice the opposite effect. If the saw is getting too much fuel and stalling, then set the screw midway between the two points.
Step 7: In this step, you should engage the throttle with the engine running at full speed. Turn the "H" screw clockwise until the engine races.
Record the speed with a tachometer and check your chainsaw's maximum safe speed in the user manual. If the tachometer reads more than the recommended speed, turn the "H" screw counterclockwise until the speed starts to drop below the maximum safe speed level.
Step 8: Keep turning the "H" screw until the engine starts running with a fuller sound as the carburetor receives more fuel.
Eventually, it will begin to stall, and you should find the midpoint between the maximum safe speed for the saw and the point at which the engine starts to idle and eventually die.
Step 9: Re-adjust the "I" and "L" screws after finding the recommended or appropriate high-speed setting.
How to read a chainsaw tachometer?
The purpose of a tachometer, as you already know, is to measure the revolution and rotation speed of objects such as engines, motors, and certain equipment and machinery.
Ultimately the purpose of this is to maintain your device and ensure that it doesn't overheat and eventually burn out.
Tachometers measure the RPM or rotation speed a minute of each device and ensure that it is in line with the manufacturer's recommendations.
So what you need to do when using a tachometer is refer to your device's operation or user manual for the recommended optimal or maximum speed to ensure that your tachometer is set no higher than the recommended maximum speed for the device.
A tachometer is a valuable instrument that is used to measure the rotation speed of various engines and objects.
Ultimately, it is essential to ensuring that your piece of equipment, motor, or piece of machinery is operating optimally.
By investing in a tachometer, you are ensuring the longevity of your equipment or operating device.